Growing businesses in this digital age are becoming more competitive by the day, and marketers are exploring every possible way to garner visibility. Email is the best & cheapest way to follow up or acquire leads. There are many Free SMTP server providers that you can use to send free emails. We will also discuss the most popular email providers in this article.
In this article, we will discuss SMTP servers in detail and find out about some of the best free SMTP server providers. There are many free email services providers also known as esp email providers available through which you can send emails without any SMTP server but these are not the optimum way and sometimes show lag time. Let's dive in and start with understanding what is SMTP server? and then we will move on to the list of email providers.
In this article, we will look at some of the most popular SMTP server providers and how to use them conveniently –
What is an SMTP server?
We know that the technical stuff can be a bit intimidating, let's start with understanding the basics of SMTP, it stands for Simple Mail Transfer Protocol. SMTP server acts as a postman and helps you deliver bulk emails. When you send an email the mail goes to an SMTP server (A computer running SMTP) and through an organized system, it is sent to the respective recipients. You can read in detail about What is SMTP server and How SMTP server Works here?
SMTP Servers and WordPress
You can also use these servers to send emails via your WordPress site as well. WordPress sites let's you send transactional emails which are automated emails like the password reset's, welcome emails etc. Your WordPress generally uses a PHP mail and it can cause a lot of trouble in sending your emails like the deliverability issue or your emails landing up in spam or promotional folders which are never read and get's wasted you can end up loosing huge sales.
SMTP Servers are dedicated servers which are more reliable and secure than conventional PHP emails. Some of the providers that we will discuss below have their own plugins that can be used for integration smoothly. You can check out many SMTP WordPress Plugins here !
We will cover a brief about the email provider followed by the tutorial how to use them if a dedicated plugin is available.
Let's look at some best free SMTP server providers for sending free emails and the best tools for ESP marketing.
Best Free SMTP servers list or list of Free email providers list –
SendinBlue – 9000 Free Emails Per Month Forever (Recommended)
Constant Contact – Most Popular Email Service (Recommended)
1. SendinBlue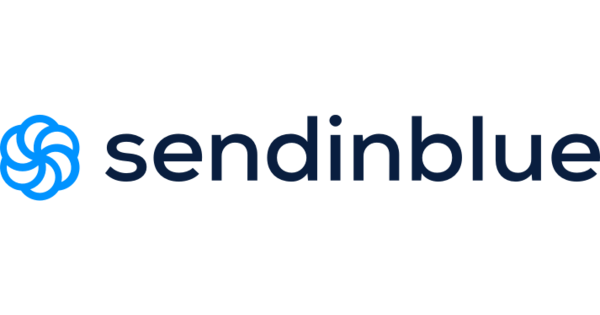 Sendinblue is the obvious first choice for sending free emails using free email services and it is one of the best free SMTP server providers. It is very simple to use and you can also create beautiful emails with its simple drag and drop feature.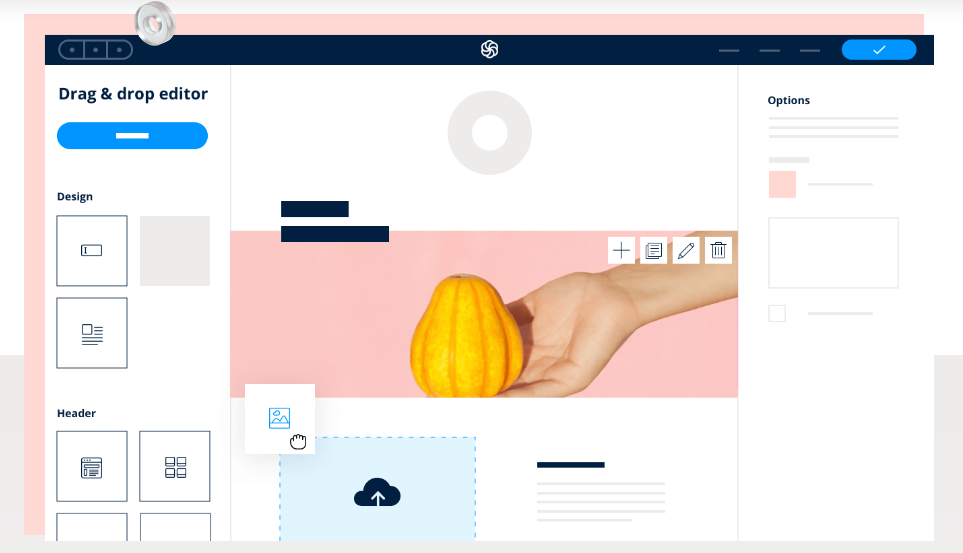 You can design your own email template or choose from an existing one, You can personalize the content, like dynamically adding the name of your contact. With Sendinblue you can create unlimited lists and groups for sending emails for better conversions.
You can even choose narrow segments efficiently like on the basis of purchase history, gender, etc. It also lets you take an A/B test for finding the winning email copy so that you have the best conversion rate. You can Sign up here
SendinBlue Pricing
SendinBlue allows you to send 9000 free emails per month which are restricted to 300 free emails per day to unlimited contacts. They have different plans like LITe, Essential, Premium and Enterprise you can choose them according to your needs. Read details about Sendinblue pricing HERE.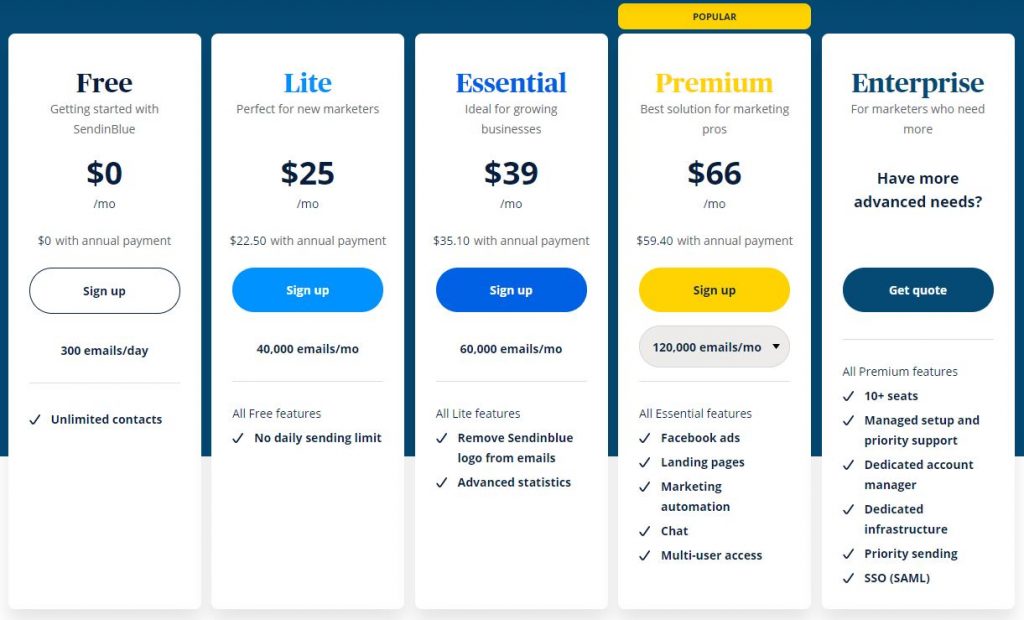 SendinBlue Features
SendinBlue comes loaded with some of the most spectacular features in the free SMTP email servers providers list.
Let's dive in and explore some of the features offered by Sendinblue-
It lets you create personalized professional-looking emails with its email drag and drop editor, you can perform A/B testing to choose the best email copy and automate sending your emails at the perfect timing. We hope that we got you excited! SIGN UP FOR FREE to send free 1000 mails daily.
They offer a very simple to use CRM where you can easily import all your contacts data and even make notes regarding your previous call or meeting.
Create different lists on the basis of similar characteristics like the source of acquisition etc. Read more about their CRM features here

You can send transactional emails for free using Sendinblue, it can be easily set up using API, eCommerce Plugins, SMTP relay. Personalize your content to send dynamic emails and personalize parameters like contact information, order number, etc.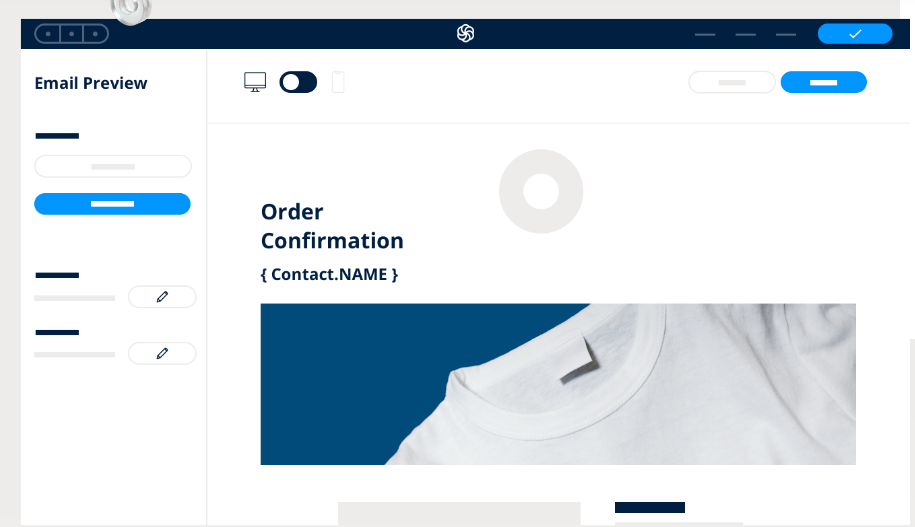 SendinBlue can easily integrate via API and WordPress and you can read all about integrations here
You can read our detailed SendinBlue Review here
How to use SendinBlue Plugin in WordPress to send free emails
Sign Up and create an account
Click on the right top corner where you see your username once you click on that a drop down will appear click on SMTP & API. If you are logged in you can click on this link.
Then on the right top corner click on CREATE AN NEW API KEY You have to choose the 2.0 to generate the Plugin API key and then click on Generate.

Then install the SendinBlue WordPress Plugin and activate. In the left hand tab you must see a separate sendinblue tab. Enter your API key (Please note you have to enter the Plugin key) that you generated in the last step and click on login.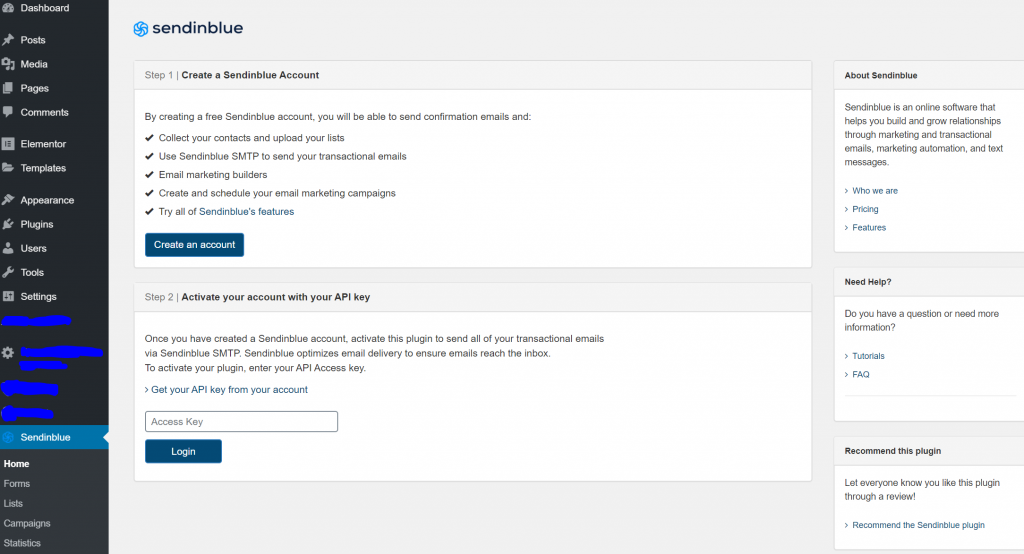 Now you should be able to see a your sendinblue's complete plugin settings.
In your SendinBlue Plugins setting area in the lower side you will be able to see an heading as transactional emails click on Yes tab and enter the sender email you wan't to use Like [email protected] etc.
Send a test email and Now you are good to go, now you can send transactional emails using sendinblue SMTP. Then, you can select your sender information (you can control this from your Sendinblue dashboard) and send a test email
Read our article on the best time to send your email blast, Where we have data collected from more than 10 email marketing services and analysed more than 20 million reciepients so that you can increase your conversions exponentially
2. Constant Contact

Constant Contact is one of the oldest companies in Email marketing founded in 1996 they are one of the best SMTP servers out there. It is also one of the biggest email marketing companies. They have a very decent and simple website.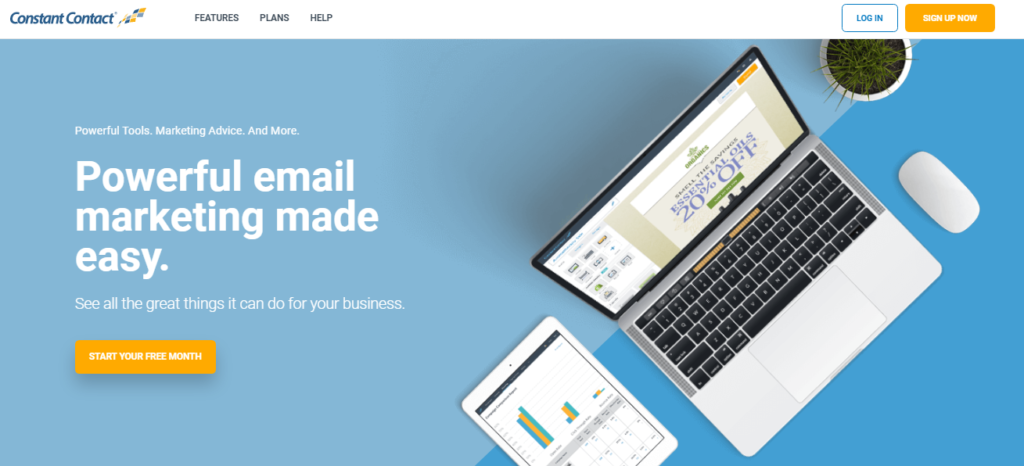 Constant Contact Pricing
With Constant Contact, you can send free emails to unlimited subscribers. There plan starts with just $20 for one month, in which you get to send unlimited emails to 500 subscribers. You pay as you grow. If you go for their bulk prepaid plans like the 6 or 12-month prepaid plan, you can save up to 30% of the cost. Learn more about Constant contact plans here.
According to me if you are a growing business and yet have just a small subscriber base there basic plan will be the best suited for you as they give you all the advanced features like list segmentation, reporting, automated abandoned cart emails, woo commerce integration, etc.
Check out newsletter examples so that your creativity gets a push that it needs to start designing great newsletters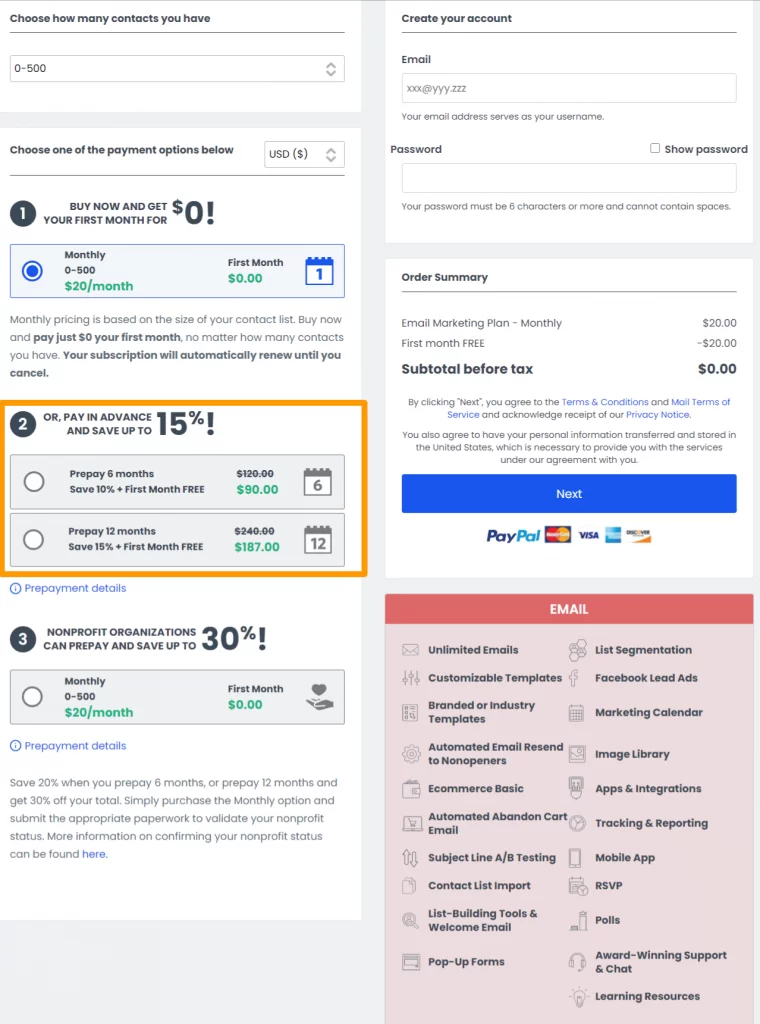 Constant Contact Features
Constant Contact as I told you above is a very experienced player in the email marketing domain and their features tell you why they have been around for so long. Let's discuss why they have an upper hand over its rivals –
It is one of the most efficient best free email services for eCommerce businesses, you can automate great things like resend the email to subscribers who haven't opened your mail, send them an automated email response to some specified triggers like 10% off coupon for abandoned cart users, etc.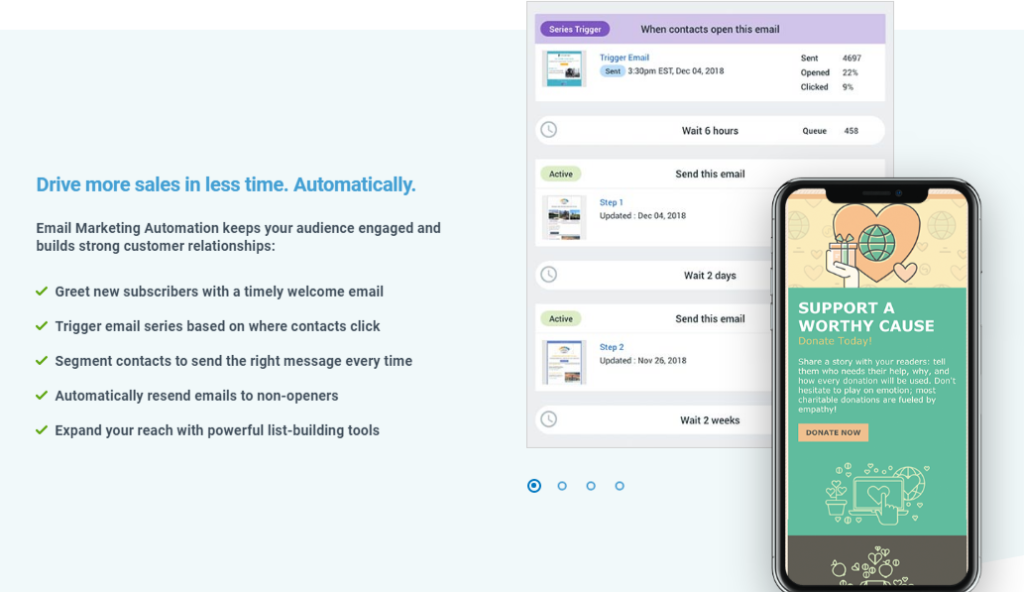 You can create and send amazing looking emails to create an impact on your customers and increase your brand retention in a blink of an eye. Constant Contact has a very efficient looking email drag and drop editor and you can choose from many pre-designed templates. Sign up to start sending free emails

You can read in detail about Constant Contact features here
Read our article A Detailed Guide To Awesome Drip Marketing Campaigns in 2022! to start converting clients using the power of drip campaigns !!
3. Elastic Email

Elastic EMail is another superb example of free SMTP service providers and is in the fourth position in our free SMTP server list. The first thing that impresses us is the simplicity of their website.
Followed by email API for sending effective transactional emails and bulk emails. Read more about what are transactional emails . They provide top-notch infrastructure to their customers at a budget-friendly price. It is one of the best options if you are looking at sending bulk emails for email marketing. It is one of the best SMTP server providers as it offers 3000 free emails online per month limited to 100 emails per day. It is one of the best email providers available online.
Elastic Mail also offers you an additional private IP at a cost of $1 per day.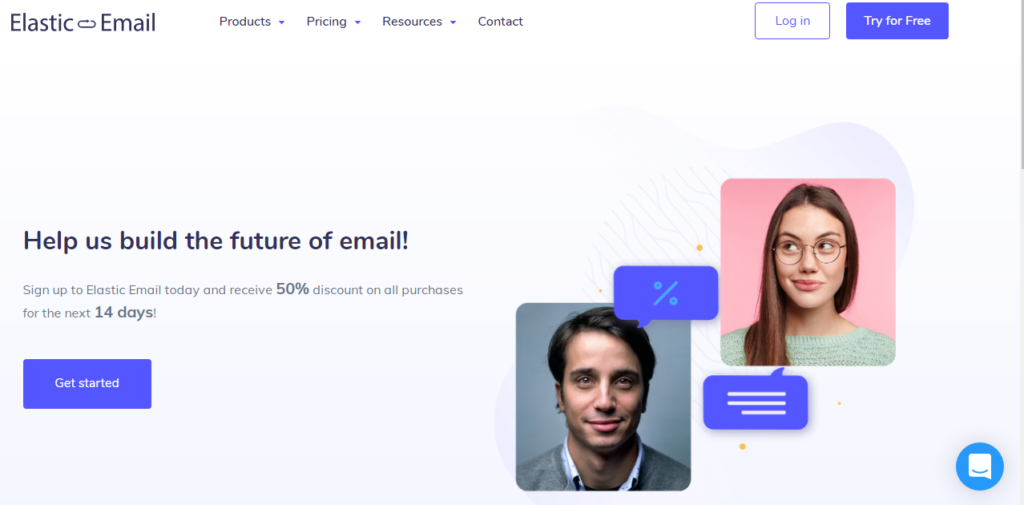 They are among the cheapest SMTP providers in the market. You can send bulk UNLIMITED Emails up to 10,000 contacts just for $10 per month.
I think we got you too excited there, let's move on to their pricing in detail.
Elastic Email Pricing
It is a top free SMTP relay servers, For Email Marketers that are looking at sending bulk mails, the pricing starts for just $10 per month for sending unlimited emails to 10,000 contacts. You need to chug $25 if you want to send unlimited free emails online to 20,000 contacts and $45 to send it to 30,000 contacts. You can read all about their plans for sending bulk mails here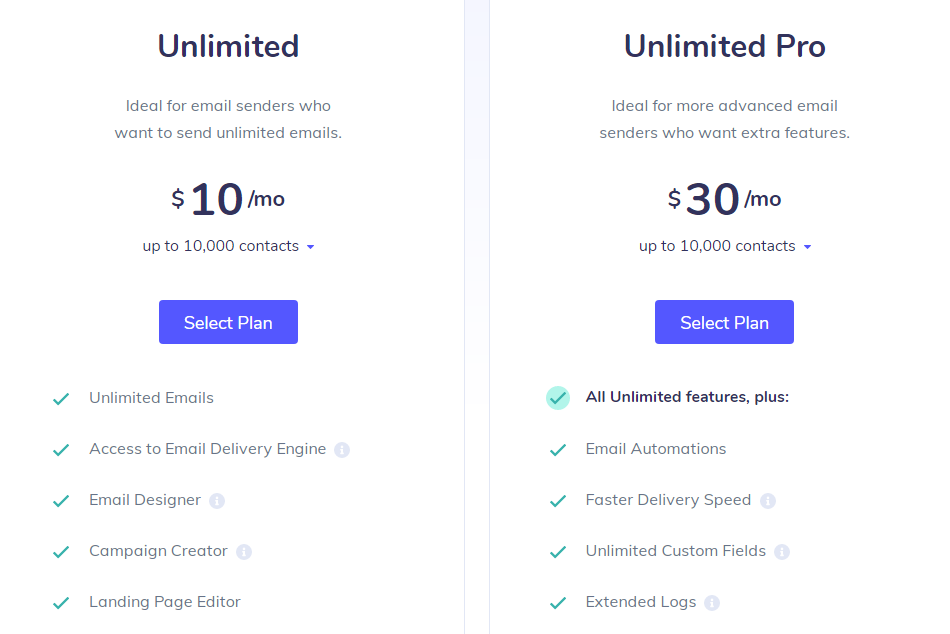 Elastic Email lets you send effective transactional emails through elastic mail API integration. You pay as you go for SMTP, pricing starts with just $0.09 for 1000 emails. For the Email API pro plan of Elastic mail, you have to pay $0.10 for 1000 emails which come with a huge amount of features. Check out their plans for API and transactional emails here.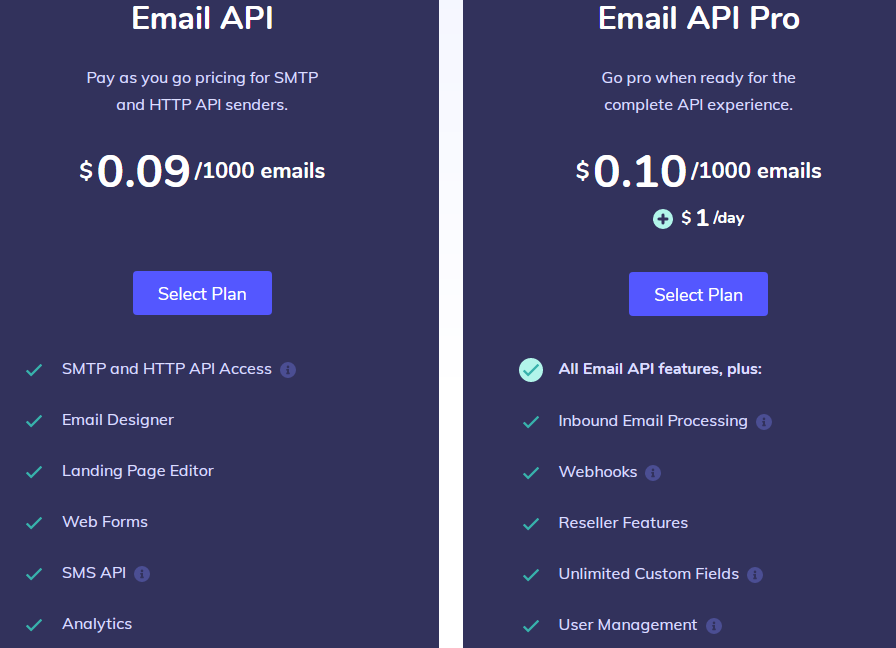 Expandability
You can easily scale your business through email marketing in a very cost-efficient manner through elastic mail. You can send unlimited bulk emails to 1,000,000 contacts for just $1000 per month. It can easily be integrated using the WordPress plugin too. Read about it here in detail. It is among the top best email providers available in the world for sure.
Elastic Email Features
Let's discuss the top features offered by Elastic Mail.
It empowers you with very powerful tools to help you stay connected to your contacts. Design emails, create campaigns and set autoresponders. For those who don't know how to use autoresponders and what are they? Read in detail about the feature here
The top feature of Elastic mail is its pricing and its offering of 3000 free emails per month limited to 100 emails per day. Check out their pricing here
Automate your emails for building long-lasting relationships and sending customized emails. Try Now
Easily integrate your WordPress website using plugin
Elastic Email and WordPress
You can easily use Elastic Email to send transactional emails in your WordPress site, Let's check out how –
Sign-Up and create an account
Once you have activated your account by authenticating your email address. Click on the user name on the right top corner and click on settings.
Then choose the API tab as shown in the image below. You need to create an API for your elastic email account. Click on Create API key button
Name your API key and Fill the permissions as shown below and then click on create button on the right top corner. Don't close the window which appears now!!
Once you click on the create button, you will be shown the API key once, don't close the window as you will need it to access your API key to activate your plugin. And they will not show the key again !!
Install the elastic email sender wordpress plugin on your website. Once you activate the plugin, click on the elastic email sender tab from your wordpress dashboard.
Now you will see the general settings, choose the settings as shown below.
Select Mailer – Send all WordPress emails via Elastic Email API
Elastic Email API Key – Add your key that you generated in the last step
Email type – Transactional
From Name – Enter the email name you want to appear
Email From – Email Id you want to use to send your emails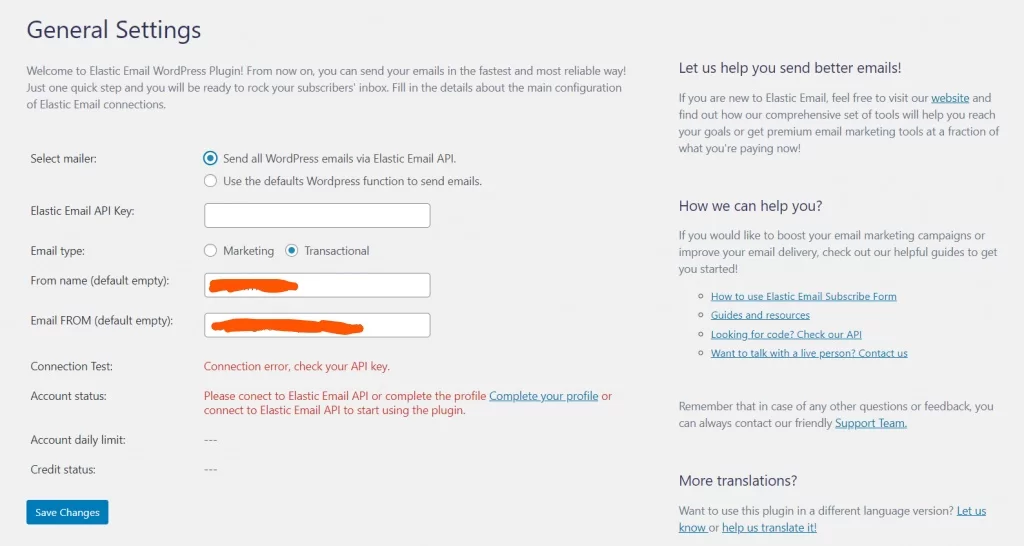 When you click on Save changes you should be able to see a success message, now you are all set to use elastic email as your default transactional sender for your WordPress emails. You can now click on the elastic email-sender tab from your WordPress dashboard and try sending a test mail to check if everything is in place.
Check out our guide about welcome email templates & How to design professional looking email here. How to integrate them in your email strategy with our blog on email marketing strategies.
4. Mailjet

Mailjet is a well heard name in email marketing. They have very good UI and UX for email marketing along with Email API for Developers. Mailjet comes loaded with marketing automation and a very friendly UI. Check it out yourself!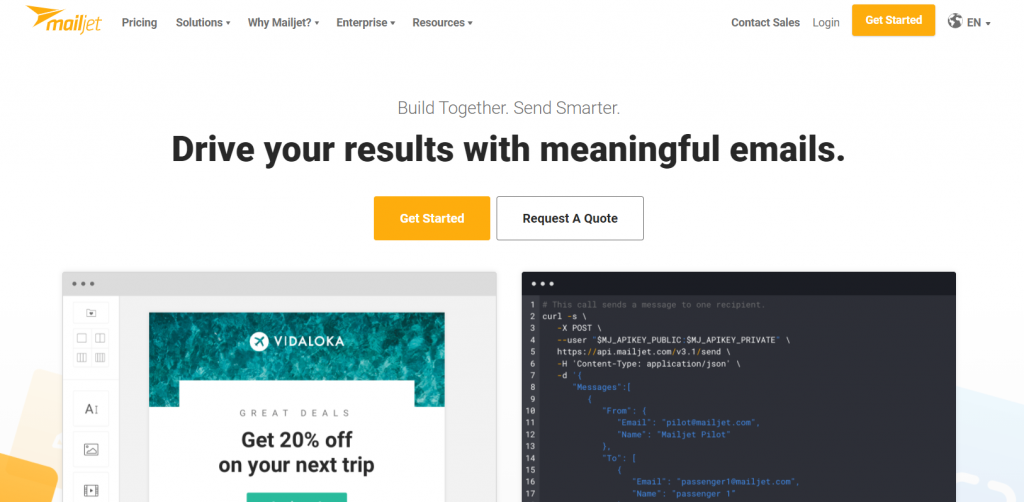 Mailjet Pricing
Mailjet offers you a free plan in which you can send 6000 free emails per month which are limited to 200 emails per month. The real treasure is that you can send 30,000 emails per month for just $9.65 with no daily sending limit, no mailjet logo and Online customer support.
As you move up the hierarchy and start sending more emails the service becomes more and more affordable. We recommend choosing Mailjet if you have to send bulk emails.
I hope you will be fascinated by what their plans have in place for you. Check it out here!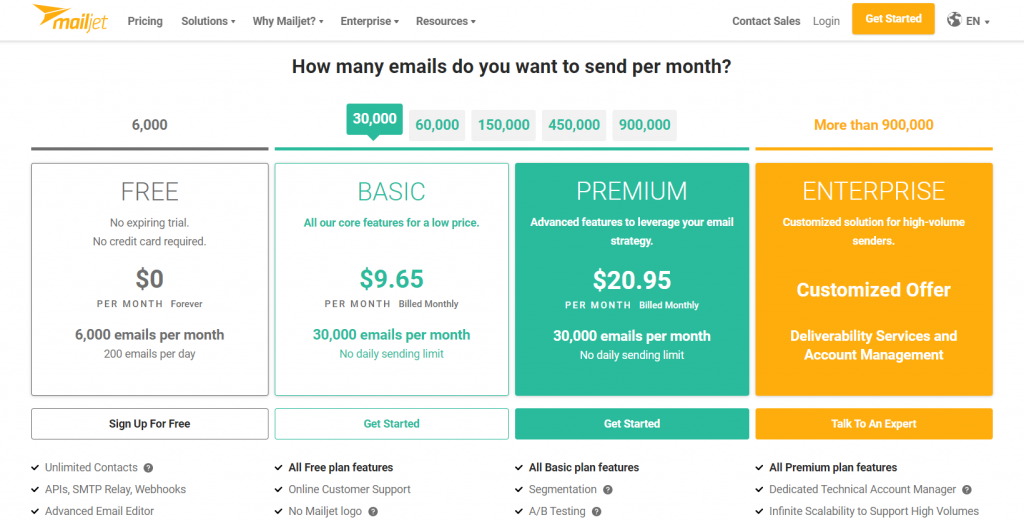 Mailjet Features
Let's look at some of the Mailjet features and you find out why Mailjet is third in our list –
Mailjet gives you an option to check how your email will look in different platforms like mobile phone, tablet or PC using their email emulator.
They offer an advanced email builder with fluent drag and drop feature and many free email templates.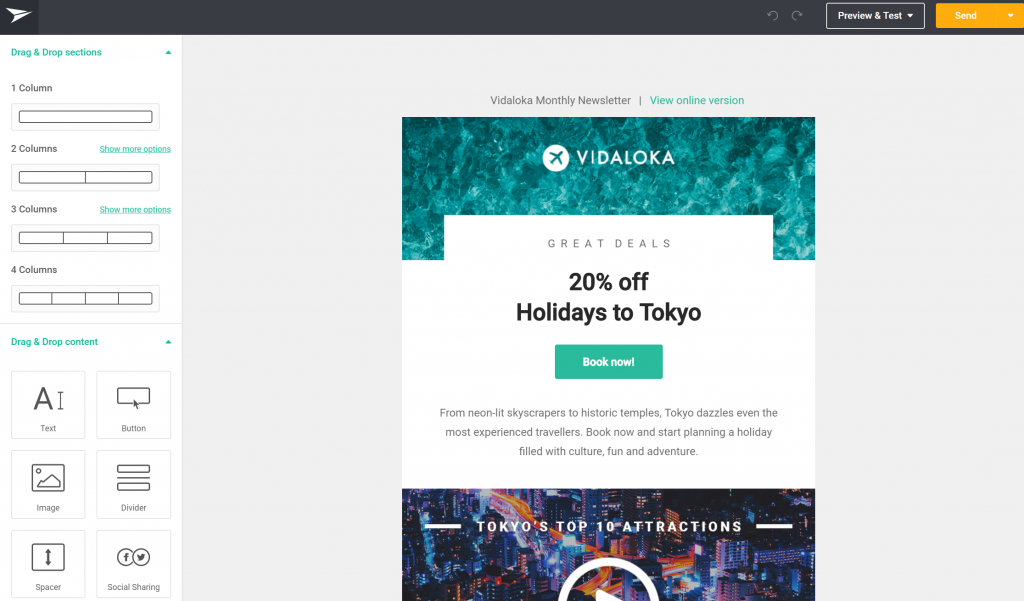 They are ISO 27001 certified and GDPR compliant. They offer high standard and are reliable and secure email sender, All your data is stored under the Frankfurt and Saint-Ghislain (Belgium) data centers on google cloud platform. You can read more about their security features here. Which provides a secure transmission and security. You can read more about the most secure email providers here.
The flexible platform by mailjet makes it easy for agencies to run email campaigns for their clients, , sub-account management with an intuitive email builder, and they also have a dedicated Technical Account Managers Team. Read more about their agency solutions here. They also provide white lable solutions as well.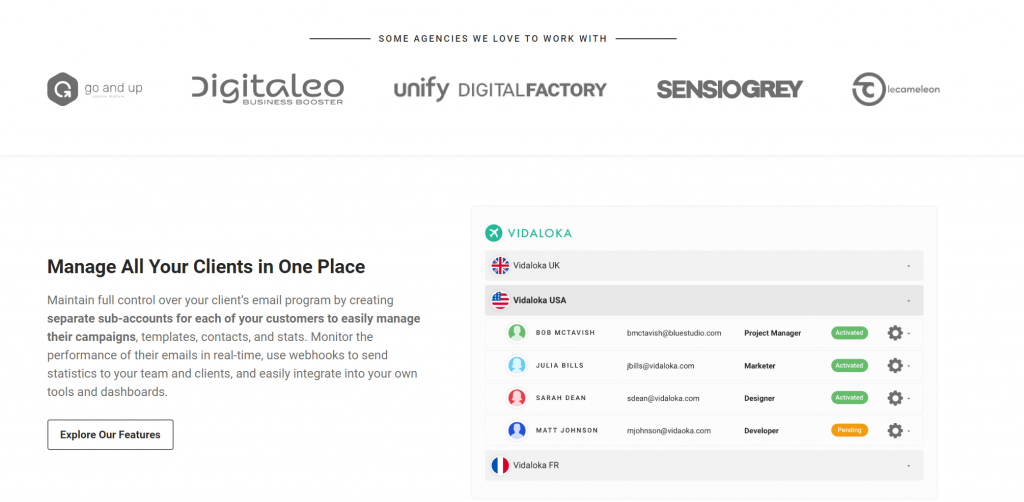 Analyse your campaigns and optimise them to increase your conversions every time to send an email campaign your dashboard becomes smarter. Easily track clicks, reach and check for open rates etc in your dashboard. Check out some of the Mailjet's advanced features here.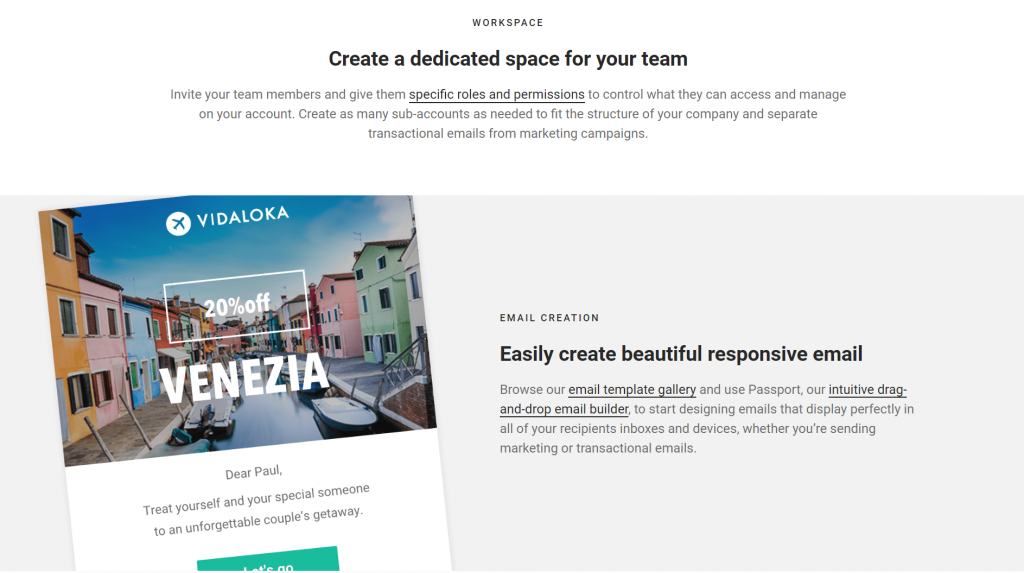 Using Mailjet SMTP to send free WordPress transactional emails
Once you have signed up. In your account in the transactional email tab click on the overview button. On the top of your dashboard.
Find your API Keys, In the right down you can choose Configuration options to add and authenticate your sender domains and addresses. It will increase your deliverability.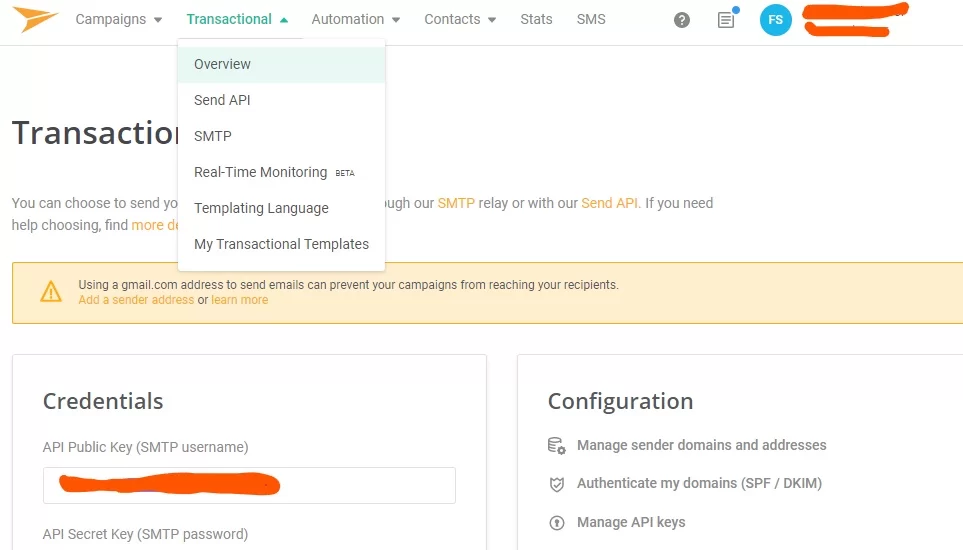 Download and activate the mailjet's wordpress plugin
Once you have activated your plugin you will see a separate Mailjet option in your WordPress dashboard, and enter the API keys (the once you found when you signed up)
Once you have activated your mailjet plugin through API key's click on sending settings Sync your wordpress users with Mailjet. If you only want to use Mailjet for transactional emails, you can just click the button to Skip this step.
Then in the Mailjet plugin's dashboard, Choose enable sending email through Mailjet. Enter your sender information and send a test mail.

Check our why sometime your emails get bounce back can entering emails in CAPS be the reason with our guide are email addresses case sensitive
5. Pepipost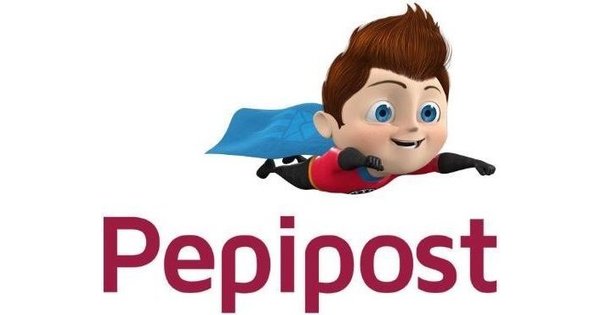 Pepipost is one of the most reliable free SMTP server providers out there. It is number 2 in our list of free SMTP server providers. It is an email automation based SMTP Email delivery service. Read how to increase your sales using email automation in our blog. Pepipost brags of sending 8 billion emails per month with over 50,000 customers. It has real fast deliveries due to its servers distributed all around the globe for the optimum experience.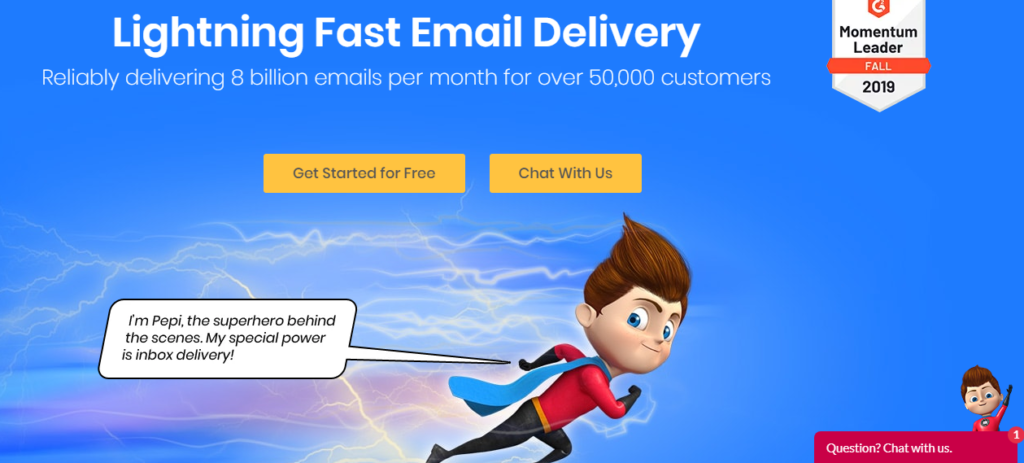 Pepipost Pricing
Pepipost provides you with 30,000 free emails using free email services when you sign up valid till 30 days. Then you get 100 free mails per day. Their basic plan starts with just $25 per month and lets you send 150,000 free mails if you pay annually the plan will cost you $17.5 and you can save 30% the cost. Afterwards, you will be charged just $0.60 for extra 1000 emails. Learn more about their plans here
Expandability
With Pepipost you can send 2,000,000 emails for just $311.5 if you pay annually and then you will be charged just $0.40 for every extra 1000 emails sent. They have one of the most competitive pricing in this segment. If you have the requirement to send even more emails than the mentioned plans you can get a customized plan by contacting Pepipost.
Pepipost Features
Pepipost has really up the game as far as the delivery time is concerned. Due to their well-distributed data centres across the globe. They have set a benchmark that is hard to beat even by the already established players. You can sign up here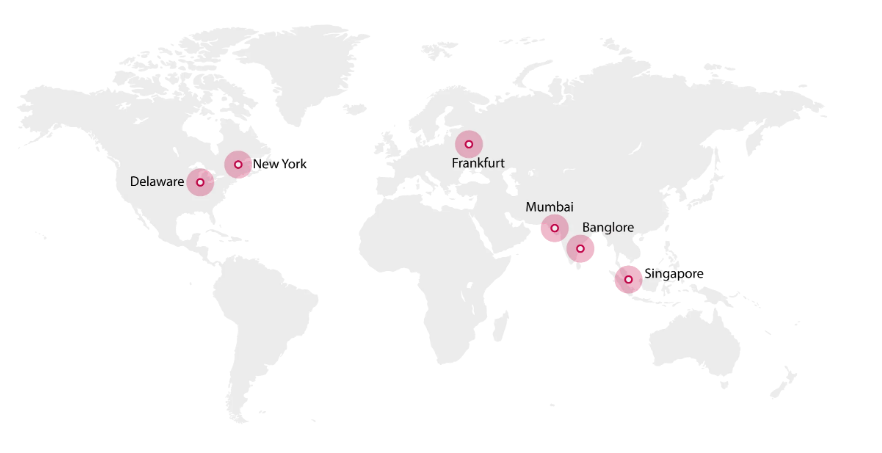 So let's move forward and discuss what Pepipost has to offer –
Pepipost is an SMTP relay service by which you can send best free emails, it is very easy to use all you need to do is to change your configuration to point to Pepipost's SMTP server and add your bona fides. Check our Pepipost SMTP feature HERE.
Track your SMTP and backup is stored for 90 days. They support custom metadata which is linked to mailing that you send and later can be accessed.
You can easily send your transactional emails using Pepipost API's which are easy to set up, you can use it to integrate with frameworks like Node.js, Perl, PHP, Python, JAVA, C# and Ruby.
You can send transactional customized emails like Signup Confirmations, Password Reset links, Order Receipts etc with ease and at a very great pace
You can sign up here or check out their plans and features here
Pepipost SMTP for your WordPress Emails
You can use Pepipost to send your WordPress Transactional emails. Let's look at how to do it in a jiffy –
Signup, create a free pepipost account
Now add your WordPress site's URL, in the Add sending domain section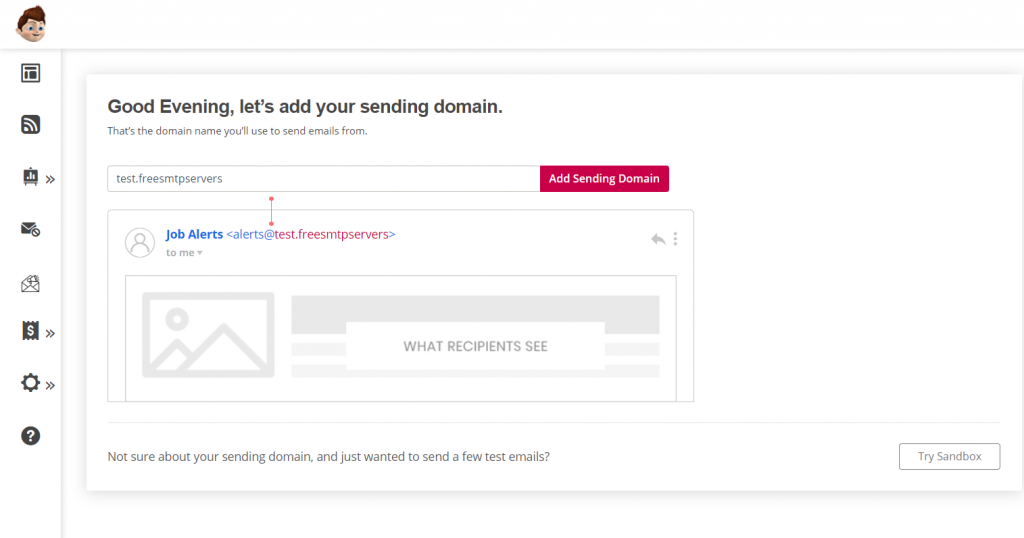 Now you will be prompted to add two TXT records to your DNS records to authenticate your domain name. You can click on visual tour button to help you sail through.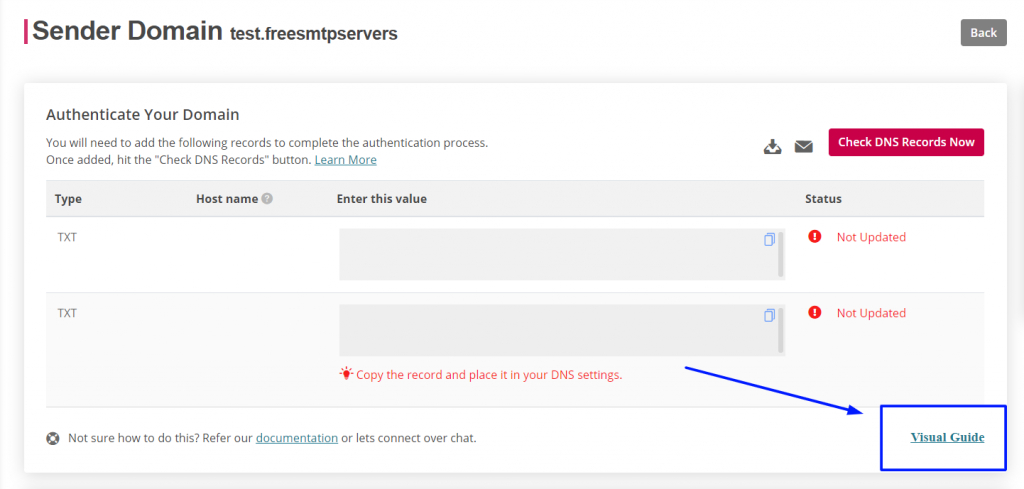 Once you've authenticated your domain name, go to Settings → Integrations in your Pepipost dashboard to find your API key. Keep this value handy because you'll need it in the next step:
Download the pepipost plugin, click on Pepipost tab in your WordPress dashboard and add your API key. Also fill in the other information asked. Once the changes are done, you can try sending a test email.
Read our article on Can-Spam and get the answers to questions like why there is a unsubscribe button in each email you receive and save yourself from the legal hassles and penalties
6.GetResponse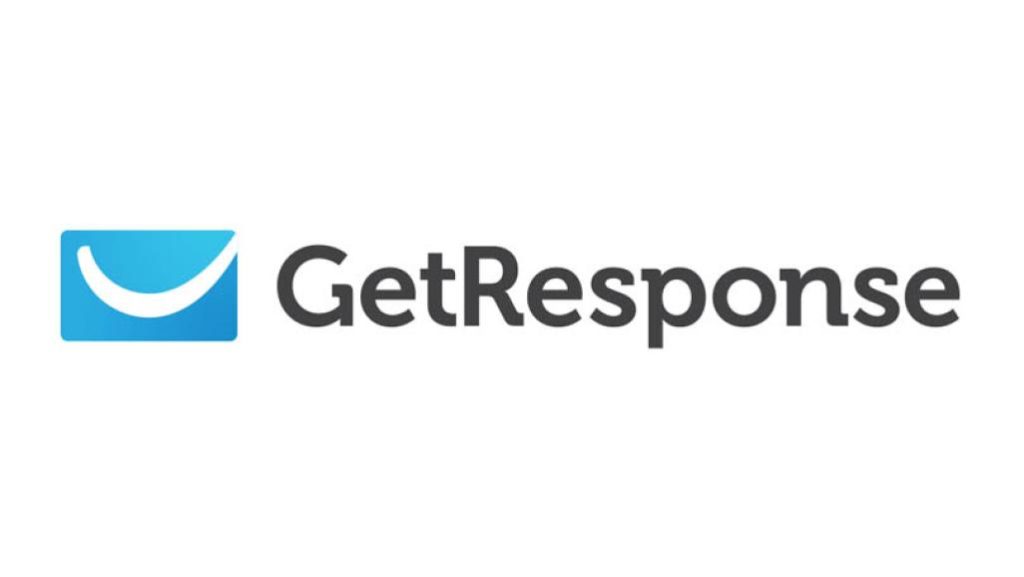 GetResponse is also one of the most well-known SMTP server providers in the industry. GetResponse provides you with powerful email marketing with amazing email templates and unbelievable delivery rates. You can design professional-looking emails using a variety of email templates present or design your own.
GetResponse Pricing
You get a 30-day trial in which you can add 1000 contacts and send emails. You can also conduct webinars of up to 10 people free of cost. At Getresponse can also try their landing pages but for trial accounts, it is limited to just 1000 visitors after that you will have to upgrade to the paid version. It is a really good free SMTP relay server.
GetResponse Pricing starts with just $10.50 for a list size of 1000 for the basic plan if you pay for 24 months and if you take a monthly plan you will have to pay $15 monthly. You can check out GetResponse pricing here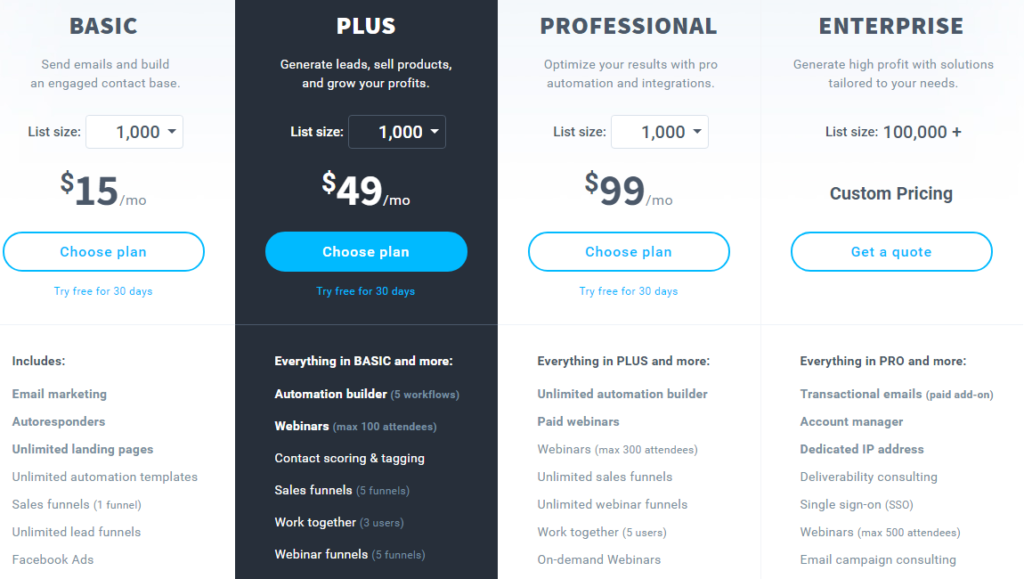 Expandability
You can go for their enterprise plan that lets you send emails to a list size of 100,000 customers. You get a dedicated account manager and you can ask for custom pricing as well. With the enterprise plan, you can conduct Webinars of 500 attendees. It is one of the best free email senders online. Getresponse is famous for sending free esp mail & esp marketing.
GetResponse Features
Send professional autoresponders, send follow up emails easily
Their biggest strength lies in sending automated transactional emails like after purchases, abandoned carts etc
Get high engagement and conversion rates through highly-targeted recipient groups
Check out all about GetResponse Email Marketing here.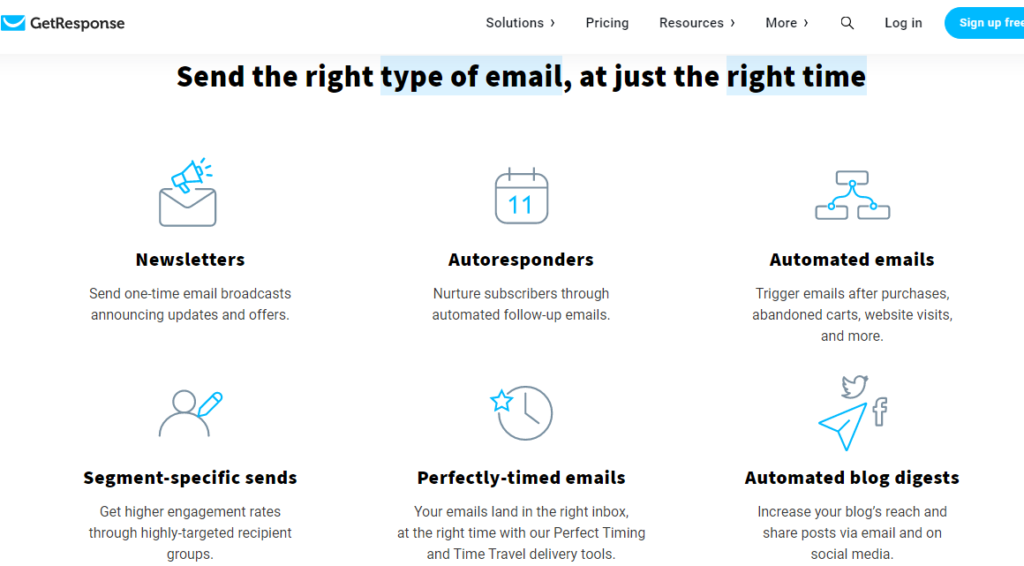 Joke of The Blog
I hope you guys are having a great time learning about different free SMTP server providers. So just to keep you away from all the boredom here is a joke for you –
I like inventing new things, so I invented a new word !

Any Guesses?

"Plagiarism"
🙂 Before killing me please complete the remaining article. 🙂
7. Moosend

The next contender is the moosend free SMTP server. You can send free unlimited emails to 1,000 subscribers. It has a very unique website concentrating on Agencies, eCommerce, Saas software, Publishes, etc each in a very innovative manner. Moosend has something to offer for everyone.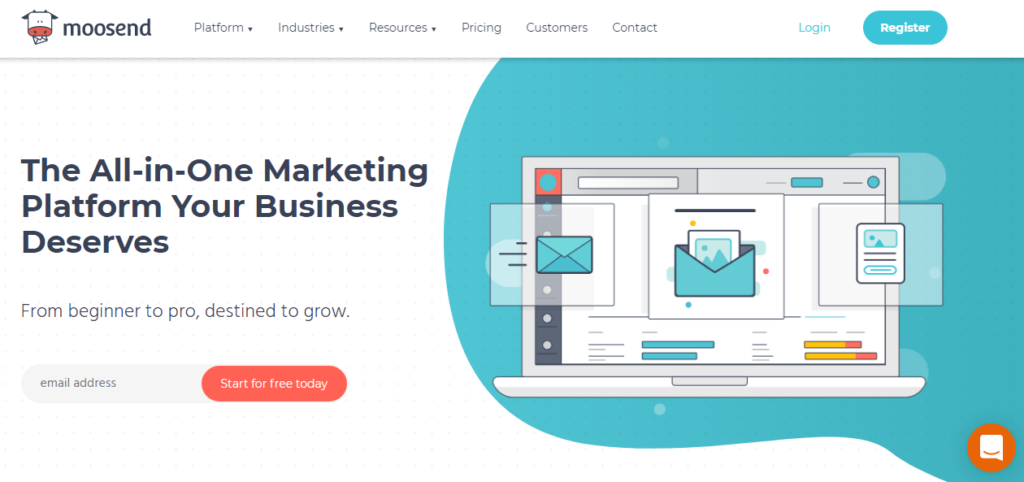 Moosend Pricing
Send Unlimited free emails to 1000 subscribers. It is one of the best SMTP servers. For an annual plan if you want to send mail to 1000-2000 subscribers you need to chug $8 per month. If you want to send unlimited emails to 2001-3000 subscribers you have to pay $16 if you pay annually.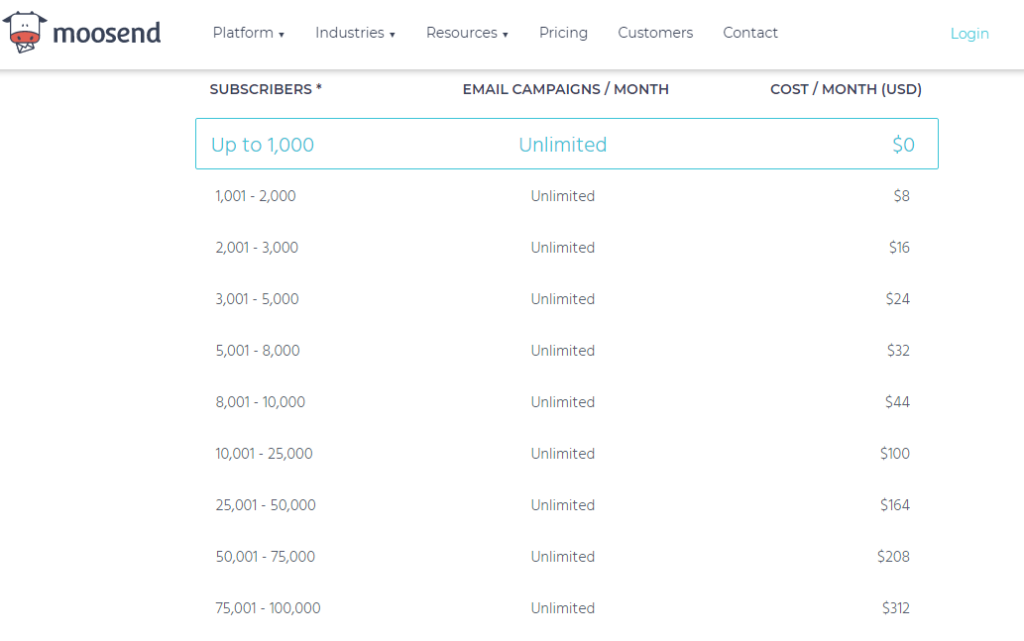 You can also opt for pay as you go plans as well you get 350,000 emails for $350 which amounts to $0.001 per email. You can check out pay as you go plans here.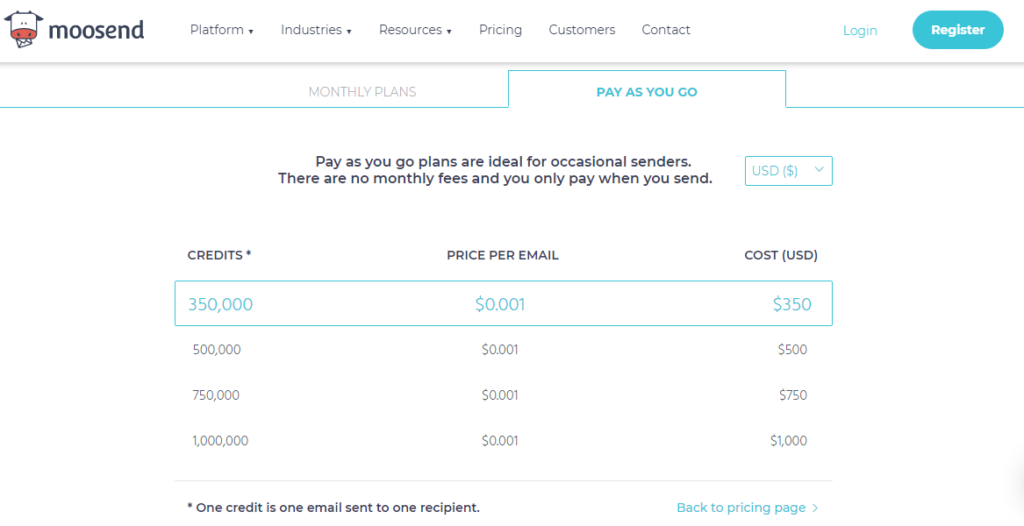 Expandability
You can send unlimited free emails to 800,001 – 1,000,000 subscribers for just $2,920 per month if you pay annually. If you want to scale up using pay as you go plans then you can send 1,000,000 at a cost of $1000 at $0.001 per mail. It sure can be counted as best email provider online.
Moosend Features
Moosend offers all the modern features required to create awesome conversions. Let's look at moosend free SMTP server. Let's look at all the important features offered by moosend for free emails-
For the free plan, it offers Drag & Drop features, Email Marketing automation, advanced segmentation, real-time analysis and 3rd party integrations.
For paid plans you get SMTP server, Landing pages, dedicated IP's. Read all about their features here. Check out the image below for better understanding.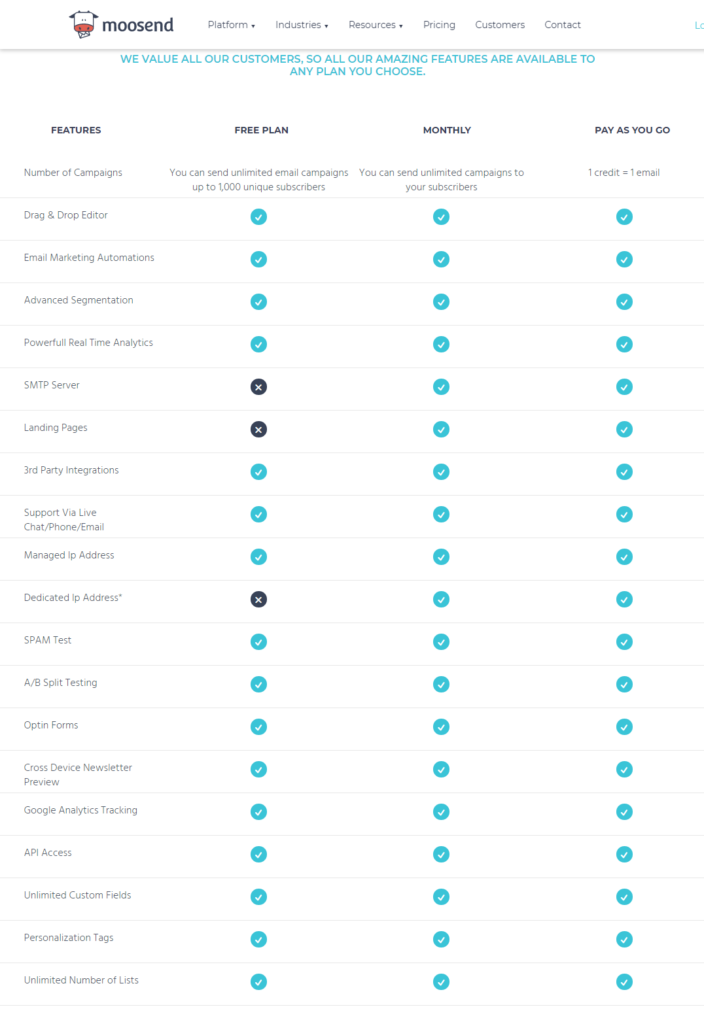 8. Gmail SMTP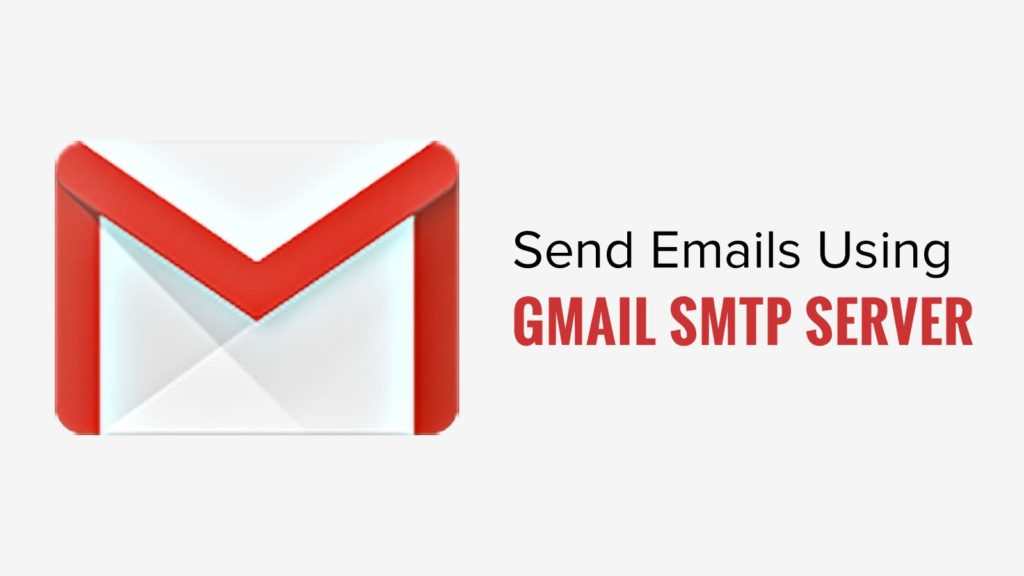 Gmail SMTP service lets you send free emails and is one of the best and cheapest free SMTP servers out there. Anyone who has a google account can send free emails. You can use it to send free personal mails or you can connect it to your website and send mails like contact forms, newsletter updates, latest news and blogs to your subscriber list. It is one of the top email providers online for sure.
They are the most authentic source of sending free mails. Since a lot of people use Gmail, people are familiar with Google and we all know its authenticity. The mails usually sent from Gmail SMTP are not sent in the spam folder. You can choose google SMTP the best email provider.
Gmail SMTP Pricing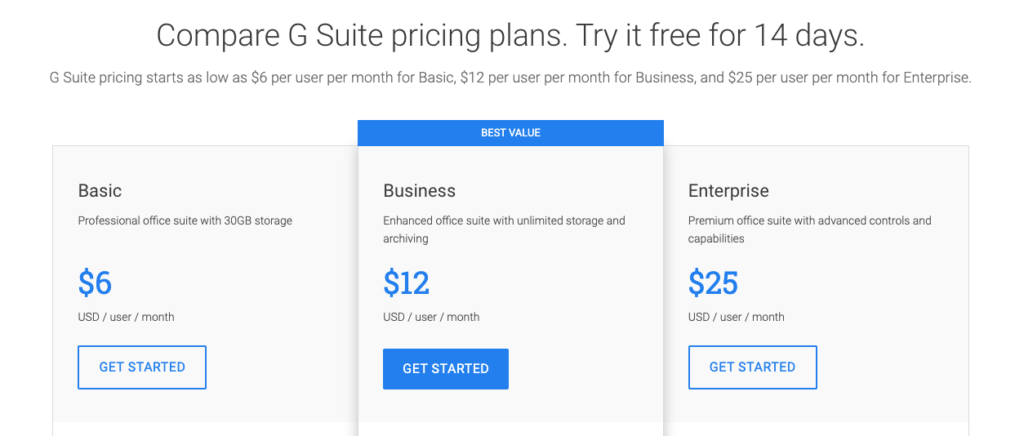 You can send 500 emails daily for absolutely free of cost from the trial plan valid for 14 days then you need to update to paid plans. The paid plans start with just $6. It is the most reliable free email service. You can check out google's documentation here Check out their plans in detail here.
Expandability
You can opt for an Enterprise plan for $25 per month and avail all the advanced g suite features. The business plan starts with just $12 per month. And for the basic plan, you need to spend around $6 per month. It is surely the best free SMTP server out there. It is the best esp email provider and a good tool for esp marketing.
Features
As the Free Gmail SMTP is backed by google you get instant access to all google drive features
You get access to all the premium offerings by google like the Google sheets, Google Forms etc
With google comes, the data security and you can manage users effectively and efficiently
9. Mailgun

MailGun is a free SMTP relay service provider by Rackspace, the majority of its customer base is developers. It is a cloud-based free SMTP server provider and is in 6th place on our free SMTP server list. It provides one of the most efficient API's for sending free emails.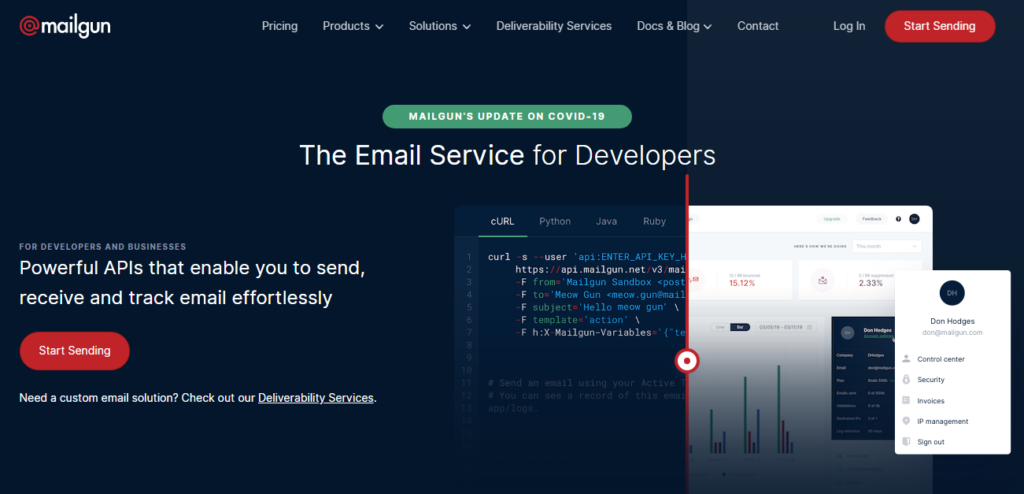 Mailgun Pricing
It provides you with 5,000 free emails per month for 3 months then you need to upgrade your plan. You can send 50,000 emails for $35 per month. Check out the pricing in detail here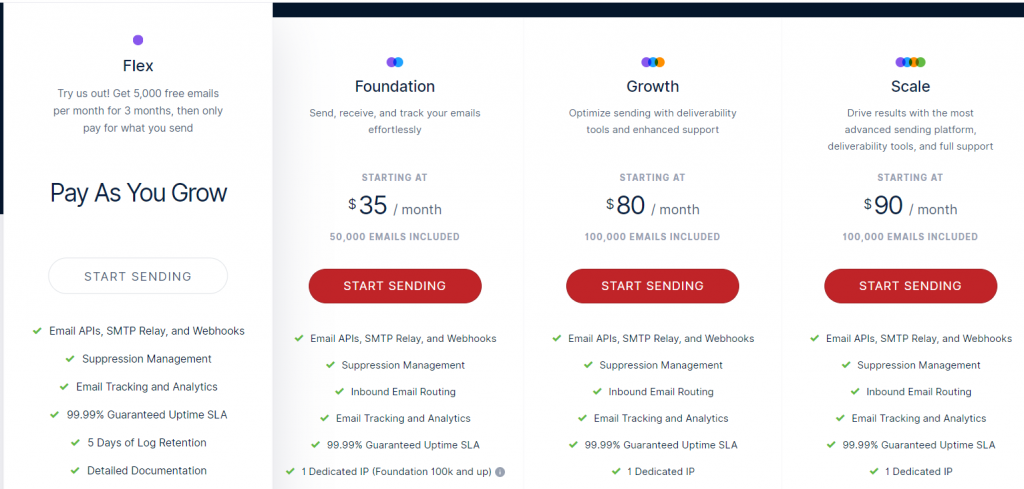 Expandability
You can send 100,000 mails just for $90 with the scale plan of mailgun the most popular email providers. You can also ask for customized plans if your requirements are more than the offerings. It offers best plans for esp marketing.
Features
Mailgun the best free SMTP relay offers the best email provider for automation and deliverability. Let's look at the features in detail –
Allows you to send mail at the optimum time so that you increase your conversions they offer one of the best email automation services
MailGun provides one of the top email analytics in the industry which can be used to increase the email marketing performance. Also, you can easily integrate it using wordpress plugin
Email logs are maintained for 30 days. You can retrieve the mails even if you have deleted them by mistake
10. SendGrid

SendGrid is a cloud-based free bulk email sending software. It is a very good free SMTP server & esp email that lets you send and track emails intelligently. It is famous for sending transactional emails. Send Email newsletters, Password resets, Promotional emails etc with ease. Microsoft azure SendGrid can be easily integrated too. It is also a very good option of free email service.
SendGrid can also be used with WordPress to send transactional email's the process is simple you need to sign up, generate an API key and then download the wordpress plugin and it up. It is quite similar to all the other methods you have read above.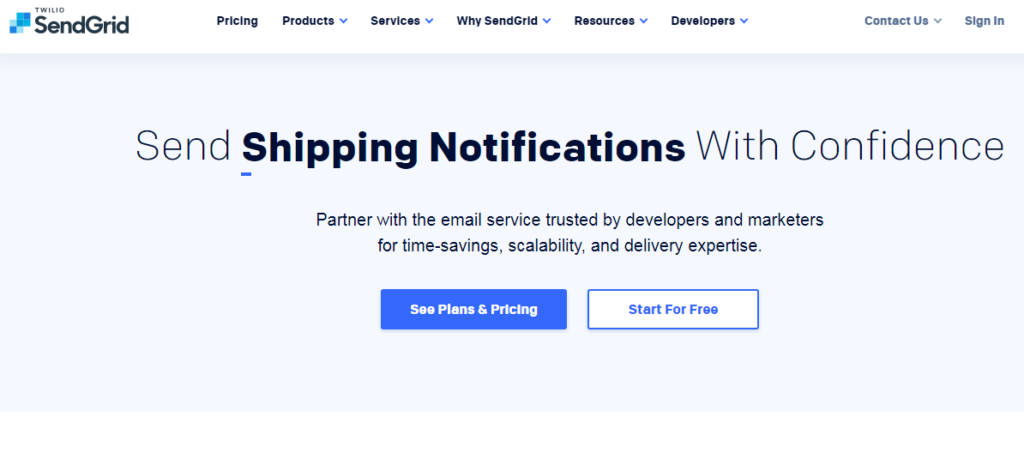 SendGrid Pricing
SendGrid offers 40,000 free emails for 30 days after that you get 100 free emails per day forever. The email API plan's as shown below offers 4 unique plans. Read more about the plans here. The pricing makes it one of the best email providers in the free SMTP servers category.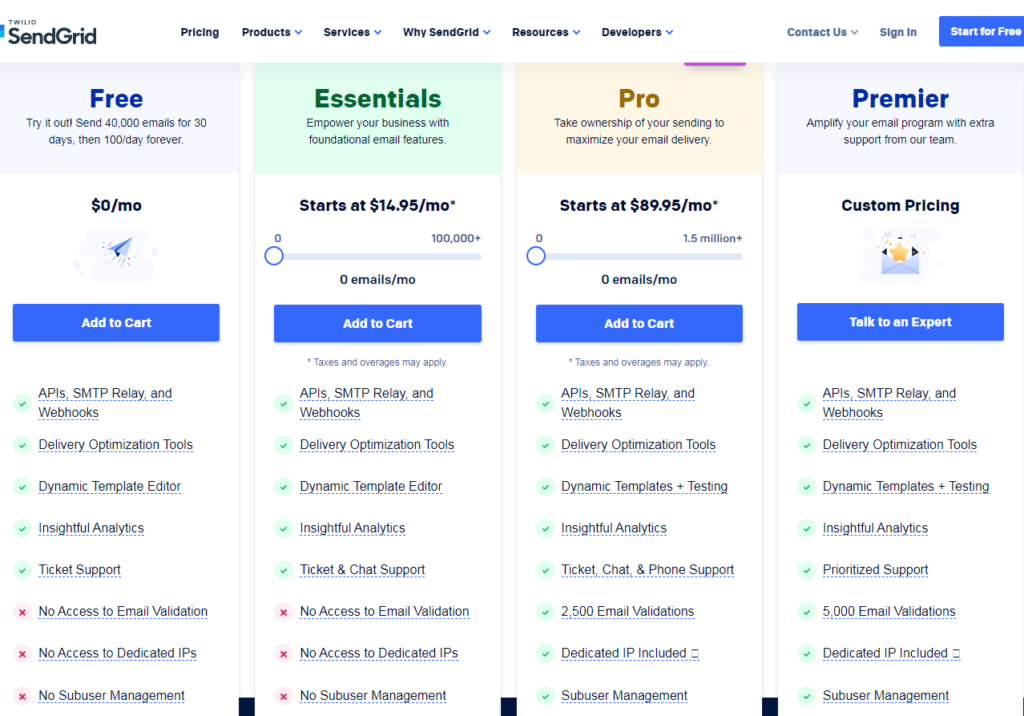 For marketers, you can send 6000 emails and store 2000 contacts absolutely free of cost. After then you get to choose among the Basic or Advanced plan according to your requirements.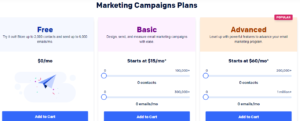 Expandability
For marketing campaigns, you can send 950,000 emails per month to 190,000 contacts for $900 per month. For custom SMTP relay services you can always contact the SendGrid team and ask for customized pricing.
Features
Sendgrid offers two-factor authentication feature when you send emails
It also provides you with an ROI calculator according to the industry you are in
SendGrid has clients like Uber, Airbnb, etc so you know your emails are in safe hands as it is trusted by big brands.
It has over 80,000 paying customers, a lot of knowledge is acquired with experience and authenticity comes with world-class infrastructure.
Send grid can also be integrated with Microsoft azure. Read can read all about azure Sendgrid
It can easily be integrated with WordPress through the SendGrid plugin.
Price Comparison of Free SMTP Servers
| | | |
| --- | --- | --- |
| Server | Price | Free Emails |
| SendinBlue | Plans vary from FREE to $66 per month | 9,000 emails 1st month limited by 300 daily |
| Constant Contact | Plans start from FREE | FREE emails to 500 subscribers for 1st month |
| Pepipost | Plans start from FREE to $311 per month | 30,000 emails for 1st month then 100 emails daily |
| GetResponse | Plans starting from FREE to $99 per month | Unlimited Mails to 1000 contacts for 1st month |
| Elastic Mail | Pricing starts from FREE | Free 3000 emails every month limited to 100 per day. |
| Moosend | FREE emails to $312 per month | Send unlimited free emails to 1,000 subscribers |
| Google Gmail SMTP | 500 FREE emails daily to $25 per month | FREE 500 emails daily |
| Mailgun | FREE mails to $35 | Free 5,000 emails per month for 3 months |
| SendGrid | Free to $699.95/month | FREE 40,000 for the first month only after that 100 free mails daily |
General FAQ Questions –
What is the best free SMTP server?
There are several best free SMTP servers in the market but according to our experience you should go with Sendinblue SMTP relay service. You can send 9000 free emails every month which are confined to 300 emails per day.
How to get a free SMTP server?
Just sign up with one of the free smtp service providers and get to send free emails. Our best choice is SendinBlue and Pepipost
How do I find out what my SMTP server is?
You usually see the SMTP servers using web addresses like "smtp.servername.com". To send Free mails you need to configure the your Emails with SMTP server web address. You must know the SMTP server to retrieve the SMTP server IP address or you can do that using the steps shown below-
Click on the "Start" menu and type "Run" press enter then type "cmd" without the quotes and press enter
It will open in a new window.
You need to type the word "ping" followed by space and then smtp server name.
Like "ping mail.servername.com" and press the enter key. This command contacts the SMTP server through IP address.
How to create a SMTP server?
SMTP servers can be set up using different ways, you need to contact your free SMTP server providers for precise information.