When everything is moving online, you sure need to buckle up to promote your services and products online. We will discuss the Sendinblue review in this article. You can send free emails using SMTP servers we will discuss in detail one such service the Sendinblue here. It was launched in 2012 by Sendinblue Kapil Sharma and Armand Thiberge who share the title as Cofounders and Co- CEO. It is already dominating the email space for a relatively new company.
SMTP is an electronic standard for sending emails. This is most probably sent from an SMTP server when you open an email in your inbox. Today, we would like to find a few ways to send emails to web applications with unique domains and your WordPress site using various free SMTP servers, in this article, we will discuss one of the top email providers the Sendinblue – The Free Email Sender.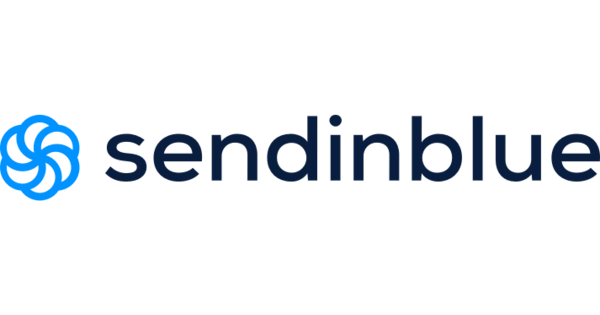 The use of emails for business planning online is like solving a puzzle. If you accept, then what can some of the best free SMTP server providers do for you? what you should be looking into when buying an SMTP service. They give you new tools to make your current activities simpler and to discover whole new possibilities. In case you are are a beginner and wondering What is SMTP or How SMTP works? We suggest you quickly dive in and read our detailed article about What is an SMTP server?
In this article, we have covered the following topics you can directly click on the links below to navigate easily to your interested section.
Here we are discussing the review about the best free SMTP server – Sendinblue
Sendinblue Review – Is it Any Good?
SendinBlue – Free Email Sender offers you a drag and drops feature to create professional-looking emails within minutes. It is an SMTP service provider that gives you free emails to send to unlimited subscribers.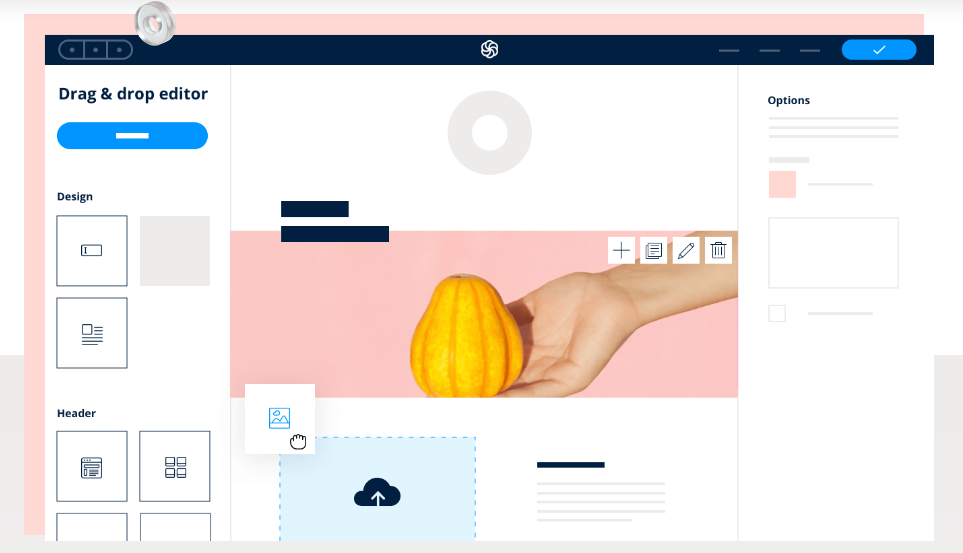 In this SendinBlue Review, let's move forward, it provides a very good free package, including campaign automation, phone service and up to 300 e-mails a day (for the first 30 days) total you get 9000 free emails monthly. Web monitoring and lead scoring were provided for advanced automation. They bill according to the number of emails you send, rather than the number of contacts you have, in comparison to other providers. Payment plans for 40,000 emails start at €25 a month. I know you are speechless after looking at Sendinblue pricing.
Read our blog on How to increase your traffic using RSS Feeds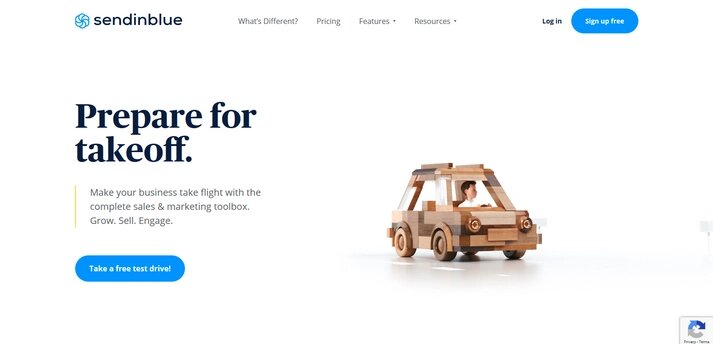 When you've ever looked at many email marketing services, you'll know that this brings SendinBlue at the more competitive end of the continuum, and you'll be pleased to learn that the pricing is much more straightforward than many other companies.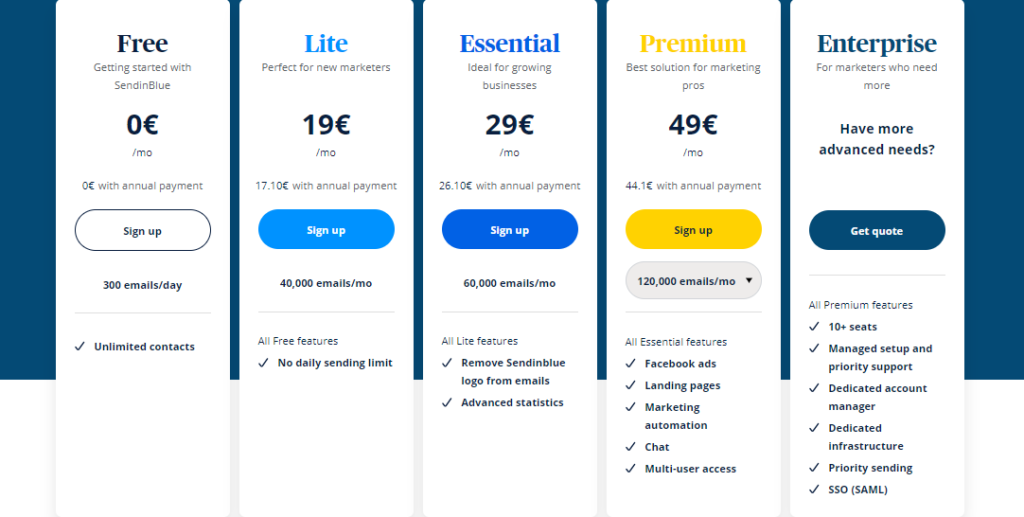 In one sentence, Sendinblue is an all-in-one e-mail marketing company that will take care of your e-mail marketing needs. You can SIGN-UP HERE to start sending free emails and check how flawless the whole process is.
All SendinBlue Features
SendinBlue is a one-stop-shop for your Email and SMS Marketing and chats support requirements. In this Sendinblue review, we will cover all the important features in detail.
You can send beautiful professional-looking emails by creating email campaigns. Sendinblue offers you drag and drop tool to easily design your emails.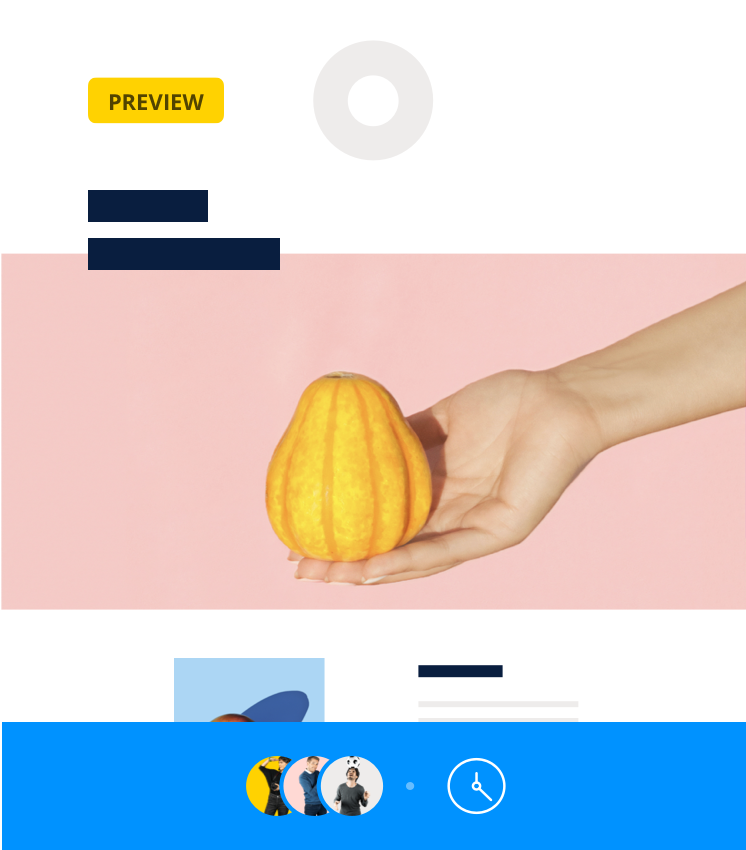 Build Campaigns for Email Using Drag & Drop Feature
You can easily build campaigns for Emails or SMS using their drag and drop feature efficiently in a jiffy. Edit, Add Pictures or customize the complete look, you can also choose from pre-existing 70+ templates which gives you professional-looking emails on the go. Read all about SendinBlue Email Marketing features here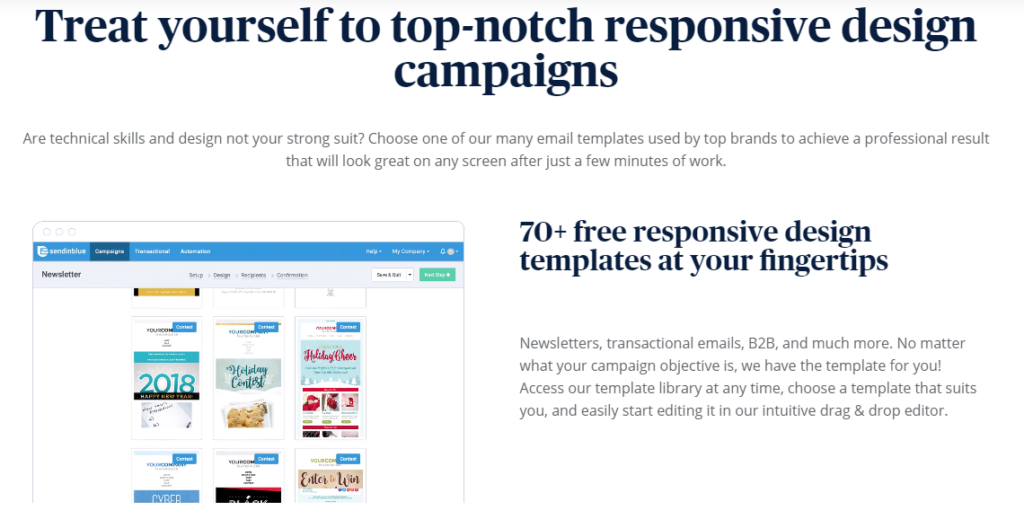 Customize a template and save it for later use. If you are looking at exploring your creative side or have some awesome idea you can also create emails from scratch. With SendinBlue CRM you can import your contacts make notes of meetings etc for each contact too. Let your emails define you!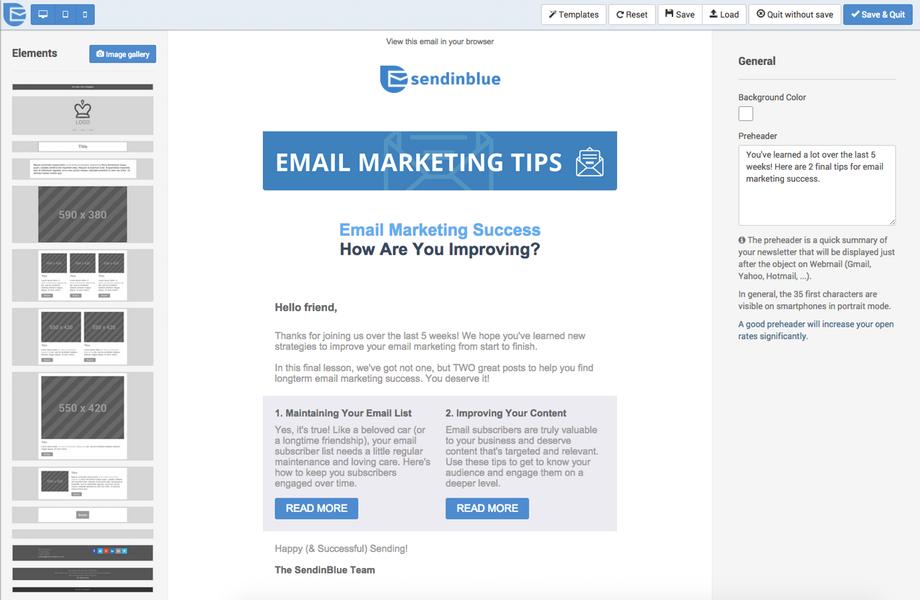 SendinBlue Reporting
It is very essential to have amazing reporting in the case to increase your conversions. You should be aware of what works and what doesn't! With SendinBlue reports, you get a detailed report about all the data which includes reports of relevant data, statistics about the opening rate, clicking rate or the number of unsubscribers, etc. You can read more about Sendinblue competitors here
You can also check the individual reporting of each subscriber. For each email, you get a report. Within each report, you can see unique clicks, bounce rate, open rate, etc. You can also check out which percentage of your subscribers marked your mail as spam and check how many of your subscribers opened your mail and how many visitors visited your website after clicking your link. I hope you are enjoying our SendinBlue review.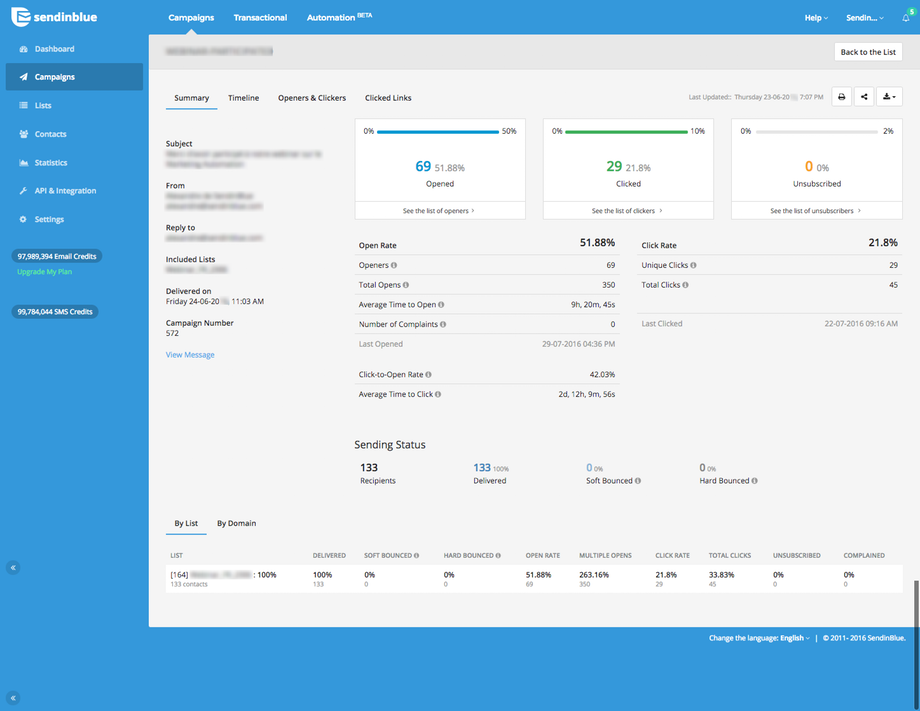 SendinBlue Real-Time Reporting
You can also check out the advanced level of reporting of your email campaigns, just click on the statistics tab on the right side as shown in the image below. Now you can see the reporting on a real-time basis. You can also view the result of your email campaign in ISP. You can also create your own goals to be tracked with their custom metrics. Sign up to send unlimited emails to check out their reporting features.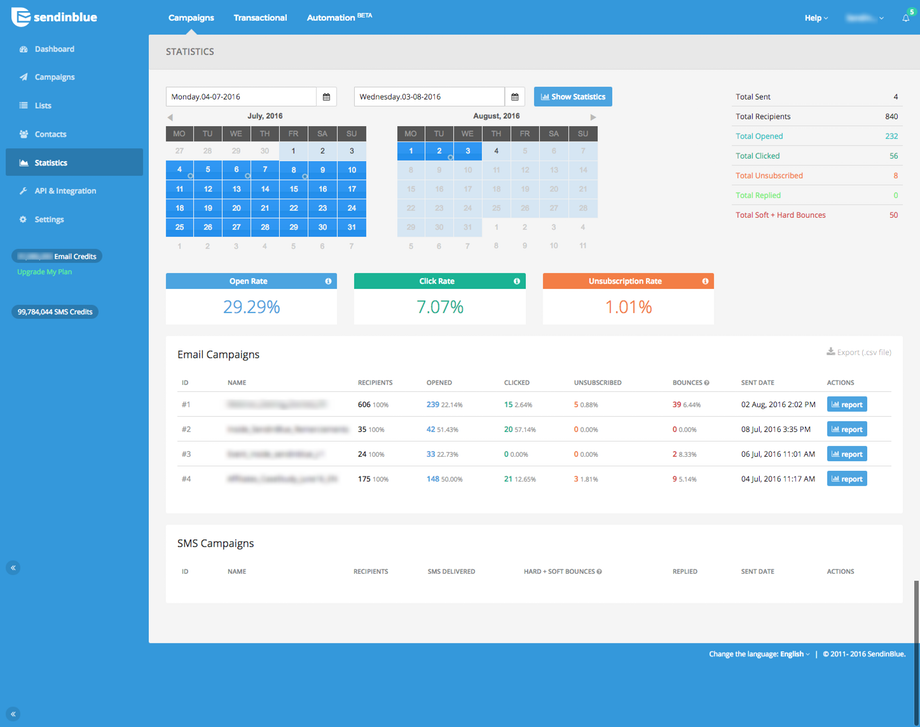 With Sendinblue advanced reporting, you can also filter the fields according to date. The statistics page limits the results according to the date range. Like you can check the click rate, unsubscriber rate, open rate, etc, for emails in a particular month, say January or from Jan to Feb.
You can check the reporting features in the image below –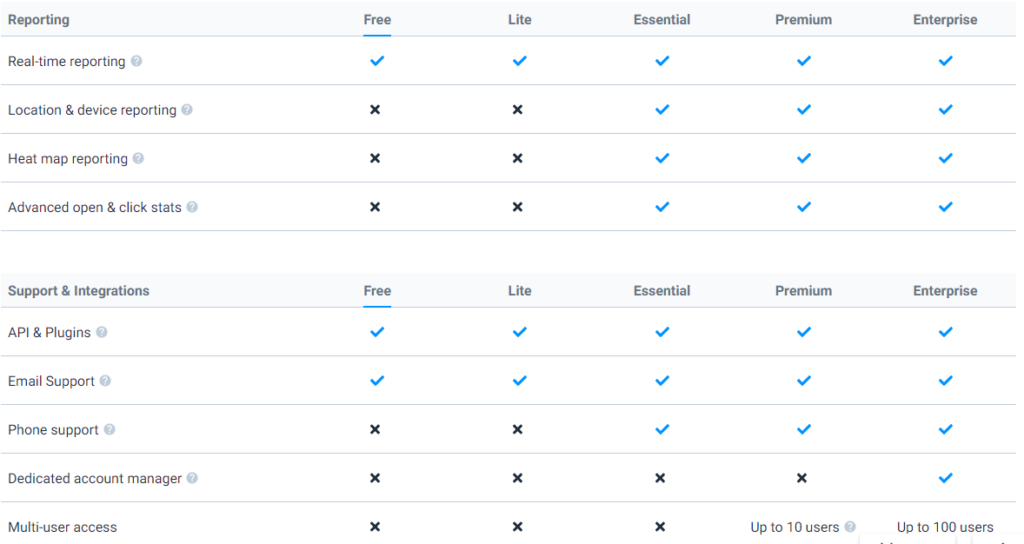 Sendinblue Transaction Mail Feature
Transactional emails are customized emails that you send to your subscribers when they perform an action, like change passwords, purchase order confirmations, newsletter signups or signups, etc. Check out Sendinblue transactional email features here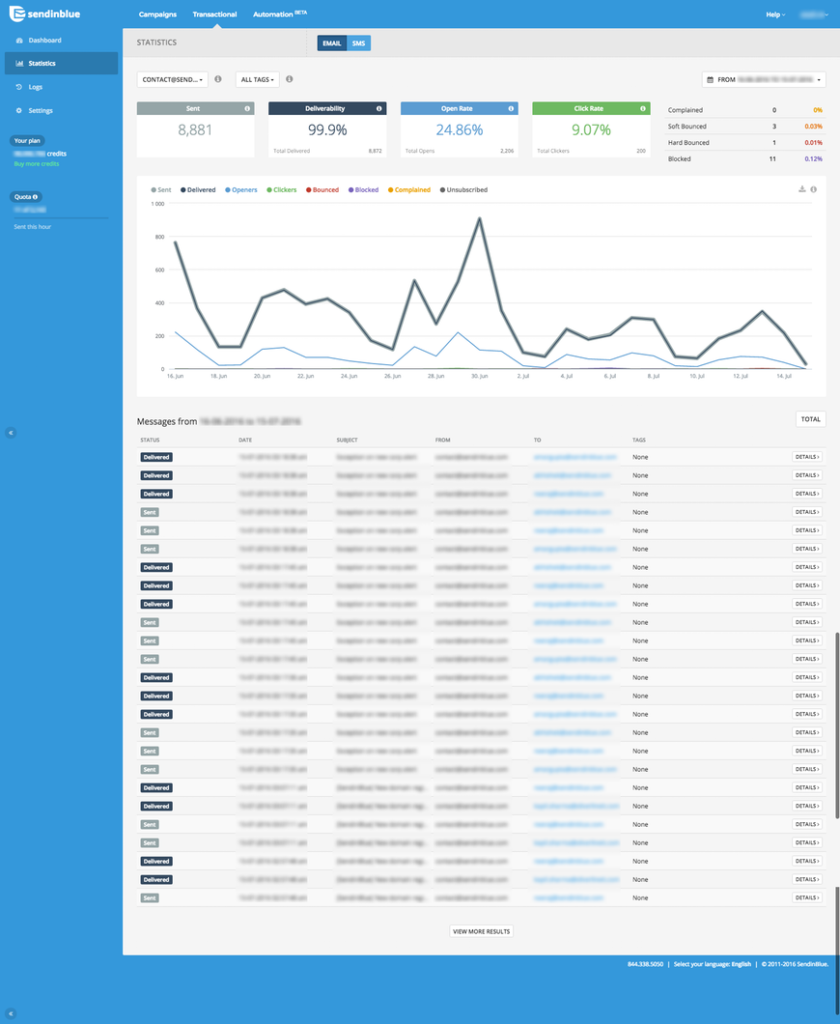 Sendinblue offers advanced levels of tracking tools through this service. The Free Email Sender – Sendinblue offers a feature to automatically blacklist a contact that results in hard bounces to reduce your spam score.
You can check out Sendinblue Dashboard below. You can Sign up for free to check out their dashboard –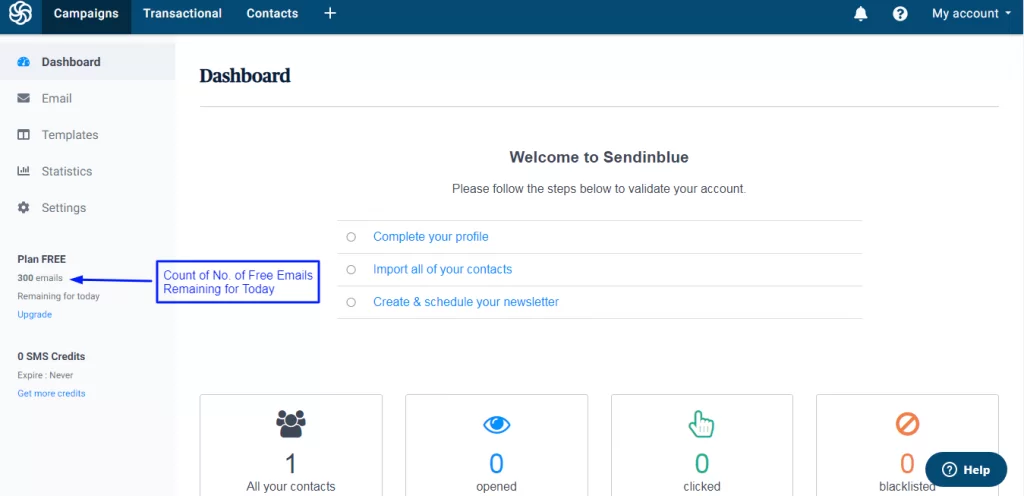 SendinBlue Plan Wise Features
You can check out various Sendinblue features in the image below divided on different parameters.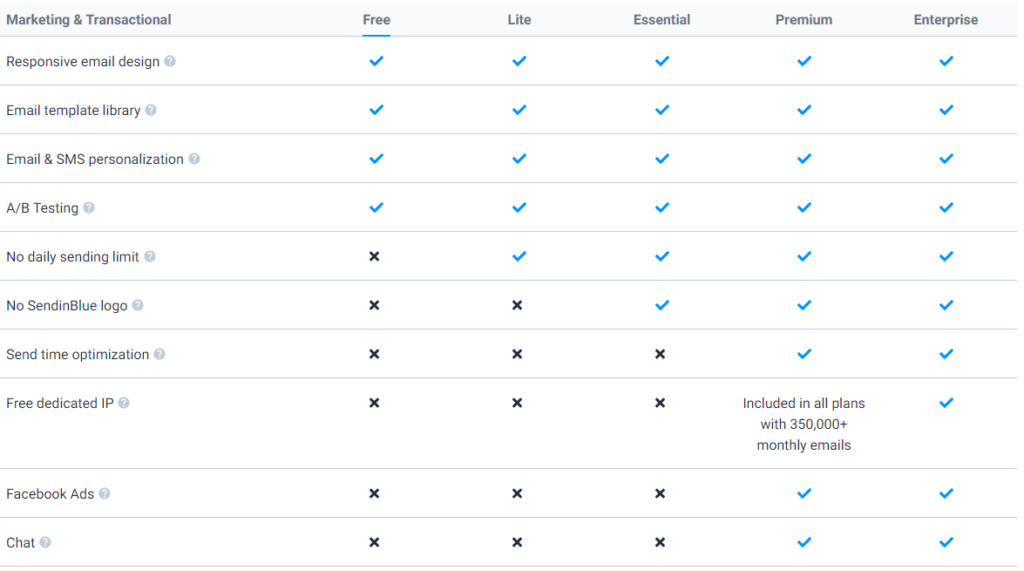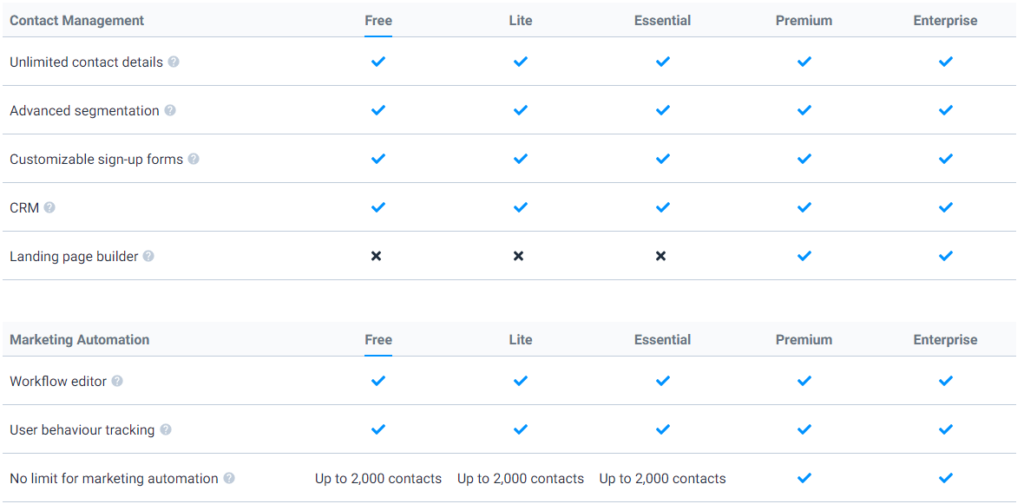 Sendinblue Pricing: Comparison of the plans?
This is perhaps the most important part of our Sendinblue analysis. The rates and email numbers you may submit for each package are as follows. Check out the SendinBlue Pricing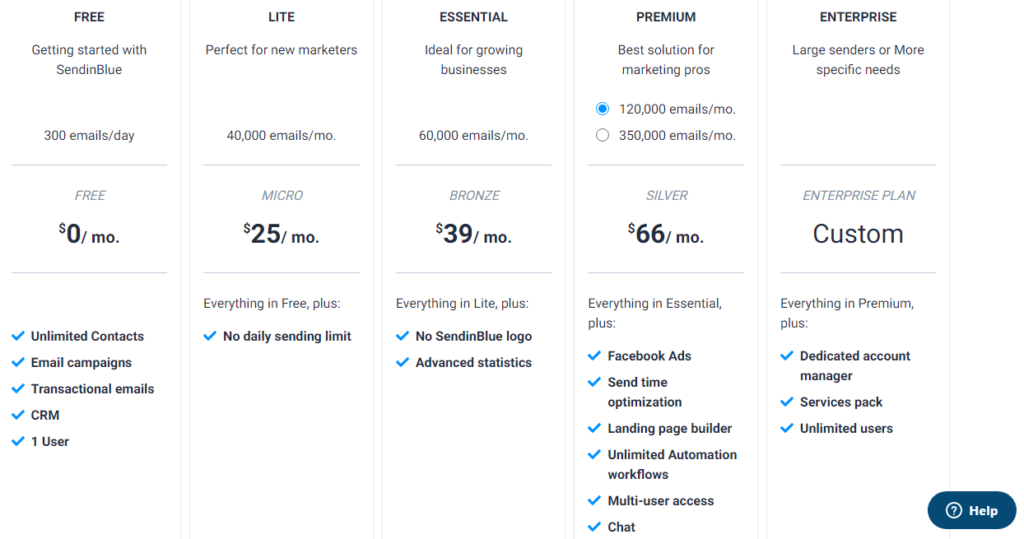 SendinBlue – The free email sender is among the only vendors who still charge you on a company basis and we would like to see more companies following a similar strategy–even though their original costs were much higher.
SendinBlue's free version is the only one with a Daily Limit. A SendinBlue logo is included in your emails in the Lite version. To remove this, you must pay €39/m or higher for the Essential package.
Two versions of the premium package are also worth noting: one for 120,000 emails a month (€ 66/month) and the other for 350,000 per month (€ 102/month). You can Signup Here
Check out our article on price comparison of two biggest email marketing companies, The Mailchimp and Seninblue
SendinBlue provides you with a secure, dedicated IP address to everything you send using the service when you send more than 350,000 emails a month. We Hope the Sendinblue pricing breakup is clear to you!
If you just start and your list is between 100 and 500 people, this free package might be everything you need. This is a smart idea.
While the Free and Lite versions of SendinBlue – Free Email Sender provide you with real-time data, they do not provide location or system information, heat maps, or open and click on statistics. The full set of reports is available in the Essential, Premium and Enterprise Platform editions.
A dedicated account manager is the only limitation in support and integration for enterprise customers as you would expect. Each SendinBlue has full access to the API Docs and Plugins, documentation and an excellent customer support team of the company.
Free Email Senders
You can always find ways to use resources for free. All it takes is a little more effort and smart thinking. If you are a small startup and grinding your way in. You can always look at the free email senders for sending free emails. In this part we will discuss some of them.
Free Email Senders List –
SendinBlue
Constant Contact
Elastic Email
GetResponse
Read more about these here – SendinBlue | Constant Contact | Elastic Email | GetResponse
Sendinblue Affiliate Program
SendinBlue affiliate program is one of the most efficient programs in place. It pays you 100 Euros for every paying customer you refer and their cookies remain active for 90 days. SendinBlue uses tapfiliate as their affiliate tracking solution. You can effectively use it to monitor your commissions. Commissions payout takes place every month through PayPal or bank transfers. Sendinblue has an amazing affiliate program for its customers and is the best free email sender for small businesses.
You can read more about their affiliate program here.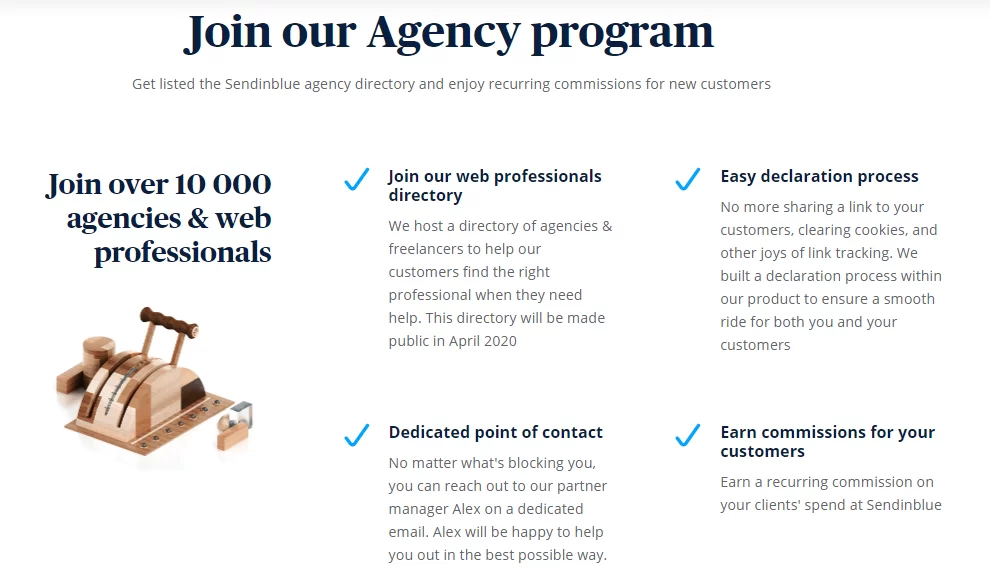 SendinBlue Alternatives
Check out the below table to see Sendinblue alternatives and their price comparison.
| | | |
| --- | --- | --- |
| Server | Price | Free Emails |
| SendinBlue | Plans vary from FREE to $66 per month | 9,000 emails 1st month limited by 300 daily |
| Pepipost | Plans start from FREE to $311 per month | 30,000 emails for 1st month then 100 emails daily |
| GetResponse | Plans starting from FREE to $99 per month | Unlimited Mails to 1000 contacts for 1st month |
| Elastic Mail | Pricing starts from FREE | Free 150,000 emails for 1st month |
| Moosend | FREE emails to $312 per month | Send unlimited free emails to 1,000 subscribers |
| Google Gmail SMTP | 500 FREE emails daily to $25 per month | FREE 500 emails daily |
| Mailgun | FREE mails to $35 | Free 5,000 emails per month for 3 months |
| SendGrid | Free to $699.95/month | FREE 40,000 for the first month only after that 100 free mails daily |
Read in detail all about SendinBlue Alternatives and SMTP servers for sending free emails.
General FAQ
What is SendinBlue?
SendinBlue is an Email & SMS Marketing service provider, it is a free email sender and you can send 9000 free emails per month absolutely free of cost. It empowers companies to grow using email marketing through powerful transactional email automation. You can create sophisticated marketing flows using Sendinblue.
Is SendinBlue free?
Sendinblue is currently during the COVID-19 times offering 1000 free emails daily. But regularly you can send 9000 free emails per month which are limited to 300 emails per day. Then the plan starts with $25 for 40,000 emails per month.
How do I export contacts from SendinBlue?
You can easily export SendinBlue contacts with there attributes by –
Go to Contact Tab in your SendinBlue account
Either choose all your contacts or create filters to export segments
Then choose the check-box on the left to select all the contacts that you filtered
Click on the Export Tab and choose if you want to export SendinBlue contacts once or on a daily basis
Select the attributes that you want to export
What is SendinBlue email?
SendinBlue is a single marketing platform that provides you with SMS, Email, Landing Pages, Ads etc. It help's you grow your online business in less time and help you gain the visibility that you deserve.