The more we are adopting technology, the more we understand the importance of promoting our businesses online. Online Marketing can be expensive that's why we have come up with the best free email services to scale your businesses digitally in a budget.
Email marketing is surely the best way to promote your product and services. It is the least expensive and gives results fast. As soon as you send a targeted email to your subscribers you sure will see the humongous surge in your traffic. So let's move forward to our best email services guide
In this article, we will cover the following topics –
So without wasting any more time lets get on to it right away!
The best free email services-
SendinBlue – The Free Email Sender is a relatively new join in the best mail services club. Established in 2012 by Armand Theberge, Kapil Sharma. It is an email marketing company that lets you send free emails to unlimited subscribers. It is sure the best mail services out there. Let's discuss in detail to understand why we recommend using Sendinblue for sending free emails and scaling your business.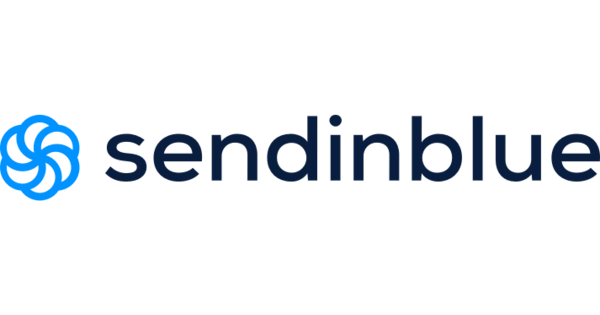 SendinBlue in these hard times is giving you 1000 free emails daily. This sure makes it the best email service for this year. But in general, they provide 9000 free emails to their customers which you can send to unlimited subscribers but the free emails are limited by 300 daily free emails, hence the name free email sender. Their lite plans start at a very reasonable cost of $25 for which you can send unlimited free emails daily limited to 40,000 emails monthly to unlimited subscribers the drawback is the emails will contain a Sendinblue logo. Sign up to start sending free emails to unlimited subscribers
Then comes their essential plan which is ideal for growing businesses starting just $39 for which you get 60,000 free emails for a month along with advanced statistics and removal of Sendinblue logo.
You can either click on the image below or SendinBlue Pricing to check out their plans in detail.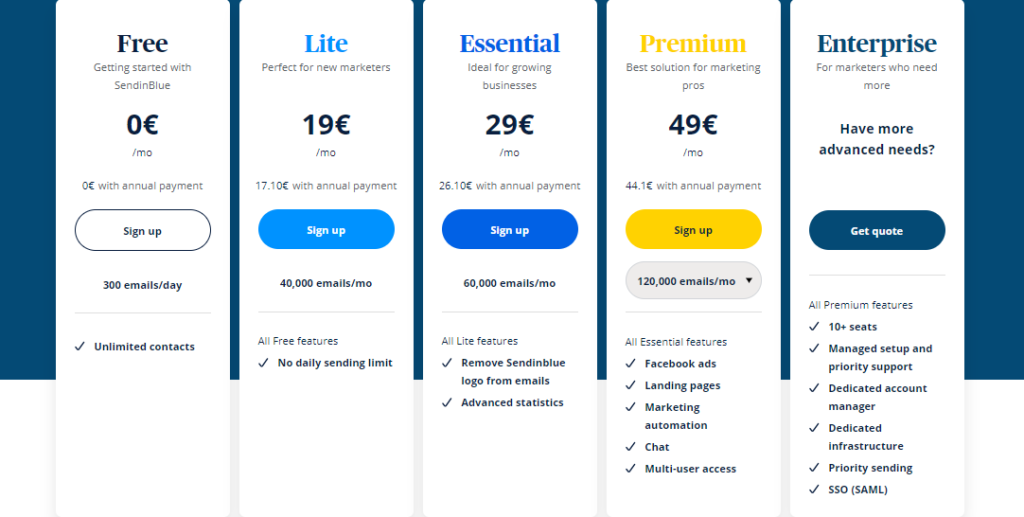 Read Our Comparison "Sendinblue vs Mailchimp – The Complete Guide 2022"
SendinBlue offers features that are in line with some of the best email services on the planet. So let's get to it.
As mentioned before the cherry on the cake is their drag and drop editor that lets you send fully customizable emails, they offer more than 70+ templates to choose from. We are sure they got something for everybody.
Perform A/B test to increase your conversions by choosing the best email copy from all your campaigns also you can automate sending the emails at the time when they increase your conversions.
Sendinblue CRM I must say is quite simple and efficient, that lets you import all your contacts data and lets you make notes for each subscriber
Sendinblue CRM's advanced features let you create lists on the basis of similar characteristics like the source of acquisition.
Automate your emails and send customized emails to each of your subscribers to show that you care using Sendinblue transactional email feature
You can easily integrate Sendinblue in WordPress. Read everything about integrations here.
You can check out the different features offered by Sendinblue
You can read about the detailed article on SendinBlue Review & Pricing by us.
Read our Guide on "Best Time To Send Your Email Campaigns"where we have analyses data from over 20 million email senders, and over 10 huge studies conducted by some most famous names in email industry!
2. Constant Contact
It's just evident if you have any little knowledge about email marketing you must have heard about the constant contact email marketing software. They are the behemoth of emails.

They too have a very good looking website, I really liked their UI and with them, your email marketing is surely in safe hands. I will say they are the best email service out there. It doesn't get any better than this. They have over 20 years of experience in email marketing.
I am sure with them you will be as calm as these guys in the image! ?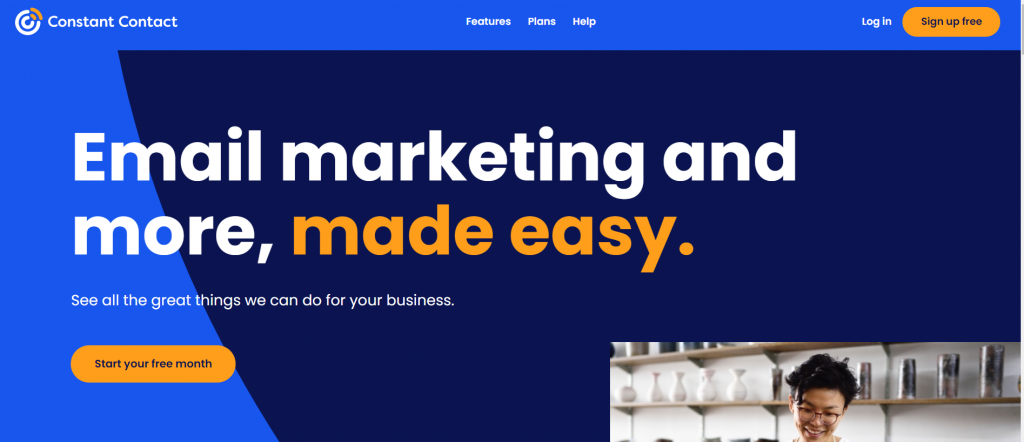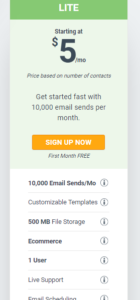 Constant Contact lets you send free emails for the first month to unlimited subscribers. The first month is absolutely free so you can send 10,000 free emails for first month. The Lite plan starts with just $5 per month, you can send 10,000 emails in a month.
Then comes the email basic plan that starts with $20 in which you can send unlimited emails to 500 subscribers.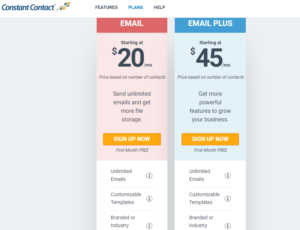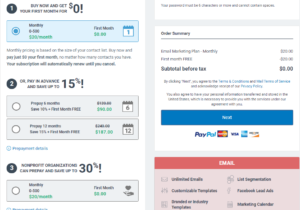 Update the plan as you grow in size. You can get a prepaid plan and get 20% off if you pay for the annual plan you get a 30% discount.
With this pricing, Its almost a free email sender. You can make pop-ups, list segmentation, automated abandoned cart email, woo commerce integration, etc. with the most basic plan. Read all about their plans in detail here.
Read our guide on Can-Spam Act on Marketing before sending your email campaigns. To avoid any kind of penalties by the law!!
Constant Contact comes packed with so many amazing features. Let's check them out without wasting any more time –
They have a very efficient drag and drop editor. You can make professional-looking emails with their pre-designed templates.
You can trigger emails to specified actions taken by your customers. Like, send a welcome mail, resend emails to recipients who haven't opened your emails, contact segmentation, etc. If you want to read more about constant contact features in detail you can read about them by clicking on the link provided.
If you are looking at an email provider for your e-commerce business these are the guys for you. You can acquire new customers, create triggers, keep existing customers reminding about your brand and so much more.
SignUp for FREE To Start Sending Free Emails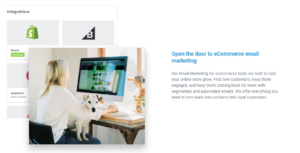 Elastic Email is number third on our list of the best email services. Elastic Email was founded by Joshua Perina and Michal Bochnak in 2010. The main motto was to provide email services to non-tech guys who find other services hard to understand or operate.

Elastic Email is a powerful email marketing tool that you can use for email automation, sending unlimited free emails, you can schedule automated email delivery, import emails, build a contact list. It offers you intuitive email marketing campaigns and a bunch of other cool stuff which we will discuss in detail later in this article. Let's start by having a look at their website.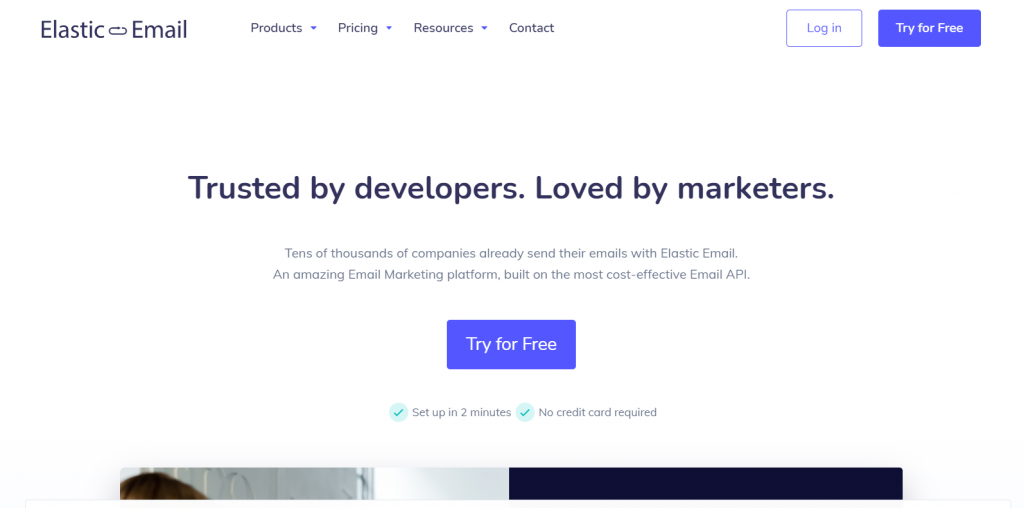 Personally I think they have an average looking website and they can work on their UI and UX. The first impression can be a hindrance to conversion I agree. But they offer some amazing features that I really liked that's why they are number two on my list. ?
Read about email automation and how to increase your sales using email automation!!
Elastic Email Pricing
They are focused on small and medium businesses that are evident from their pricing. You get a free trial account with every feature for the first 30 days, you can add as many subscribers you want, free email templates, behaviour-based automation, etc. Sign up now!
The pricing starts with just $ 10 for monthly plans for unlimited emails to 10,000 subscribers you can also avail their free plan. But the free plan has a daily sending limit which I didn't like as such.
Elastic Email Features
Elastic Email is a relatively new player in the market yet it has some of the most prestigious clients, they have more than 200,000 customers at the moment. Elastic Email has highly functional features that make it a very intuitive automated email marketing platform. Also, it has plenty of plans and features in place. That's why they are number three on our list of best email services.
Let's discuss Elastic Email features in detail –
It offers marketing automation for professionals. It lets you send targeted email sequences and triggered emails to responses. Powerful eCommerce API's to set up amazingly email responses to each trigger. Read this behaviour-based automation feature in detail here.

Send targeted personal emails so that your emails don't feel ordinary. Send tailored emails to your subscribers. Elastic Email lets you send customized emails in a tailored manner to each of your recipients. Read about it Elastic Email's dynamic content feature in detail here.

Mailigen lets you target the more interested customers in a different way rather than the ones that are less interested in your emails and have a low open rate. Customize your messages to different potential customers to increase your conversions. Signup here to start your email automation journey.
You can read all the elastic email features in detail here.
Just to point out you can also use free SMTP servers to send free emails.
Thank you for staying so long, I thought you might be bored so for no reason at all I present to you the joke of the blog!:D ?
Joke of the Blog
I recently got married so this is apt! I just hope she never finds out ?
One day my wife accused me of being immature. So I told her to get out of my fort !
I think you don't know about this jewel to date. Third, on my list is Pepipost it is one of the best email services. Pepipost is a new entrance to this list of free email services. It is a free SMTP server provider that lets you send free emails. If you don't know what are SMTP servers or how SMTP works we got the right article for you. Pepipost was founded in 2015 by developers who were tired of the mails ending up in spam folders.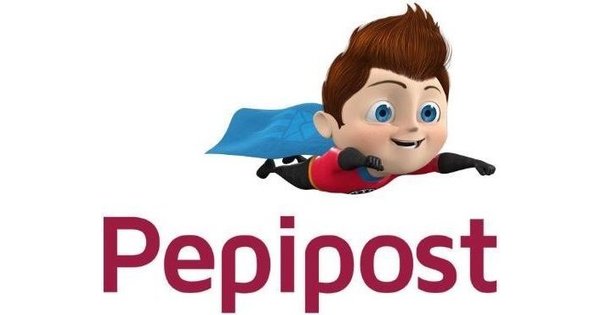 Pepipost gives you 30,000 free emails when you sign-up a trial plan valid for 30 days. After that, you will get 100 free emails per day for a lifetime. That is why it is second on our list of best free email services. It has some of the most economical pricing I have ever seen with all the advanced features out there you name it they most probably got it. They are still growing at a rapid pace. Their plans start with just $25 that lets you send 150,000 emails to unlimited subscribers. Also if you buy their annual plan you get 30% off and the most basic plan will be for just $17.5 per month.
How cool is that!
Or should I say
How cheap is That! ?
Once you exhaust the limit you get extra 1000 emails just for $0.60. Have a look at the Pepipost Plans here.
Superhero Pepi sure knows how to save you a ton of money! Sign Up for Free and let the marketing begin:)
For a small company, I must say they got some pretty big features! Let's see what this best email service has in store for us.
Pepipost got its servers data centers all around the world that makes its deliverability one of the best among the email services available.
Pepipost is the best free email service out there it is simple, easy to use, just change the config. to point to Pepipost Email Service Server
The backup of your SMTP is stored for 90 days more than most of the other email services offer. You can easily track your SMTP too.
Send transactional emails using Pepipost API. Read all about how to integrate the pepipost with popular frameworks
It supports open source email marketing software like mautic and mailtrain. Read in detail here
You can Sign up here for free and start sending free emails!
GetResponse is number 5th on our list of the best free email services. GetResponse has one of the best delivery rates in the industry. You can either design beautiful emails from your own or just make changes to the free templates present.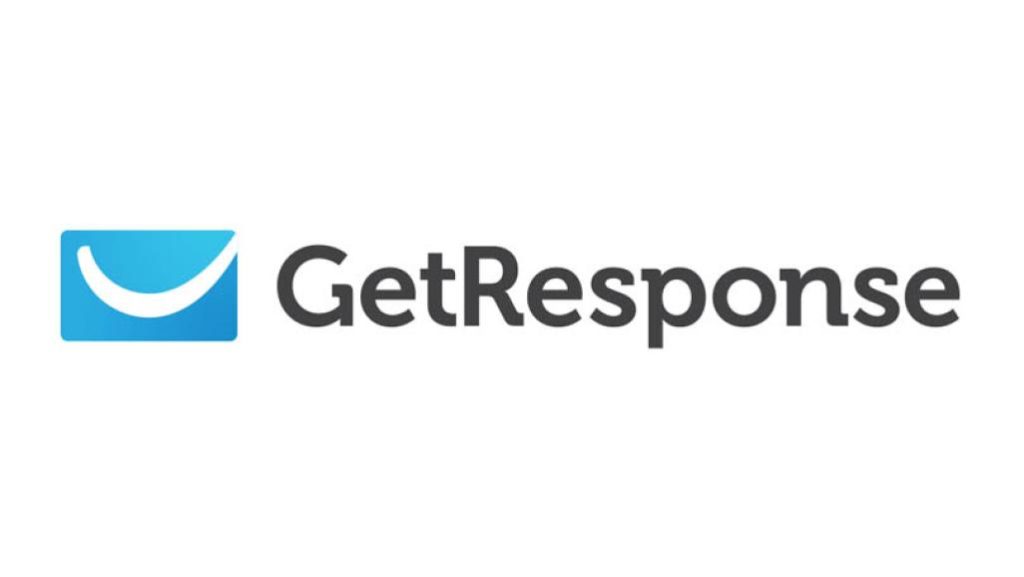 GetResponse gives you a 30-day free trial. You can send emails to 1000 contacts free of cost. If you are a growing business and you want to conduct small webinars of up to 10 people, you can do that with a free get response plan. You can also design landing pages in GetResponse free plan, but it is limited to just 1000 visitors after then you need to update to one of GetResponse paid plans.
Their plans start with $15 for monthly plans for which you can send emails to 1000 subscribers, you can also buy their annual plan for just $10.50 if you pay in one go.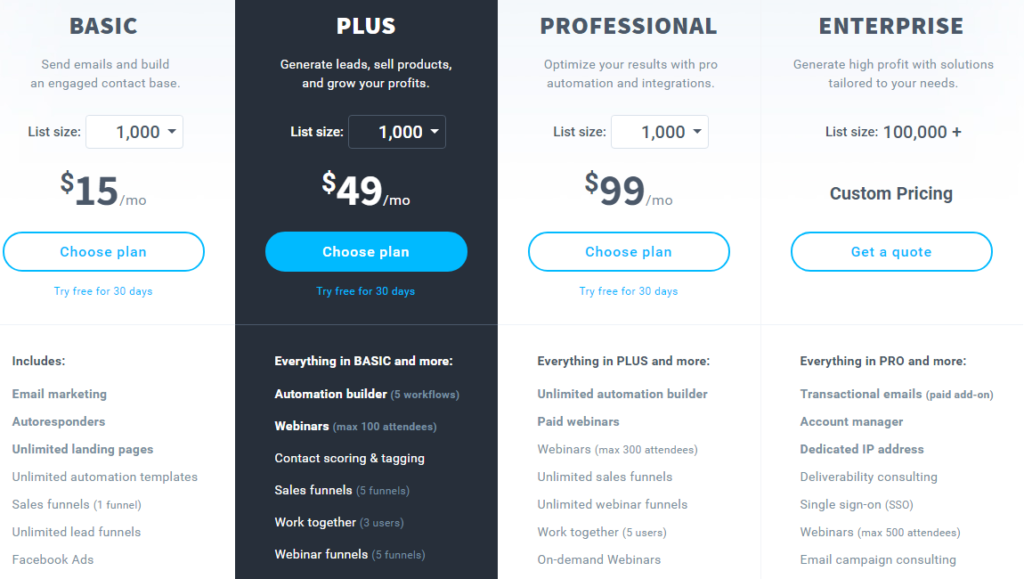 With GetResponse you can send follow up emails easily, design good looking email auto-responses.
You can send timely transactional emails in a timely manner that lets you increase your email conversions. Send customized emails like purchase orders, password resets, abandoned carts, etc.
With GetResponse Targeted recipient's emails, you can increase your conversions multiple times and earn profits.
You can read about all their email marketing features here
The Best free email account services (For Personal Use)
In this part of the article we will cover some of the best email account services out there. Before moving forward it is only logical to note that email account services can be broadly divided in two parts email clients and webmail services. The email world has three major email protocols namely the Exchange, POP3, and IMAP. Let's have a look at best email accounts available to us.
Best free email account services –
We mostly will be aware of the "Gmail Free Email Service by Google". Gmail comes under the webmail category and it has the second-largest market share just behind the Apple's native email app. To sign up you just need a Google account to register with Gmail. It comes loaded with a google suit with so many additional features like the hangout (Gmail chat) video conferencing feature etc.
For those who don't know Gmail also offers SMTP services for email marketing. You can read about Gmail SMTP here. If you are a beginner you probably wouldn't know about SMTP. It sure is the best email account out there!
Read here about What is an SMTP?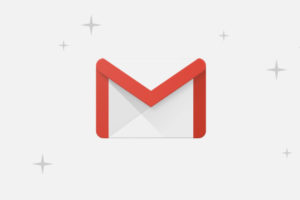 With hangouts you can easily share files, send images and do video conferencing with your fellow Gmail account holders. You can also easily set meetings and reminders with a Gmail account. With Google you also get ease of using its other products as well like, you can easily access your youtube account by logging in using your Gmail account also you get 15GB disk storage to store your documents etc. with google drive. The best part is it is absolutely free of cost. You can sign up here.
It has a very easy to use and a very good user interface to makes things organized in your already chaotic life!
Gmail sure is the boss!
Learn what is new in Gmail here
AOL is second in our list of free email account services as it comes with a feature that keeps our worries at bay. It has UNLIMITED STORAGE! AOL is a webmail type of email service. This is the best pick for you if you conduct most of your communication through email.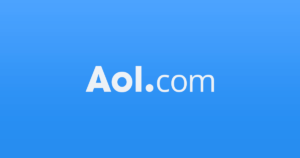 AOL or we should call it America Online is a very ancient (deliberately used this term) email account service provider. AOL was overtaken by Verizon in 2015, it has grown so much after that and Verizon sure has kept the features at par with other email account services out there. Sign up here for free
America Online (I feel nostalgic just typing those words) has quietly kept up with today's standards for a good user experience. The classic AOL is now once again one of the best free email accounts available to you.
AOL comes with advanced features like the virus protection and spam filters, send instant text messages using AOL from your email inbox using some specific windows. Thats why it is second in our list of best free email accounts. AOL without a doubt stands at the second position of our list of best email accounts out there.
AOL Mail do have some advantages over Gmail, like you can import contacts using a TXT, CSV or LDIF file or you can just create a list from the start. You can also download the AOL MAIL APP to get started
Outlook is an email client type of email account service provider. It is the right email account service for you if you use different platforms to connect with others.
Outlook has to be third on our list for sure, due to its ability to clinge to different apps effectively. You can connect Facebook, Skype, Paypal, Powerpoint for starters with your outlook account. Also you can set your calender or send invites for the meeting as in other popular email services like the gmail.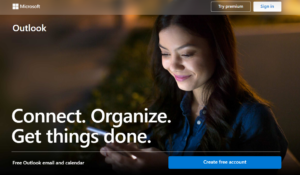 The cherry on the cake is that outlook works best even for task-management Softwares like trello. Trello sure makes it very easy to communicate efficiently with non-outlook users too. Like the Gmail outlook too offers 15 GB free storage for every user. You can signup here for free and check how smooth their interface is!
Mail.com is a webmail type of service and we have to give them full marks for their innovation, they give you over 200 options of choosing your domain name!
It is best for self-employed, freelancers and small & medium-size businesses. Check out mail.com tools in details here. It is surely offers the best email account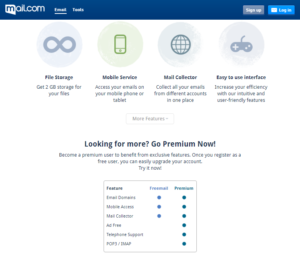 The only disadvantages of mail.com is it doesn't offer any good storage space as compared to its contempories, it only offers 2GB free storage. The star features remain the 200 custom domain name options it offers you. It means that you can actually change the domain name that appears in the last like the "mail.com" to match your niche or usage. So that no one finds out which email account service you are using.
It sure has a domain name out there for you. Sign Up here for free to start using different domain names. That makes it one of the best free email accounts available.
Some of the top options of domain names available on mail.com are as follows-
dr.com
cheerful.com
accountant.com
techie.com
engineer.com
mail.com
email.com
post.com
europe.com
asia.com
iname.com
usa.com
linuxmail.org
musician.org
contractor.net
financier.com
workmail.com
myself.com
consultant.com
Mail.com doesn't rest on its 200 laurels, though, as the email provider also comes with a calendar for creating and tracking your events each week.
Proton Mail is surely the most secured webmail out there for sure. It has gained its name due to its security features and being the most safest email for privacy. It is the best email if you want to share some sensitive email. It is one of the best email account services.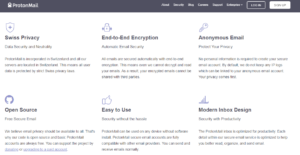 Proton mail offers 500MB of free space, I know it's very less but hey you need to cut some slack for our most secured email account service, it is offering you world-class encryption that too free of cost. SIGN UP HERE for free
Proton Mail works best on any devices and you don't need to download any additional software to start sending encrypted emails. It's UI and UX is in accordance with the other email account services like the Gmail or the mail.com. Proton mail offers also one more feature that caught our eye, it provides you with colour-coded labels to organise which of your email's require the most security. Learn more about protonmail physical security features here
I hope that I could get you some clarity about the best email services out there through my blog!
Price Comparison Of The Best Email Services (For Marketing)
| | | |
| --- | --- | --- |
| Server | Price | Free Emails |
| SendinBlue | Plans vary from FREE to $66 per month | 9,000 emails 1st month limited by 300 daily |
| Constant Contact | Plans start from FREE | FREE emails to 500 subscribers for 1st month |
| Mailigen | Plans Start for FREE | FREE unlimited emails & All premium features for 1st month |
| Pepipost | Plans start from FREE to $311 per month | 30,000 emails for 1st month then 100 emails daily |
| GetResponse | Plans starting from FREE to $99 per month | Unlimited Mails to 1000 contacts for 1st month |
General FAQ Questions –
Which is the best email account?
There are several free email account services available online. It totally depends on what kind of service you are looking at. Below are some of the best email account services available online for respective reasons –
Microsoft Outlook (Best Email Client Account Provider)
Gmail ( Best WebMail Account Provider)
Proton Mail (Most Secured Email Account)
Which is the best free email account?
There are many free email accounts out there. But according to us "Gmail is the best free email account service of all times"
Which is the best email provider?
Some of the best email providers are –
SendinBlue
Constant Contact
Mailigen
Pepipost
GetResponse
What is the best email to use?
If you are looking at sending free emails you might choose among the "best emails to use – Gmail and Outlook"
What is the best free email account?
Following are the best free email accounts available out there-
Gmail – The most reliable best free email account provider out there
Yahoo Mail – Yahoo mail is also gaining its share in free email account providers market. With 1 TB free storage, it is number 2 in our list
Outlook – A free email account on Outlook.com is just as useful as its counterparts the Gmail and Yahoo, with the added bonus that it's easy to 1. Offers folder organization 2.Apply "sweep" rules to keep your inbox clean 3.Create email rules just like you do in the Outlook desktop app
Proton Mail – It is one of the most secure and popular free email account service available, you can create Folders and labels to organize your inbox and it provides you with 2-Factor encryption, and the ability to see all sessions logged into your account.
GMX Email – GMX is one of the most deceptively simple free email accounts on the planet that looks, but there's much more than meets the eye.