Email Newsletters are one of the best ways to entice your customers, let's look at some newsletter examples with our guide to help you design yours. It helps to keep your brand alive in the minds of your prospects and existing customers. Now designing your newsletter can be quite a task if you don't know any coding or graphics (don't worry you are like most of us). We will share some of the best email newsletter examples in this article and will take you slowly to the process of how to plan, how to design, when to send and tools to do so!
While designing your newsletter it can be quite intimidating, you need to keep in mind so many things like what is the purpose of my newsletter? What is an email newsletter? How to design a newsletter? When your mind is boggling sometimes a little nudge goes a great length.
In this article, we will cover the following things in details-
What Is A Newsletter?
A newsletter is an online medium to communicate with your subscribers and prospects, providing the recipients with useful information about your brand directly in their inboxes. A newsletter can be used to send drips of messages like in the drip campaigns to maintain the brand presence. It can be composed of images, gifs & videos etc.
We receive hundreds of emails daily, it is the best and most affordable medium to connect with your customers and keep your brand alive in the minds, it is one of the most popular techniques to keep your customers loyal.
What Is The Purpose Of The Email Newsletter?
Newsletters are generally used by brands, bloggers etc to either educate, upsell or advertise a service or product. They are also used for sending transactional emails like the password reset, order confirmation, welcome emails etc. Let's look at details the purpose of the newsletter in details-
Maintain brand presence
Upsell a product or service
Educate about an existing product, offers etc.
Confirmation emails
Encouraging recipients to revisit
Best Email Newsletter Examples
Email Newsletters are a bit overwhelming, so much to plan out. But don't worry we got the best newsletter examples and ideas for you. Each newsletter is for a different purpose, so I have divided them for each separate purpose.
Here is a list for some of the best email newsletter examples –
Basic Newsletter Examples
Basic Newsletter ideas give you a very basic design, you can play with it and design as per your requirements. There are a couple of examples below to get you going.
YOU CAN CLICK ANY IMAGE BELOW AND IT WILL TAKE YOU TO THE DESTINATION WHERE YOU CAN DESIGN THE NEWSLETTER FOR FREE!
Below is the newsletter for a monthly update, the newsletter is very well designed is a single format and colour scheme. It is the best newsletter example for you, as this has the following features –
Highlights your product, at the start
Offers you to visit their shop (promotes your shop, products or services)
Offers you insights about the latest blogs and latest developments (which in this case is the latest coffee blends)
Way to earn money by referral program (Serving as CTA)
Customise your logo, photos, name of the recipient, text colour etc.
SIGN UP TO DESIGN AND SEND FREE EMAILS! You can also send your newsletters at the best time using this platform.
Also, you can read our guide on when is the best time to send your marketing emails where we have analysed data collected from over 10 biggest names in the email industry which compiles the complete data from over 20 million subscribers!!
Wow!!

Read our blog on "A Complete Guide To Your Email Marketing Strategy In 2022" to gain the maximum out of your email campaigns.
Below is a basic newsletter template that you can create by adding your images, text, change fonts, headings etc. This gives you the most flexibility to design your newsletter If you are not a creative guy you can send any of the templates already present. Email marketing is the most affordable forms of marketing strategies, read about how to send free emails here.
Send Free Newsletters and Design your Newsletter here!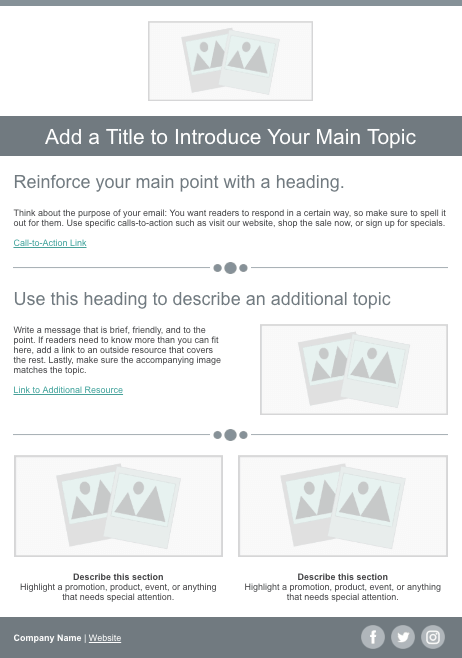 Get answer to questions like are emails case sensitive with our blog!!
Holiday & Christmas Newsletter Examples
Holidays are around the corner and you are clueless about how to design a newsletter which will be enticing to your audience? Here are some of the best Holiday & Christmas newsletter examples for you to get you going –
Send and create FREE amazing GIF newsletters using Sendinblue's drag and drop feature.
DESIGN AND SEND FREE NEWSLETTERS EVERY MONTH FOREVER!
The below newsletter by SendinBlue lets you send custom holiday newsletters, the below newsletter is perfect if you want to send holiday newsletters –
It covers your logo in the top
Your Greetings & Occasion has been highlighted for better reception of the message
A small personal message in the last is a cherry on the cake.
Check out "Sendinblue vs Mailchimp – The Complete Guide 2022" to find out why you should look at Sendinblue as the ultimate Mailchimp alternative.
For Next Example, we have taken a Fathers Day Newsletter Example, I Personally found it quite well designed and quirky. Some of the features that I loved are below –
The message, greetings is clear in the top
Your message and a short one-liner for upselling
Finally Projecting your unique products, to showcase and gain interest.
Send emails securely and encrypted using the safest email providers
Design amazing looking Newsletters, for Free Here!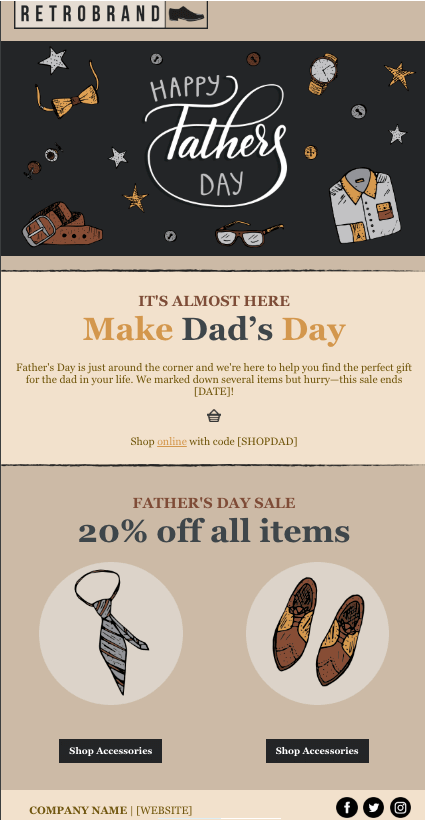 Sale Ecommerce Newsletter Examples
You can send amazing looking newsletters in just a minutes time with, already well-designed templates. Click Here to send free newsletters
The below template is a very good eCommerce Christmas Sale Newsletter example and you should too keep the following points while designing your newsletter-
Call to action – You get to showcase your products right at the moment someone receives your newsletter
Free Offers – You can easily lure your potential customers to visit your website by offering freebies.
Clear Message – The message is clear, why are you sending the email
Before sending your newsletter campaigns I recommend reading CAN-SPAM ACT & Marketing Relationship in Detail! so that you don't get into some legal issues and attract a penalty from the law.
The next we have is an eCommerce Example, I personally really liked this design. It has all the elements of an eCommerce email should contain. A good newsletter always will have the above-mentioned points.
You can design such beautiful looking emails by just editing this newsletter for free and personalise it to cater to your needs! Click here to send free newsletters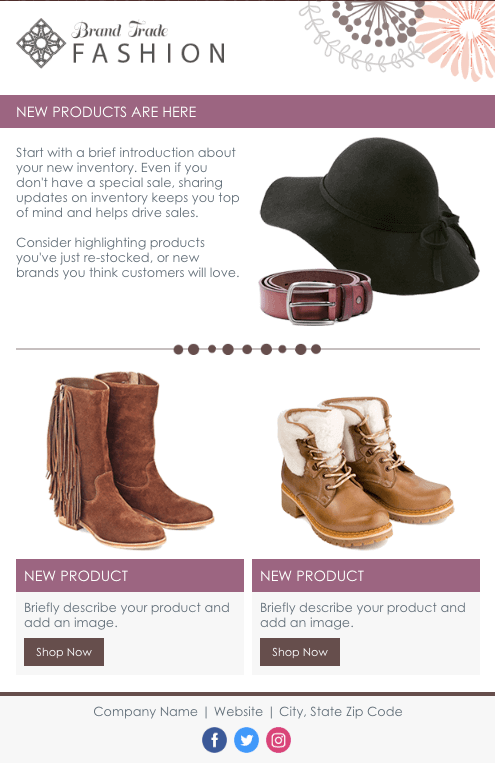 Another newsletter template marketing firm which you can look out for is AWeber. In the below example of Sale Ecommerce Newsletter, the following points are a definite lookout:
Clear day and time mentioned for Sale offer
Discounts offered on particular items
Company description or terms and conditions can also be put out
AWeber is a email marketing platform which provides businesses with resources to get in contact with prospect customers and turn them into actual customers. AWeber newsletter templates focus on providing the subscribers new insight/knowledge to the customers. Also great content can be published for building relationship with customers at a starting stage itself. For more information on AWeber, click here.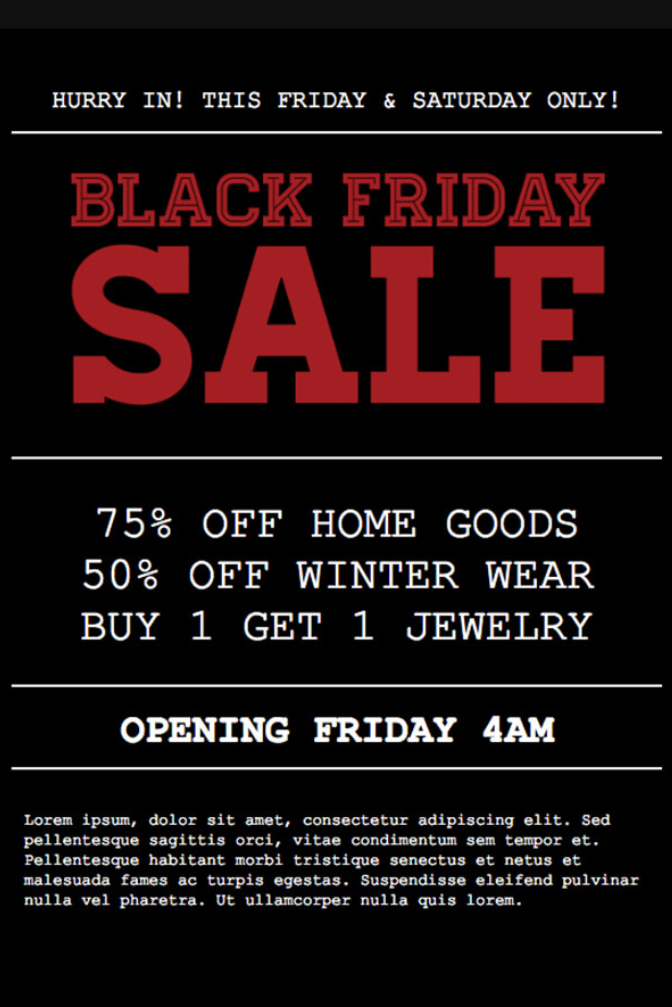 Year Review Newsletter Examples
At the end of the year, when holidays set in, you can send a complete year review to your customers and prospects telling about your accomplishments, new projects you acquired, experiences gained etc.
The below example highlights the following traits –
Greetings for the occasion
Shows the team spirit, and introduce your team
Highlight your achievements whole year-round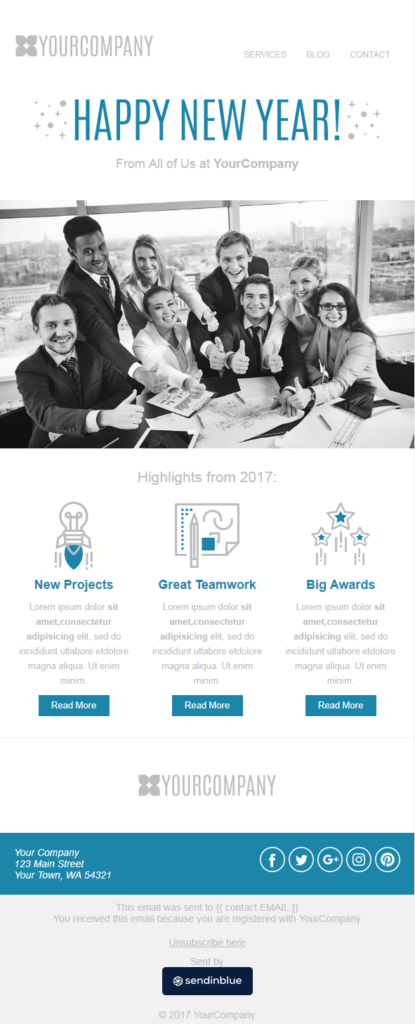 Transactional Newsletter Examples
Transactional newsletters refer to emails that you get when you set a trigger and get an email as a response learn more about what is a transactional email here, here are some examples of transactional newsletters –
Here are some newsletter examples for transactional emails for you-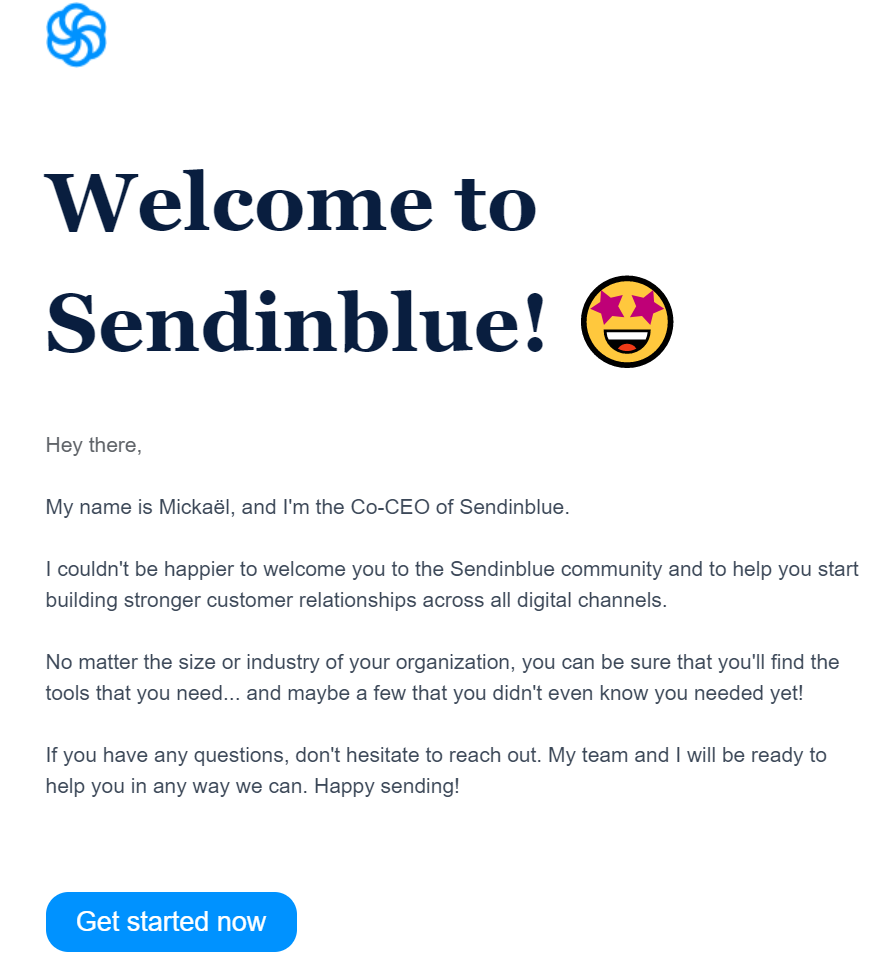 Event Announcements Newsletter Examples
Organizing an event? Clueless about how to entice new customers or educate the existing customers about your event?
Here are some of the examples to help you get the extra nudge!
Create awesome looking emails here!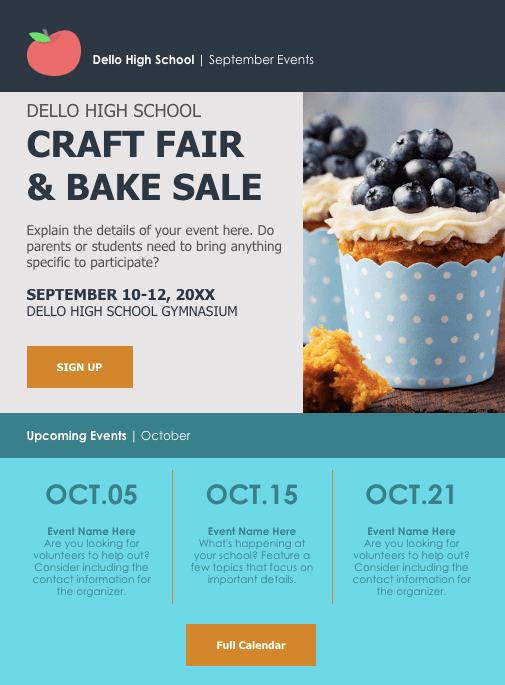 The below email template covers all the things and is a beautiful example of how to cover a major chunk of information in just a small space it is a good example for various reasons-
The message is conveyed properly
All the event-related information is provided in a clear manner
All the details about the upcoming events are also conveyed properly
Click Here to design your event newsletter for free

AWeber is another marketing platform for your event announcement newsletter. Aweber provides with creative newsletter templates along with stunning landing pages. ensuring timely delivery of emails, providing simple dashboards and reports among others. Check out the AWeber features.
If you are making a template, for example, a pet show, there is no better place to go than AWeber. In the below template you can add the following information:
The company's logo
An attractive headline which captures the essence of your event
Event-related information such as place, date and time
Pet pictures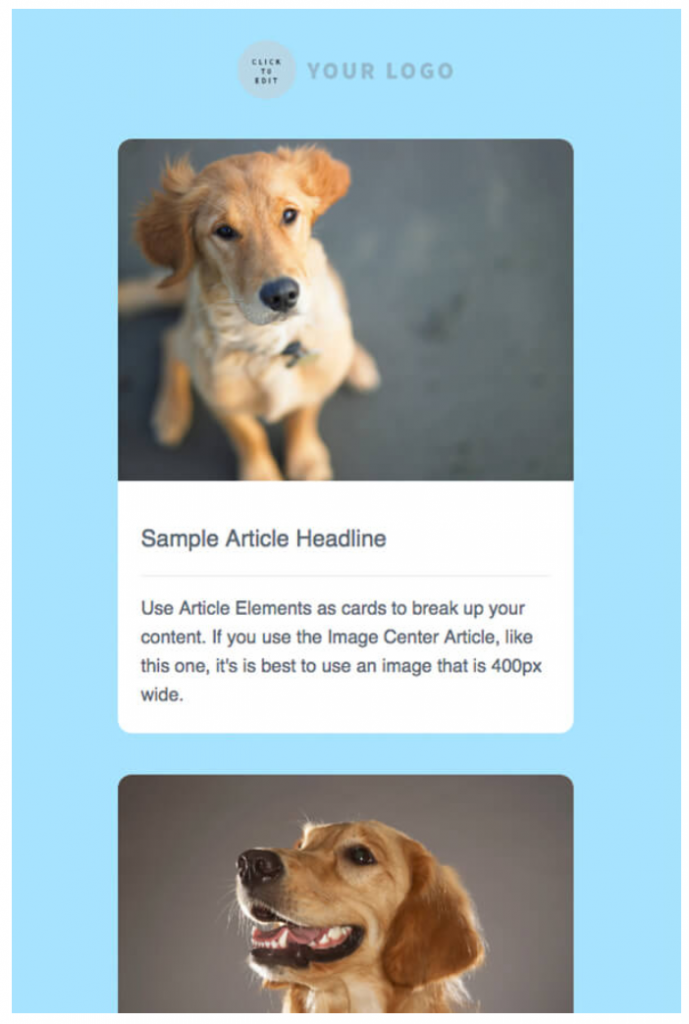 Lead Generation Newsletter Examples
Lead generation newsletters are used to get the designed information (email, phone no etc.) so that you can pursue your subscribers later on to upsell your products. Showcase your new launches, follow-ups etc.
To get the information you require you need to give something in return so the E-Book is the best way to do so.
Design your Lead generation template for free here!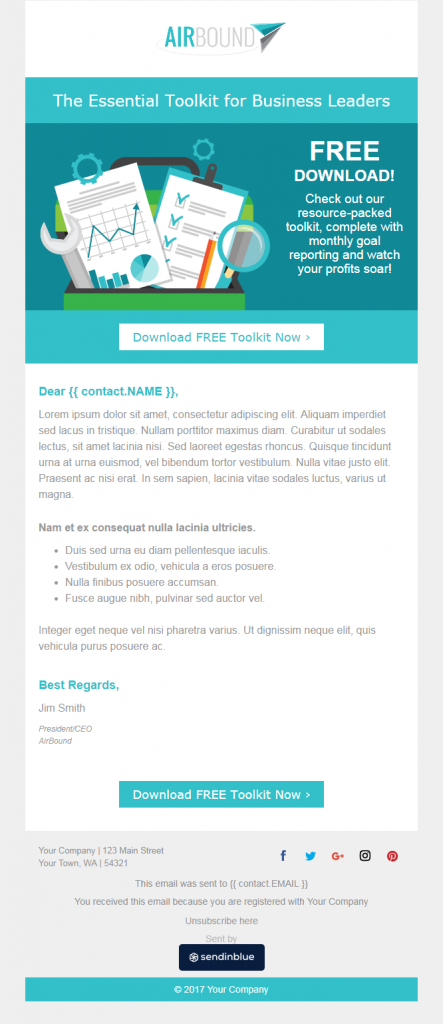 How to design and send a FREE newsletter?
There are many free services out there which you can use for sending free emails, we have covered a couple of free SMTP servers that you can use for sending free emails
You can use the following services to send free newsletter –
SendinBlue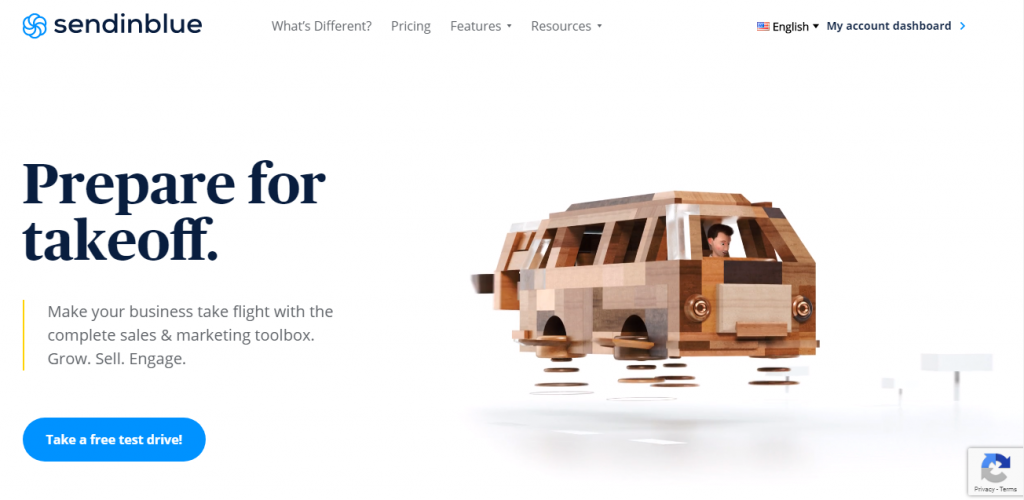 Sendinblue is number one in our list as you can send free 9000 emails per month, check out Sendinblue pricing here and offer 108 free email newsletter templates which you can send absolutely free of cost. You can either design your templates using the Sendinblue drag & drop editor which works wonderfully.
Check out why Sendinblue is the best newsletter software?
Sendinblue offers your company a number of features such as :
CRM which helps you to import all data and help you in making notes based on your previous meeting.
Another feature offered is Transactional Emails which can be personalized according to different customer information. Check out the transactional feature here.
Also, different pages can be created for different campaigns with the help of landing pages feature.
Through Email Heat Map feature, businesses can visualize how the customers engage themselves in the company's campaign. This helps in improving the designs for future campaigns and better customer targeting.
Check out our complete Sendinblue Review here.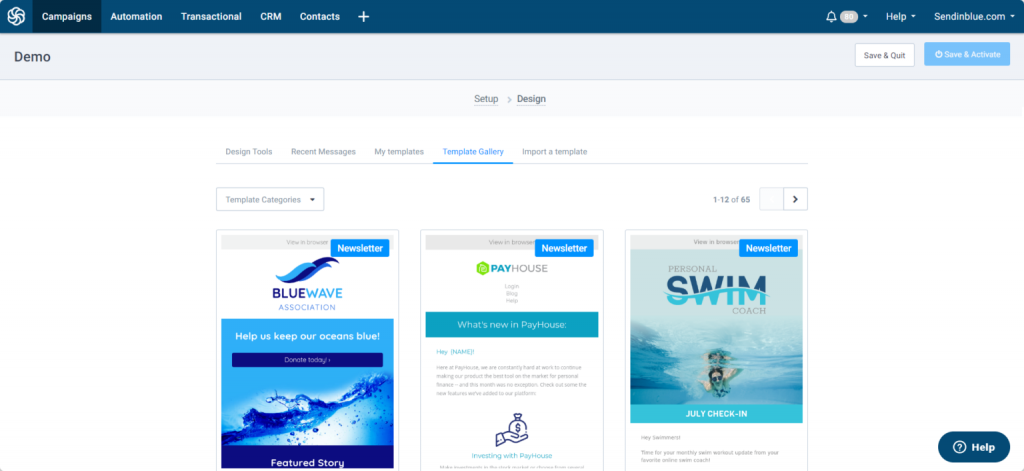 Constant Contact
Constant Contact is also a fantastic service to send your emails, it offers multiple templates and you can send free 10000 emails too. Easily design your emails with the help of pre-existing templates and smooth working editor. Constant Contact is one of the renowned names in the email marketing industry which offers your business features like:
Sending an automated response to your customers when specific triggers are sent. Email automation is not a new hype in the industry, however, it is very useful for businesses. Want to know what is Email Automation?
Constant Contact provides businesses with Contact Management feature where the contact list will be updated wherever it is stored.
The amazing newsletter can be created through efficient drag and drop editor increasing brand retention and impacting customers in a more effective way.
Check out constant contact pricing here.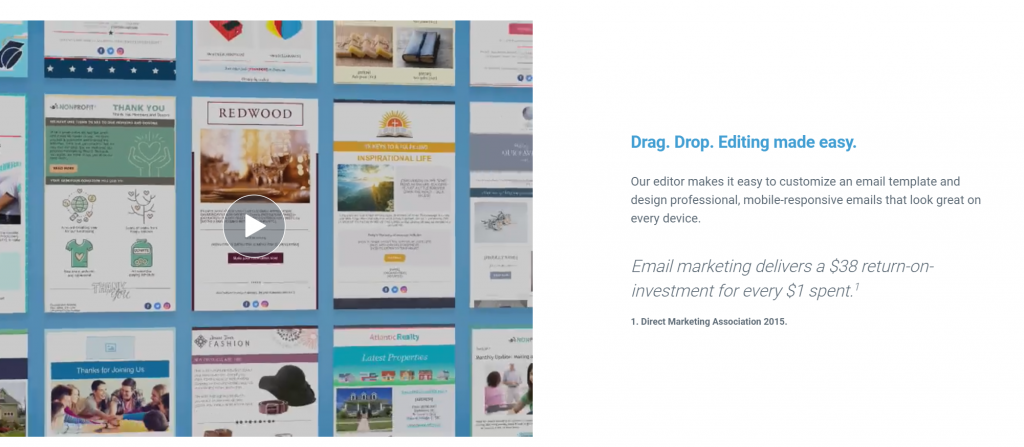 AWeber


AWeber is another software for email marketing which was specifically designed keeping in mind the needs of small businesses. The company works on the value of collaboration which helps businesses to grow by improving their relationship with customers.
AWeber has a huge library of various newsletter templates which are designed for making the businesses attractive. Not only this, but you can also automate your newsletters and make them personalized. AWeber has included some new features such as integration with Weblium among others. To have a look at new features click here.
All the features inclusive of the new features are available at a very minimal price. AWeber offers you various billing options starting with a price of $19/mo for 500 subscribers. Just imagine how creative newsletters you can send out to your customers. Check out the price range offered by Aweber.
General FAQ's
What is a newsletter used for?
A newsletter can be used for many different things. It totally depends on how you want to use it for your business and your creativity level. Majorly, a newsletter is used for communicating with the subscribers and delivering them the desired information piece like a year's review, new features, achievements, educating your customers about your product or service, it can also be used for upselling your product etc.. They can widely vary from a simple text to a formatted one or with images, gifs or videos etc.
What is the purpose of a newsletter?
Newsletters connect businesses with the actual customers/prospects by delivering them the information on company developments such as promotional offers, new offerings or even conferences/exhibitions. Newsletters can be used as per your companies requirement, some of the purposes of a newsletter can be – sale offers, educating your customers about the new feature, festival greetings and offers, lead generation etc.
What is newsletter example?
Since newsletter are created for many purposes, the examples of newsletter are immense. Newsletter can vary from holiday newsletter to eCommerce newsletter to event announcement to lead generation and many more. Get ideas and create your own newsletter examples and let the world see them.
How do you write a newsletter?
Newsletter should be written in keeping the mind what information you need your customers to see. There should be user-generated content along with a catchy headline. Something unique should be pitched into the subscribers.
What should be included in a newsletter?
A good newsletter always includes your companies logo, graphics and a clear strong message (greetings, product launches, how your product help in making their life better etc. Newsletter generally include an amazing subject line with thanking/welcoming customers to join your business. Business offerings or any new business development which leads to call an action. Any reviews or expert tips can be included in a newsletter. Just depends on your creativity.
What is the best newsletter template?
Newsletter templates are provided by many email marketing firms. However, some of the best newsletter templates are available in Sendinblue, Constant Contact or AWeber. Check out their newsletter templates and you yourself decide which one is best for you.
What do you call an email newsletter?
An email newsletter can be called by various alternate names such as Journal, Bulletin, Digest, Magazine among others. You can make another email newsletter for your business which will be specifically called upon by the customers as your email newsletter. Might happen that someone else gets inspired with your email newsletter.