Mailify by Sarbacane Software is a French company which helps organizations in growing via email marketing. Company has a strong base of 180,000 users which is growing at a rapid pace. It has expanded its operation in the USA in addition to Europe.
The use of emails for business can be quite intimidating and confusing, especially if you want conversions using emails, think of it as a puzzle, that to a very complex one!! If you agree, then what are some of the best free SMTP server providers for sending emails and how to send emails using them? What you should be looking into when buying an SMTP service? They give you new tools to make your current activities simpler and to discover whole new possibilities. In case you are a beginner and wondering What is SMTP? or How SMTP works?
In this article, we have discussed one such service, Mailify and let's look at the points that we have covered in this article, also you can directly click on the links below to navigate easily to your interested section.
Mailify Review: How's it different?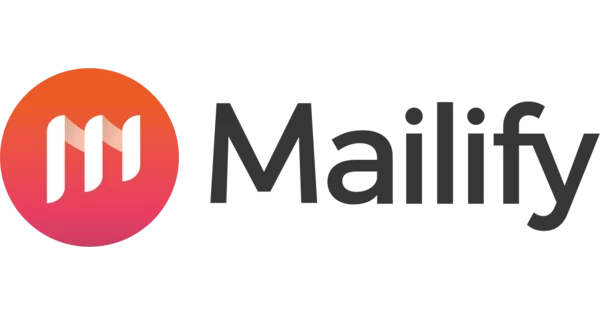 Mailify is an all-in-one marketing platform which includes email & marketing automation, a modernized interface, SMS Marketing, and a web version of the application. Its web version has a clean and friendly user interface. It has a rich library of email templates with interesting layouts & designs.
Check out below some of their email templates –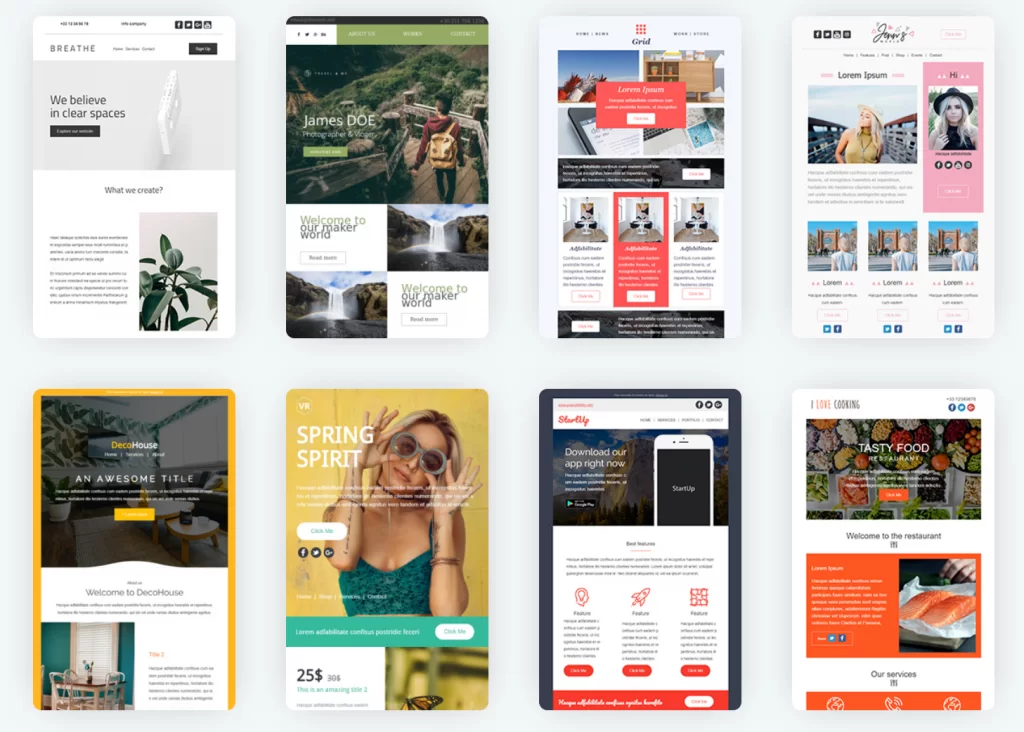 Mailify has a super cool editor, you can directly choose from the widget with drag & drop feature and your design will be ready in a few clicks. You can opt from mobile, desktop and tablet view to see how your email will look.
Start designing your email templates for free here.
Mailify provides a desktop application which can store data locally and can be synced to the cloud if required. This helps in data security in case you don't want to share it with other parties.
Due to its secure platform, it is number one in our list of most secure email providers for email marketing.
Mailify Features
Mailify has modern web interface with brand new features. It comes with some of the most amazing marketing automation features and a cool UX. Check it out yourself!
You also have the option of choosing between which data you want to upload to there cloud, I personally liked this feature the most! Read here Why you should choose Mailify?
Let's look at some of the popular features of Mailify –
With Mailify email emulator you can easily look at how your emails will look in different mobile devices (IOS, Andriod).
It's a background in data security, surely adds to its authenticity and makes it a popular and safe email marketing service.
You get to choose among 70 templates, which can be edited to send emails in a minute's time. I found their templates impressive. You can check out the Mailify advanced email builder here!!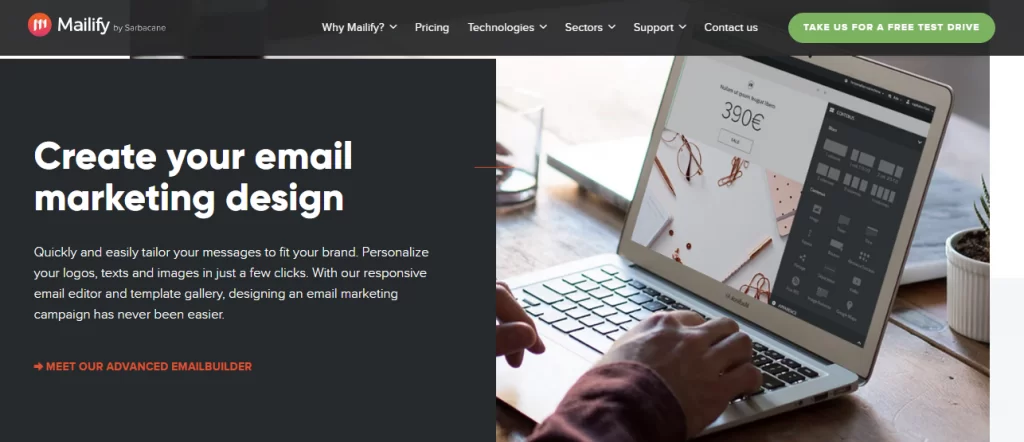 They have a very advanced CRM which can easily be used to analyse, manage and use your contact's data in the most efficient way!!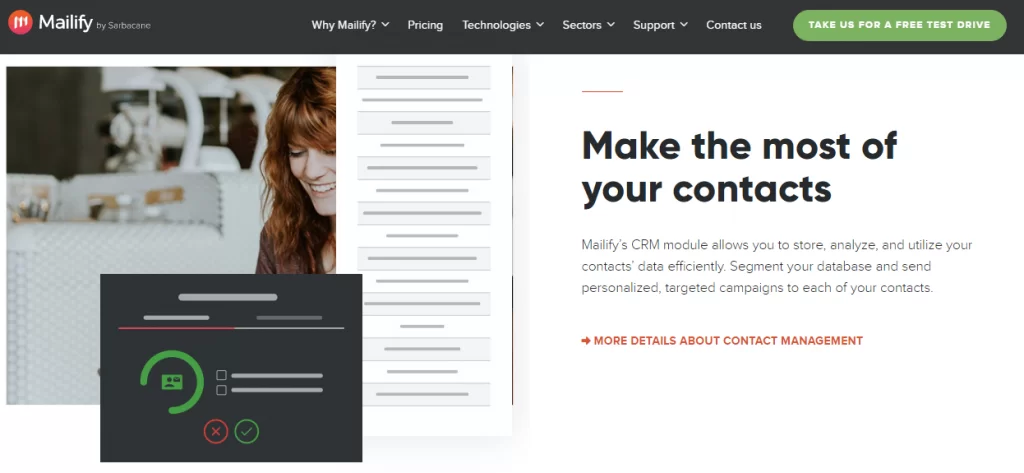 The thoughtful distribution of servers makes the email deliverability rate impressive when compared to its counterparts.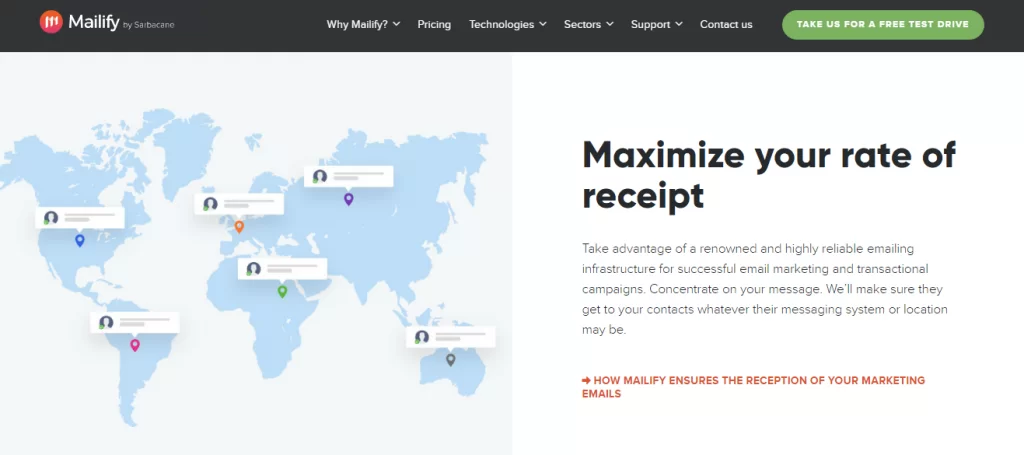 They have advanced reporting features that help you analyse your campaigns better and increase your conversions. You can track the open rate, clicks, reach of your campaigns etc. Read more about there advanced features here.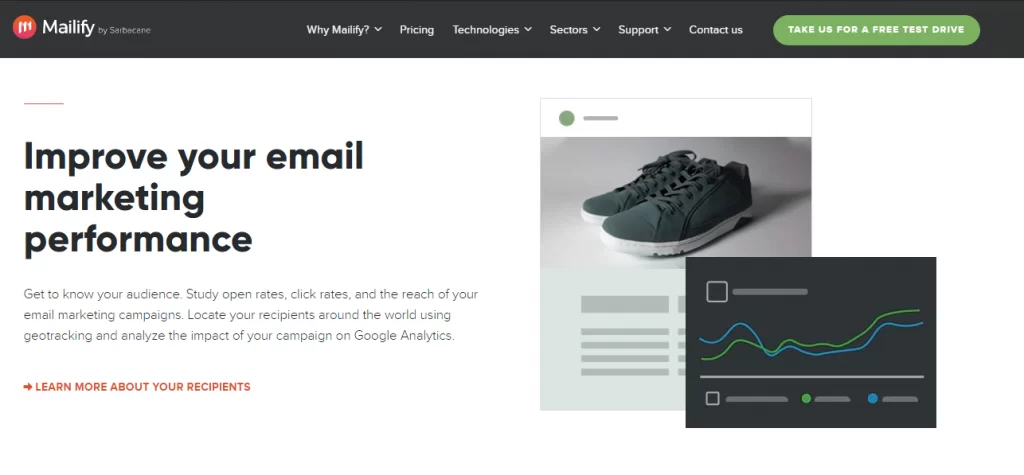 Some of the pros and cons of Mailify that we noticed are –
Mailify Pros
Unlimited Contacts – Users can upload an unlimited number of receipts, not an easy feature to find currently.
Templates – Fantastic templates with more than 70 beautiful and mobile-responsive templates to select.
Reporting – Advanced reporting method with deep diving features.
Editor – Flexible editor with rich functionality.
Data Security – Mailify desktop version lets you save data locally.
Mailify Cons
Mailify Pricing – When volumes are on the higher side per month then it becomes competitive in pricing, for small volumes becomes expensive. Tools like Sendinblue have similar pricing but offer way more in terms of features & performance.
Segmentation – Tagging is not there. Accessing/Viewing is not the best in the class.
Landing Pages – Although flexible in design lacks in creating forms.
Read about transactional emails and how to use transactional emails to make your life simpler.
Mailify Pricing
Mailify has a different style of pricing as compared to the market. In place of pricing on the basis of subscribers(has no limit), they charge on the basis of emails sent per month. This makes it difficult to compare to its competitor. However, if you have limited numbers of senders then Mailify will not be pocket friendly.
The lowest plan starts from $69 per month, for which you can send 5000 emails, in case of annual plans extra discount is applicable.
Mailify Pricing Plans are as follows –
Get 5000 emails per month for $69
Get 10000 emails per month for $99
Get 25,000 emails per month for $139
Get 50,000 emails per month for $179
Get 100,000 emails per month for $239
Check out Mailify pricing here in detail.
As you move up the hierarchy the pricing starts to get reasonable, By looking at their pricing we can infer that this service is for professionals and agencies.
Mailify Alternatives
Check out the below table to see Mailify alternatives and their price comparison.
| | | |
| --- | --- | --- |
| Server | Price | Free Emails |
| SendinBlue | Plans vary from FREE to $66 per month | 9,000 emails 1st month limited by 300 daily |
| Constant Contact | Plans start from FREE | FREE emails to 500 subscribers for 1st month |
| Pepipost | Plans start from FREE to $311 per month | 30,000 emails for 1st month then 100 emails daily |
| GetResponse | Plans starting from FREE to $99 per month | Unlimited Mails to 1000 contacts for 1st month |
| Elastic Mail | Pricing starts from FREE | Free 3000 emails every month limited to 100 per day. |
| Moosend | FREE emails to $312 per month | Send unlimited free emails to 1,000 subscribers |
| Google Gmail SMTP | 500 FREE emails daily to $25 per month | FREE 500 emails daily |
| Mailgun | FREE mails to $35 | Free 5,000 emails per month for 3 months |
| SendGrid | Free to $699.95/month | FREE 40,000 for the first month only after that 100 free mails daily |
Conclusion
Mailify's brand new, modern web interface with rich features can cater to many marketing needs- reporting, marketing automation, forms, landing pages, and even SMS.
Their beautiful template range is enough to impress users. They offer advanced reporting techniques like reading times and data on devices, which can provide good insights about the user. Easy to use editor makes it stand out.
However, the functionality of automation has limited options. They should work on making segmentation functionality more user friendly. Pricing is little different making it difficult for us to compare with competitors. But in case you're sending less than 10,000 emails per month, Malify can make a hole in your pocket.
General FAQ
What is Mailify?
Mailify is a French Marketing platform owned by Sarbacane Software Company, It provides services like marketing automation, SMS Marketing, Email Marketing. It has over 180,000 users across the globe. They have a desktop version and a web version of their platform that they have recently launched as Mailify sunrise.
Mailify Pricing?
Mailify does its pricing differently than its counterparts, It charges you according to the number of emails you send per month rather than on the basis of the number of subscribers. The minimum plan starts with just $69 for 5000 emails. You can check out the Mailify pricing here
Is Mailify Free?
Mailify gives you a trial plan but after that for email marketing, you will be charged $69 for 5000 emails per month.