With the numerous changes that social media is undergoing, an individual must think that Email marketing is an outdated fashion since the world is now run by many interesting platforms like a chatbot or social media marketing. in this article, we will discuss two mammoths in email marketing, SendinBlue Vs Mailchimp.
However, do you know friends Email Marketing's ROI is around 3800% that means you get $38 worth of return for every $1 to spend in email marketing! Are you surprised? well, don't be!! The two biggest names which compete in the industry are Sendinblue vs Mailchimp. Handling email marketing for an individual can be a nightmare. There are many email marketing platforms in the industry, however, it can be confusing as to which one to choose for your business. To save you from tracking contacts, email dripping, analyzing reports and even measuring performance, there are many companies offering services to improve customer relations and sales for medium and small-sized enterprises.
In this article, on SendinBlue Vs Mailchimp, we will cover everything that will help you choose the better email marketing software. We will discuss the following topics in this article –
What is SendinBlue?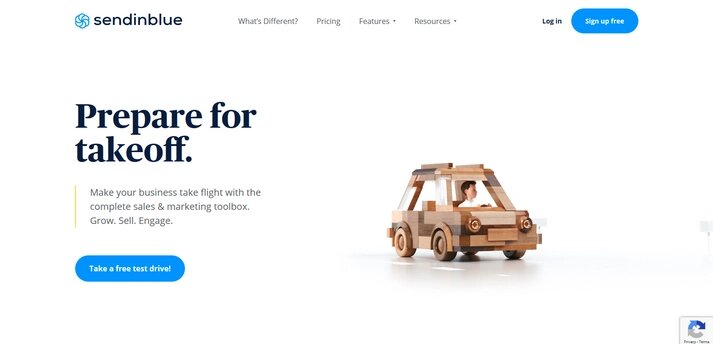 One of the most renowned name in the field of email marketing, which started as a small business but accomplished a lot since its inception. SendinBlue is focused on delivering a tool through which companies and other firms can achieve their dreams and ambitions.
The aim of Sendinblue is to help the companies in creating, building and growing the customer relationships by providing them different services like SMS, Email, CRM, Chat along with many more in a single platform. Sendinblue offices are located all over the world like the US, India, Germany and France thereby helping more than 80,000 companies to grow and flourish their business.
Also, it is absolutely free, you can send 9000 emails for free every month! Sign up to start sending free emails!
What is MailChimp?
Mailchimp is another name in the industry where marketing is the key to success. The company was founded in 2001 and has grown tremendously by offering small businesses email marketing services. We all know that large businesses have many resources and tools at their disposal.
But this is not same with small businesses where the resources are limited. Hence, Mailchimp empowered the small businesses by designing the tools which are easily accessible and affordable. The company has added new functionalities and channels such as CRM, Facebook, postcards, Google ads and many more in recent years which led to an integrated marketing platform package.
You can easily send drip marketing campaigns using both the services!
Sendinblue vs Mailchimp
Let's see the 2 best email marketing platforms, namely Sendinblue and Mailchimp in the industry and compare them and you can then decide which Email marketing company offers the best services to its users.
SendinBlue Vs Mailchimp Pricing Comparison
Many businesses face money crunch and will opt the platform providing better service at a reasonable rate. No doubt! if a business has a high volume for sending bulk email to its users, Sendinblue is the ultimate choice of businesses. You won't believe, but Sendinblue on a monthly basis can offer sometimes low rate as 4 times cheaper as the industry. Also, Mailchimp has started charging the users for the contacts which are not yet subscribed. Also, it can be expensive for those whose confirmation for opting is not yet confirmed, thereby, making it unattractive for small businesses.
Check out Sendinblue Pricing here

Both Email marketing platforms provide free plans to its users. Let's have a look for all the features provided in $0.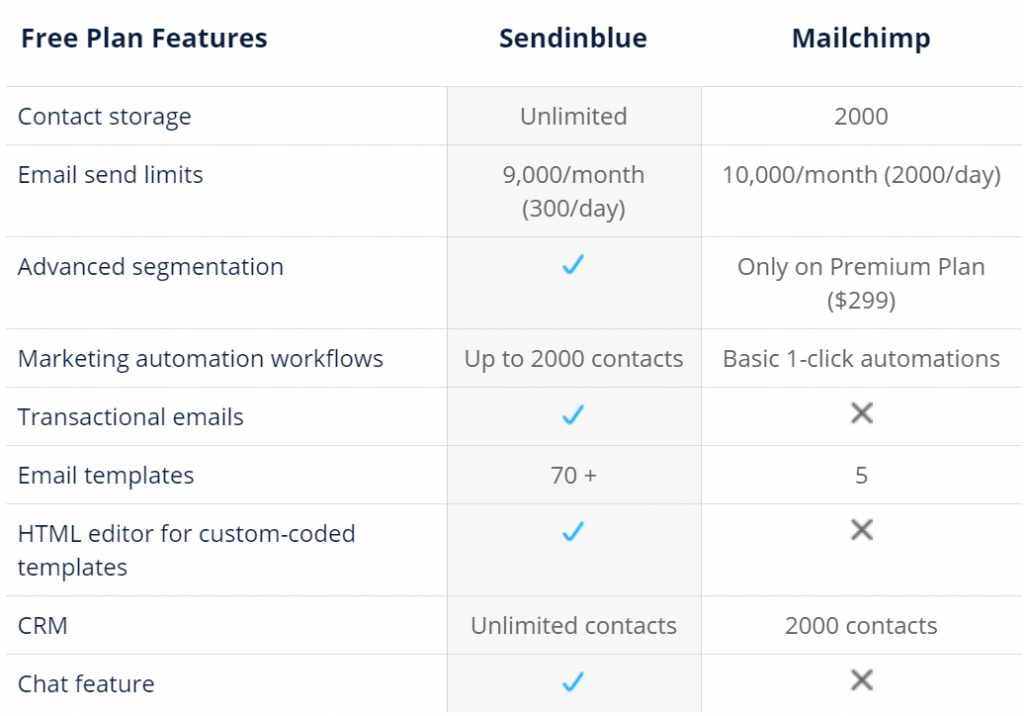 Check out MailChimp plans here
SendinBlue Won the Pricing Battle!
SendinBlue Vs MailChimp Email Marketing Automation
There are so many automation triggers which Mailchimp exaggerates. However, it's true that it provides one of the best email marketing automation, but the visual of the editor is not visually at par with Sendinblue. Sendinblue with the help of email engagement, contact data as well as web behaviour can lead to trigger advanced campaigns.
Learn more about email marketing automation with our guide.
Many feel, that Sendinblue is affordable and hence will be offering fewer automation features. However, it is surprising to know that SendinBlue automation features are one of the best in the industry. The offerings spread from multi-channel set up of workflows for not only Email, as offered by Mailchimp but also for SMS Marketing.
Another feature is database automation where any changes in automation workflow lead in updating the contact lists. Sendinblue also offers lead scoring, campaign testing before activating and feature of Best Time. Best Time feature helps the companies in sending the campaigns at an optimal time after considering the earlier campaign performances. Such advanced automation services help Sendinblue to have an edge over Mailchimp.
Read our analysis on the best time to send your emails where we have analysed more than data from 20 million users and studies from 10 huge email provider services. So that you can have the best open rate and conversions. 🙂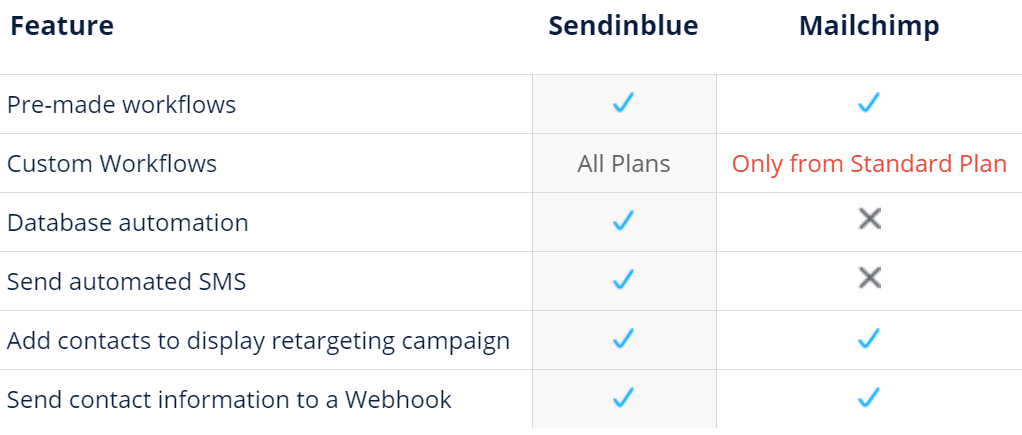 SendinBlue is the clear winner!
Flexibility and Designing Comparison
Many businesses prefer templates which can be customized and are ready at their disposal. Hence, there is a need for designs which are not only attractive but also are mobile responsive. Mailchimp offers more than 100 themes which are both mobile responsive and users can choose among the vast variety of templates suiting their campaign needs by filtering out through different categories.
Learn about more free SMTP providers here in this article and how to use them in wordpress.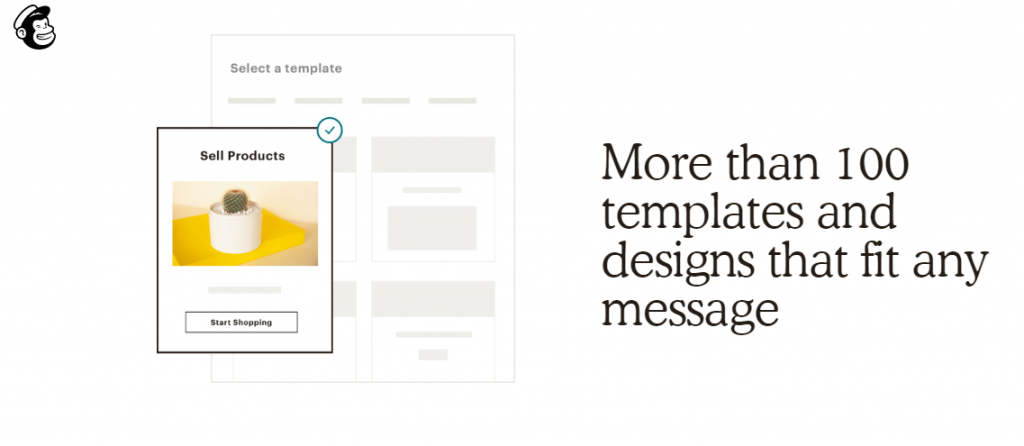 The templates can be saved and can be used across different campaigns. Whereas on the other hand, Sendinblue also offers mobile responsiveness but there are not many templates to select from. Read more about the free email services out there!
MailChimp is a Clear Winner for us!
Transactional Email Comparison
Transactional Email is a feature that almost every business is considering to opt or may have opted. The transactional Email services provided by Mailchimp is billed as an add on. Read our article "A Complete Guide to Transactional Emails in 2022 – The What, When & How?" to get a better understanding of what are transactional emails?
That means, businesses need to pay extra on top of the monthly plan that they have purchased. It will be an additional cost to the business and are valid only for a month. On top of it, the availability of transactional emails is in the block of 25,000.
To save you from this, Sendinblue offers the transactional emails in the monthly plan itself. Unlike Mailchimp, not only emails, but Sendinblue offers sending of transactional messages through SMS. Also, through different domains, transactional as well as promotional emails can be separated since they have confidential information.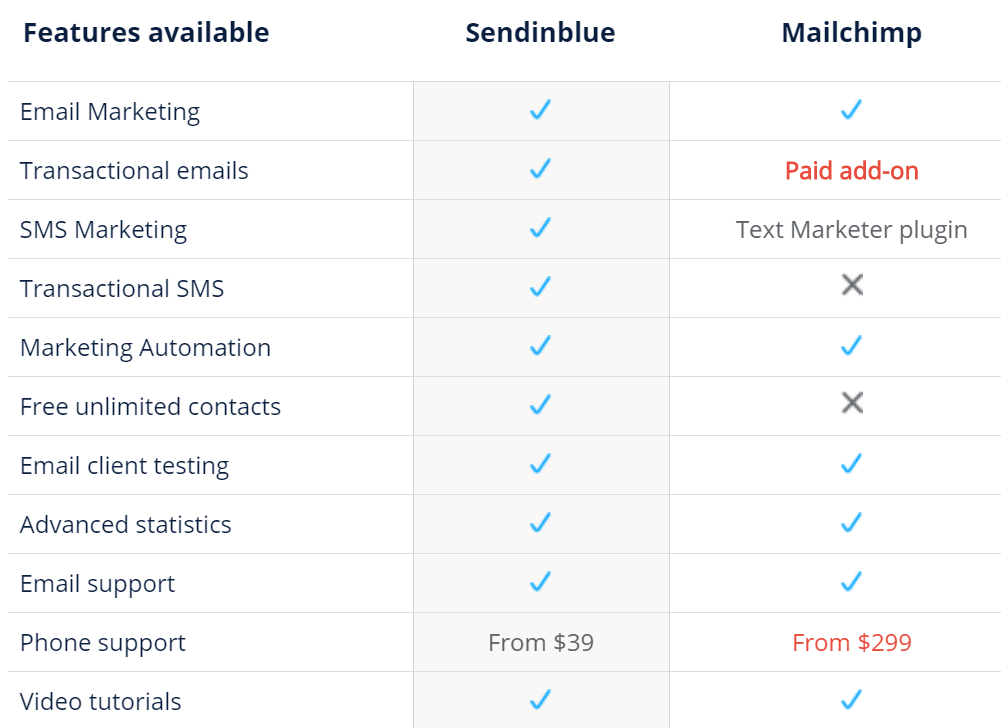 SendinBlue Wins the transactoinal email duel!
Email Deliverability Comparison Sendinblue Vs Mailchimp
Deliverability is another factor which is considered by the businesses. It will be waste if you send across a mail and it does not land in the inbox. Hence, there needs to be a proper validation system to ensure that Emails and messages are delivered on time. To ensure, timely deliver, Sendinblue has a rigorous system in place which ensures the businesses that their messages reach out timely. Read about free autoresponders here!
Sendinblue can over 350,000/mo send free emails, through a dedicated IP whereas Mailchimp sends high volume. One feature which distinguishes both email marketing platforms is the white label solution. A white label solution is an agreement where a business creates a service or a product and the other firm sells them under their brand. This technique is offered by Sendinblue and thereby helping to scale up the growth of the business. Check out the White Lable Solution here
Mailchimp too offers Agency Program and White Label Solution. Check it out

Deliveralibility of Mailchimp is better, Both offers different kind of white label programs. So the mailchimp wins this one for us!
Which one offers unlimited contacts?
It can be quite frustrating when you have to pay for stored contacts rather than an email sent. Since email marketing is one of the major players in the industry, businesses are keen to opt platform which they can rely on and provides them with flexibility. If you are looking for a platform, that does not charge you on the basis of contacts stores, Sendinblue is the place.
Before moving forward with your email campaigns, Read our guide on Can-Spam Act of marketing to avoid getting yourself in any trouble with the law, and attract any penalties!
Sendinblue offers to its customers the pricing structure where the businesses are not priced as per the stored contacts but on the email sent. Additionally, the plans do not have any limit on the number of contacts. Hope, that would have given you some relief!! Businesses can grow their contact list as they want and such flexibility is very attractive to the businesses nowadays. You can change the plans as per your email requirements giving new businesses a kick start in the industry.
Whereas, signing up for Mailchimp leads businesses to pay more as more contacts are added to the list. Also, if two lists have the same contact, it will be counted as 2 contacts. Thereby limiting the flexibility of businesses. The free plan offered by Mailchimp includes 2,000 contacts in every list. Read the detailed SendinBlue review by FreeSMTPServers
This makes Sendinblue a better hand at the market.
Design Testing Complete Comparison
A poorly designed layout can break the customer relationship. The designs should not only be attractive but also the customers could feel connected to the company. Both, Sendinblue and Mailchimp offer various features where design can be tested and not only in desktop or mobile but also how the email clients will view the emails sent out by the companies.
Sendinblue offers testing on email clients, however, lesser than Mailchimp. You must be thinking, Mailchimp is better for design testing, but wait there's a catch in it. Sendinblue offers the testing on email clients for free as compared to the charges charged by Mailchimp.
There are 25 tokens for the Inbox preview which are offered in monthly paid plans by Mailchimp. One token will be used when a business tests an individual client. However, this feature is free of charge in Sendinblue.
Mailchimps's feature is better but is a paid version, SendinBlue offers it for free!
Registration Forms – Who Wins?
Registration forms are one of the standard feature offered by the email marketing platform companies, however, it's one of the important parts which cannot be overlooked. In Mailchimp, registration form creation could not be easily found as it comes under Create Button and cannot be seen in the main navigation. Registration forms can be created in the form of the landing page, embedded or pop up.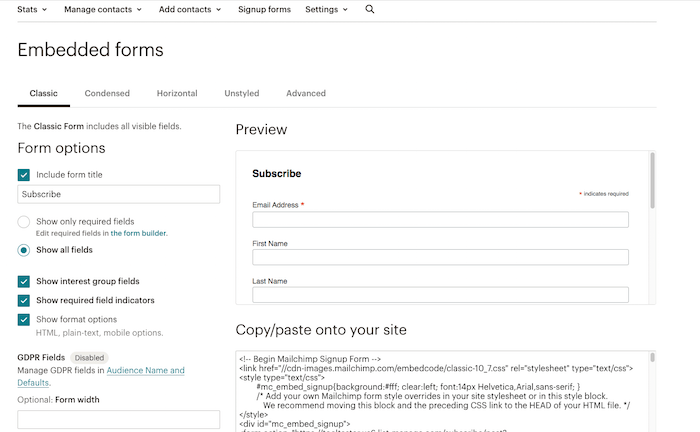 But there is one shortcoming in Mailchimp that each and every form is not mobile responsive which can be a hurdle for the business. Also, the new subscribers can be put in only one list and if they are put in different lists as well, the user will be charged again. It is one of the shortfalls of Mailchimp which can hamper its usage by businesses. Whereas on the other hand, Sendinblue gives freedom to the subscribers to choose in which lists (which are based on industry/interest) they want to be in. Check out SendinBlue Registration Forms feature here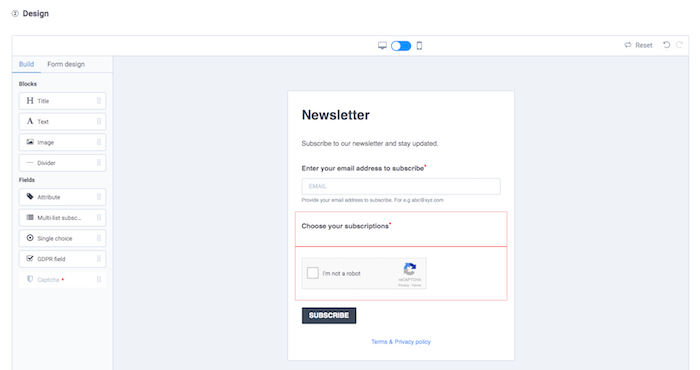 Hence, Sendinblue has an upper hand than Mailchimp in this feature.
List Management – Which one is better?
List management is simpler in Sendinblue as the lists set up and segmentation of contacts process is not cumbersome. The contacts can be filtered by field behaviour or contacts criteria. Also, multiple conditions can be added. Also, specific conditions can be put so that as and when a subscriber signs up, they can be included in a specific list through automation.
Here's an article we found on SendinBlue website about managing your lists
Whereas Mailchimp users struggle with list management as those are mutually exclusive. Under the same campaign, contacts cannot be included on different lists. Also, subscribers cannot be moved from one list to another list by creating automation.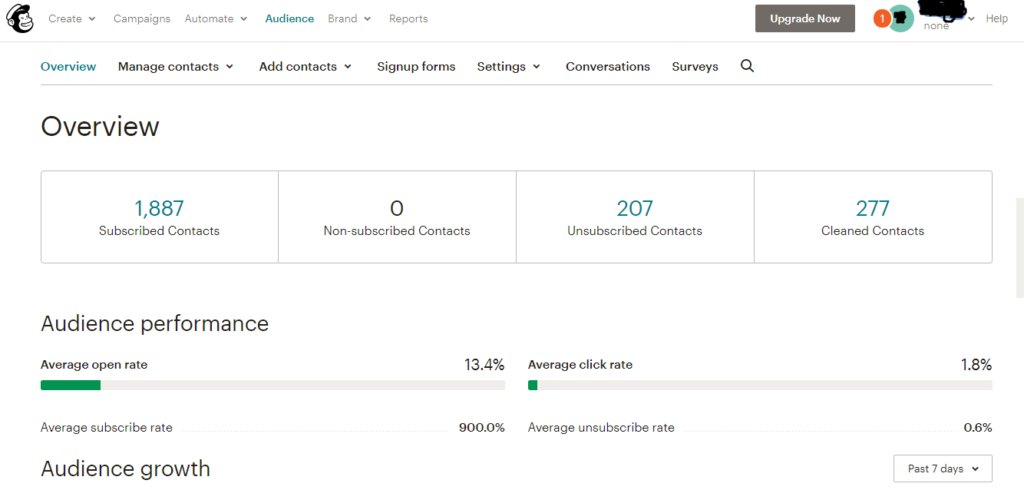 Also, users might end up paying a number of times if different lists contain the same contact which is off-putting to the businesses as there are charges per subscriber in particular lists. Sometimes, the fewer options are more attractive, however, Mailchimp has numerous options such as segments, contact lists, groups or tags which may confuse the user.
Mailchimp users struggle with list management, whereas Sendinblue offers a much better management
Editor Ease – Better Option?
The use of editor in the businesses helps them to change the emails versions pretty fast. Sendinblue offers a variety of options along with fast dragging and dropping of the editor. What happens if you forget the steps? Feel lost. Don't worry, the Sendinblue guides you to every step so that you remember everything. Users can also choose back the prior email versions if users do not like the new email version, which is quite useful in the marketing process. Check out the Editor here!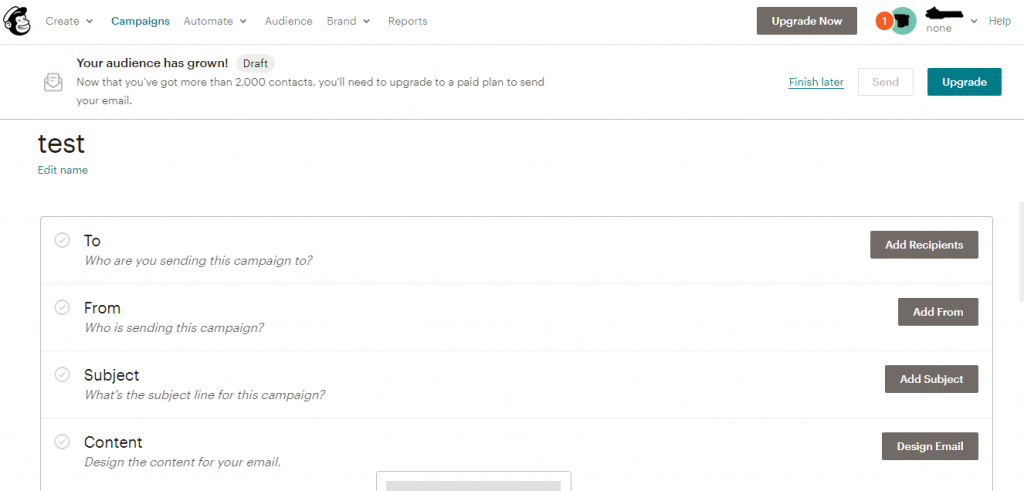 On the other hand, Mailchimp also offers users the software which can be easily used. However, if you are a beginner, you won't be able to find some functions easily for new subscribers such as adding the opt-ins. Mailchimp makes sure that all the steps have been completed while new set up of campaign along with easy navigation across backend.
Both Sendinblue and Mailchimp have a clear process thereby guiding the user to complete all the steps along with great designs. Hence its a draw!
Conclusion – The Final Result
According to FreeSMTPServers analysis, SendinBlue is the clear winner in the comparison of Sendinblue vs Mailchimp. Mailchimp has a better email template collection but is a more expensive email marketing service. Sendinblue offers more features at a reasonable price point.
SendinBlue is clearly a better MailChimp alternative!